We spend a good bit of time browsing the internet for weird and obscure coffee trends to cover in our Alma-nac blog. Sometimes, this results in things like our coffee cocktail experiment at the beginning of Summer 2021, and other times it results in deep seeded research on the viability of coffee as a pre-workout supplement.
We are surprised, however, that we continue to come across topics we never could have imagined, and that's what brings us to this week's blog: we recently read an article advocating for a healthy tbsp of sriracha in your morning cup, and this took us down a rabbit hole of epic and spicy proportions....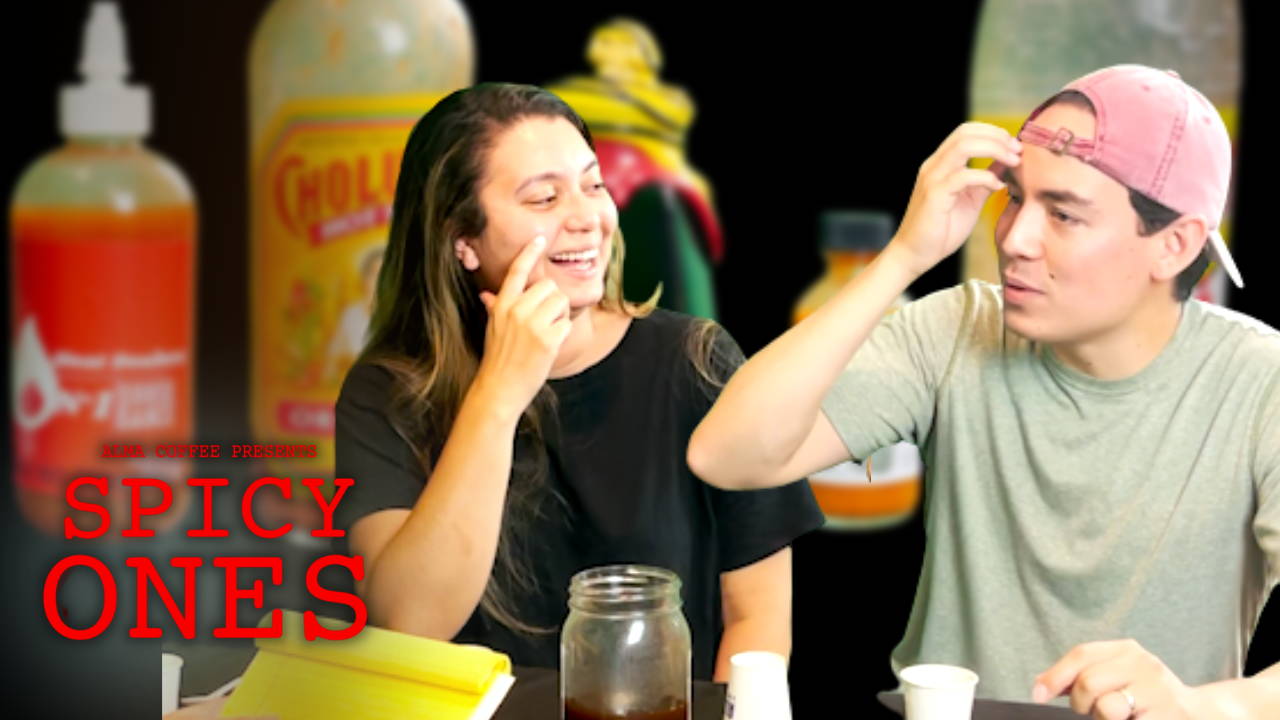 Because we produced an entire spin-off/satire of Hot Ones as a means for testing the hot sauce and coffee trend, we'll go ahead and let you know that this week's written blog will be a bit shorter than usual.
Below, we'll be giving you brief descriptions of how we enjoyed each of the five hot sauces we tried in our "Spicy Ones" video as well as the corresponding time stamps if you want to skip around to a specific sauce.
To maintain *some* consistency just in case you wanted to try this for yourself, we blended 1 tablespoon of five different hot sauces into a 4 ounces of freshly brewed Soulmate roast. We encourage you to drop any questions/comments about coffee and hot sauce on our YouTube channel by visiting the video above--we're happy to share more about this experience with you there!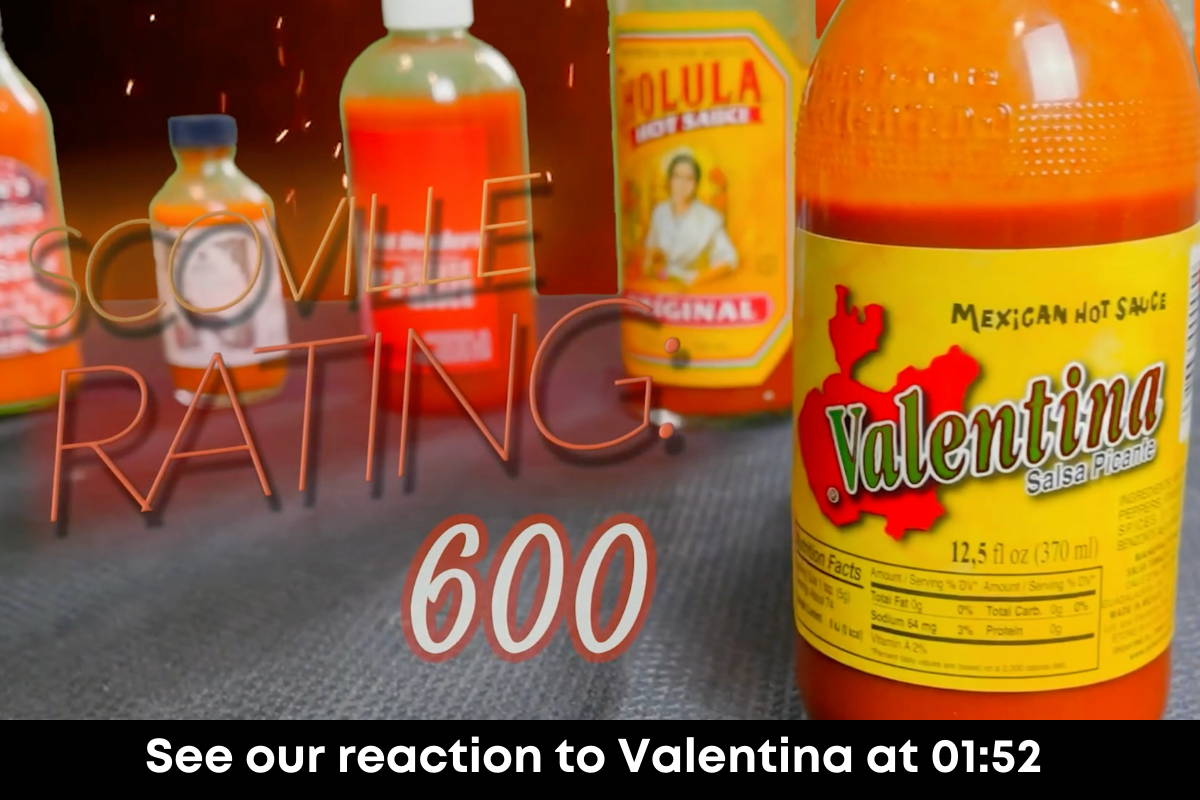 We started the coffee hot sauce taste test with one of the best, most inexpensive hot sauces to ever grace spicy taste buds: Valentina.
Valentina is more on the peppery side of spiciness as opposed to vinegar based hot sauces like Tabasco. We found, to our surprise, that this meshed very well with the milk chocolate notes of our Soulmate roast: if you're a fan of spicy chocolate, this might be a good way to dip your toe in the waters of coffee and hot sauce.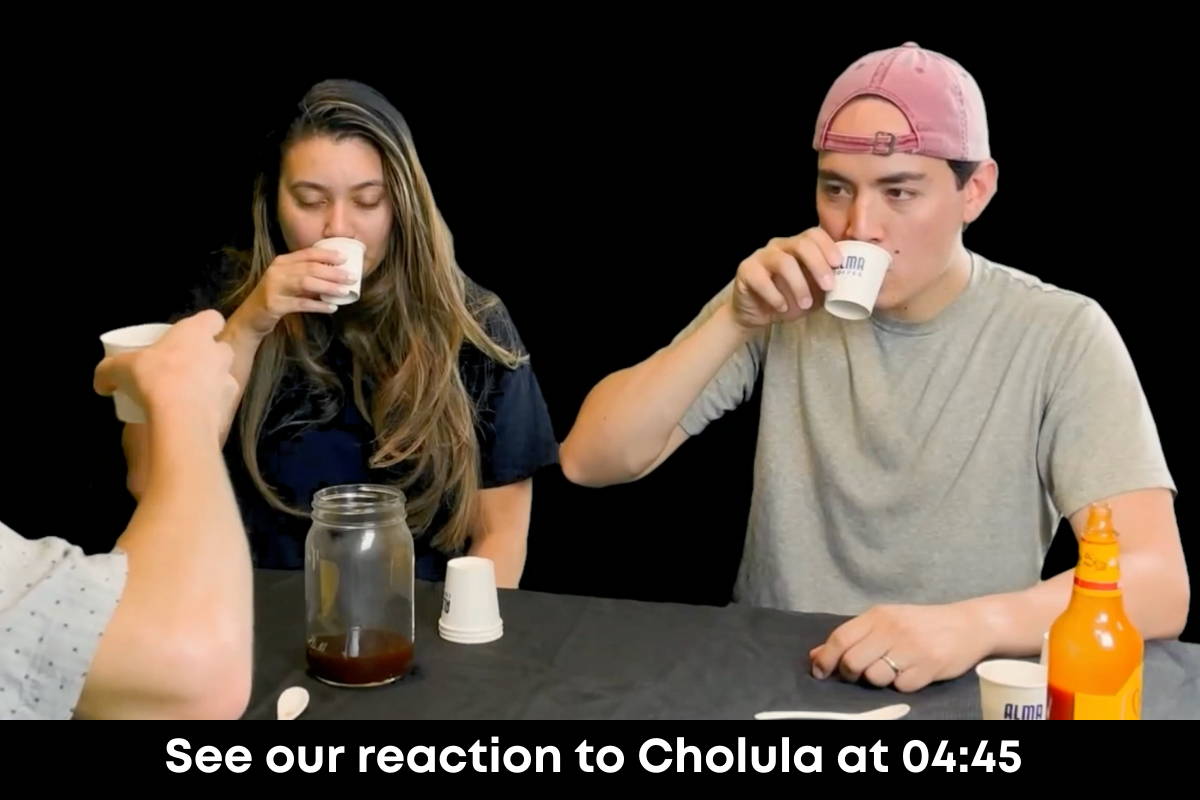 After we tested Valentina, we moved on to our second favorite hot sauce on the planet: Cholula.
Cholula is one of those products that just gets everything right and isn't pretentious about it. As stated by Kelley in our video, this hot sauce "goes great with Beefaroni but shouldn't be used with Taco Bell," and we think that perfectly captures the divide it caused between our coffee hot sauce tasters.
3. HEAT DEALERS "SOUCE SAUCE"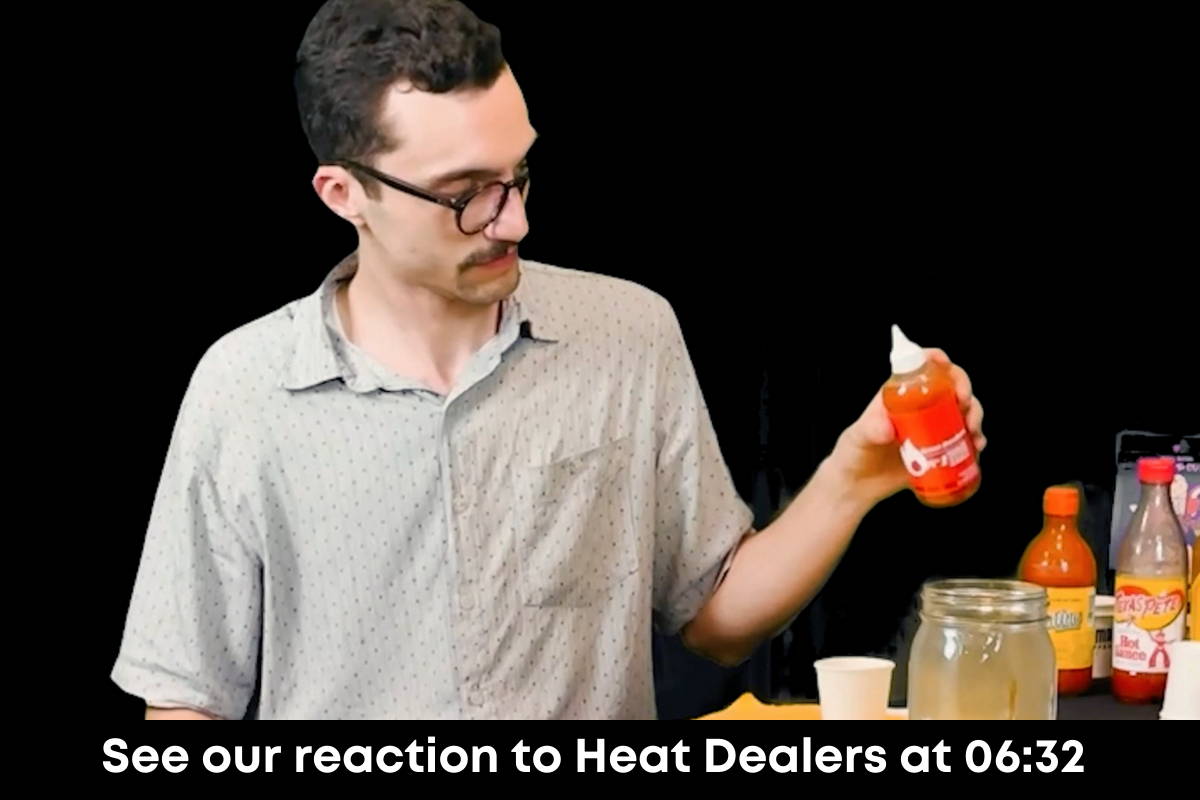 Halfway through out hot sauce experiment, we tried a local Georgian hot sauce by the name of "Souce Sauce" from Heat Dealers.
Honestly, this hot sauce was more of treat to our tastebuds than a heat to our tastebuds. We added a tablespoon of the Garlic Red Chili flavor to our Soulmate roast and ended up drinking all four ounces off camera.
4. QUEEN MAJESTY HOT SAUCE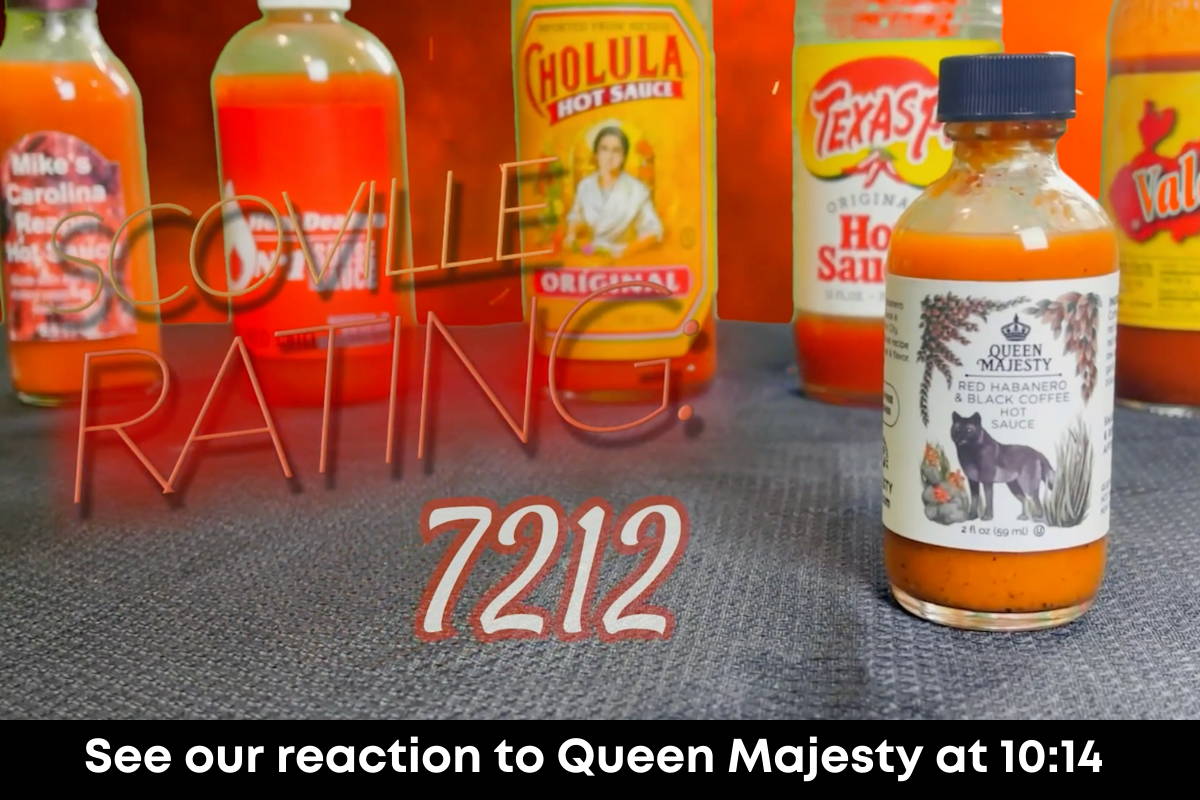 Although this Red Habenero based hot sauce was our second-to-last offering, it definitely proved to be the spiciest of them all.
Queen Anne packed such a deceptively spicy punch in its deceptively small bottle. Within seconds of this hot sauce and coffee infusion hitting out taste buds, we were gasping for air and wondering if our final will and testaments had been reviewed by our lawyers.
5. MIKE'S CAROLINA REAPER HOT SAUCE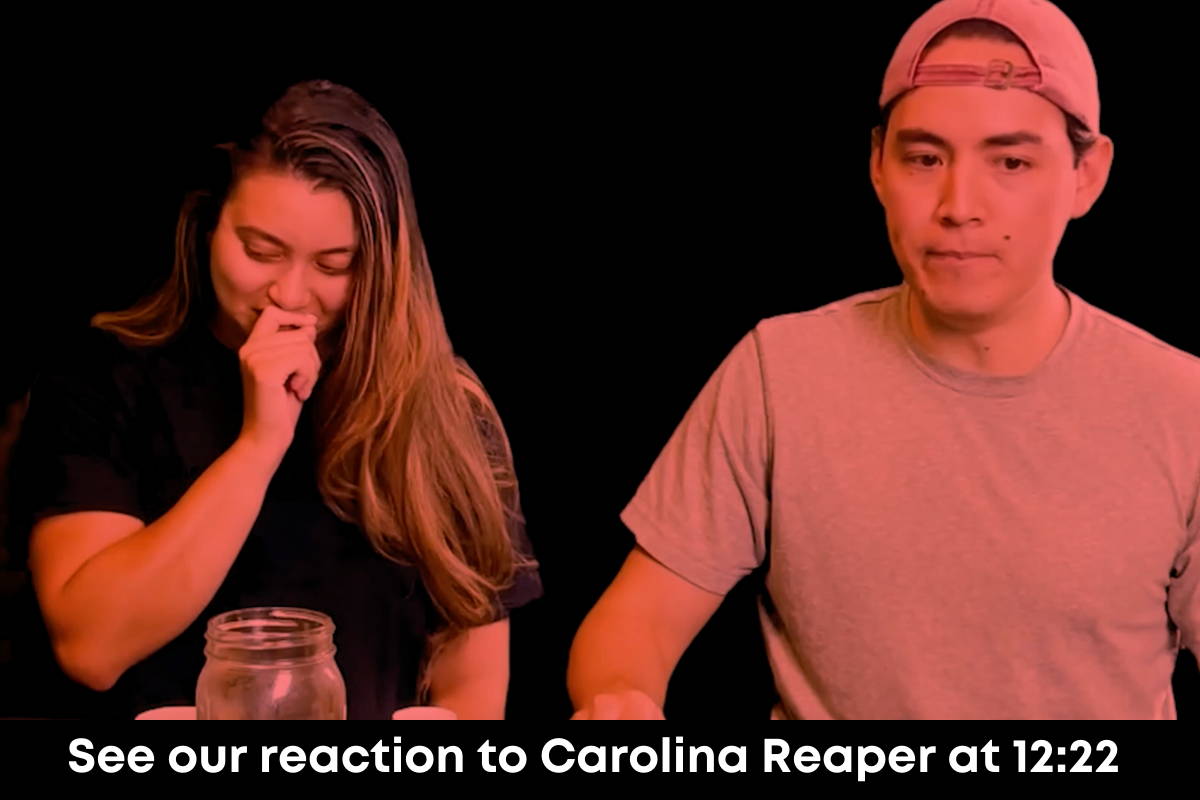 Our final sauce in our coffee and hot sauce taste testing wasn't as crazy as we expected, but we also aren't sure if our tongues were numb at this point.
Mike's Carolina Reaper Hot Sauce is definitely not for the faint of heart, and it seemed to pair well with the chocolatey and nutty flavor profiles of our Soulmate Roast. As a send off for the entire video, it was definitely a good selection, but we could have had it much, much worse.
Written by: Kelley Bostian