Please know your questions are very important to us! Below, we've provided in-depth answers to some of our most frequently asked questions. If you do not see an answer to your question in the selection below, please email us at wecare@myalmacoffee.com and we will get back to you promptly!
We freshly roast, grind, and package each bag of coffee to order. For this reason, we do not accept returns on coffee and/or cascara. If you are not sipping Alma with a smile on your face, please email us so we can make your Alma experience 100% perfect!
For return inquiries on all other items, please email us! All returns must be inquired within 30 days of purchase and in brand new condition.
We are happy to offer $3 flat rate shipping on all orders and FREE SHIPPING on all orders over $50 within the United States. Please note that orders cannot be cancelled once they have been placed. Upon checkout, please double check your shipping address to avoid a secondary shipping fee. We currently ship nationwide in the United States.
Live in Cherokee County or want to take a drive and get a peak into the roasting process? Choose to pickup your order for FREE from our roastery at 3448 Holly Springs Parkway Canton, GA 30115. Our turnaround to get you freshly roasted coffee is about 24 hours and then we will email you letting you know your order is now ready for pickup! Please note that pickups are only available Monday – Friday 8am-3pm and Sundays 9am-3pm
As a small business, we offer international shipping by inquiry only at the auto generated rate from available carriers. Please note that depending on the destination, duties and fees may apply. We recommend you make yourself familiar with the additional fees before you order as we will not be able to refund an order or cover any additional fees once the order has been shipped out.
Due to so many issues with import and customs fees we had to turn off international shipping on the front end of our website. We can absolutely provide you a quote on the products you'd like and on the corresponding shipping. We ask you become familiar with your specific countries import policies as we will not be able to cover any additional fees that they may charge or any refunds should the items not make it to their destination for an error in shipping address or rejection of payment for import fees.
If this sounds feasible, please email us at wecare@myalmacoffee.com with the following information.
- Desired products for order (include quantity, size, and grind type when applicable)
- Destination address
- Preferred email to send invoice to
DAMAGED ITEMS OR WRONG ITEMS RECEIVED
Mistakes happen and items can get damaged in transport. If your order was received damaged or containing the wrong items, please contact us immediately so we can make your order right!
CAN I PICKUP MY ORDER FROM THE ROASTERY?
Absolutely! Please check out online and select pickup at checkout and we will email you once your order is ready for pickup. Since we roast to order, we strongly recommend placing your order online so that you can get the exact items you want.
Visiting Our Café & Roastery
Want to visit us and see where your coffee comes from? We can't wait!
Our café & coffee roastery share a combined location in our 3500 sq. ft. warehouse at 3448 Holly Springs Pkwy, Canton, GA 30115. When driving from either direction on Holly Springs Pkwy, look for our iconic white brick "Alma Coffee" sign [below] to find the entrance to our parking lot (or roll your windows down and follow that freshly roasted coffee smell)!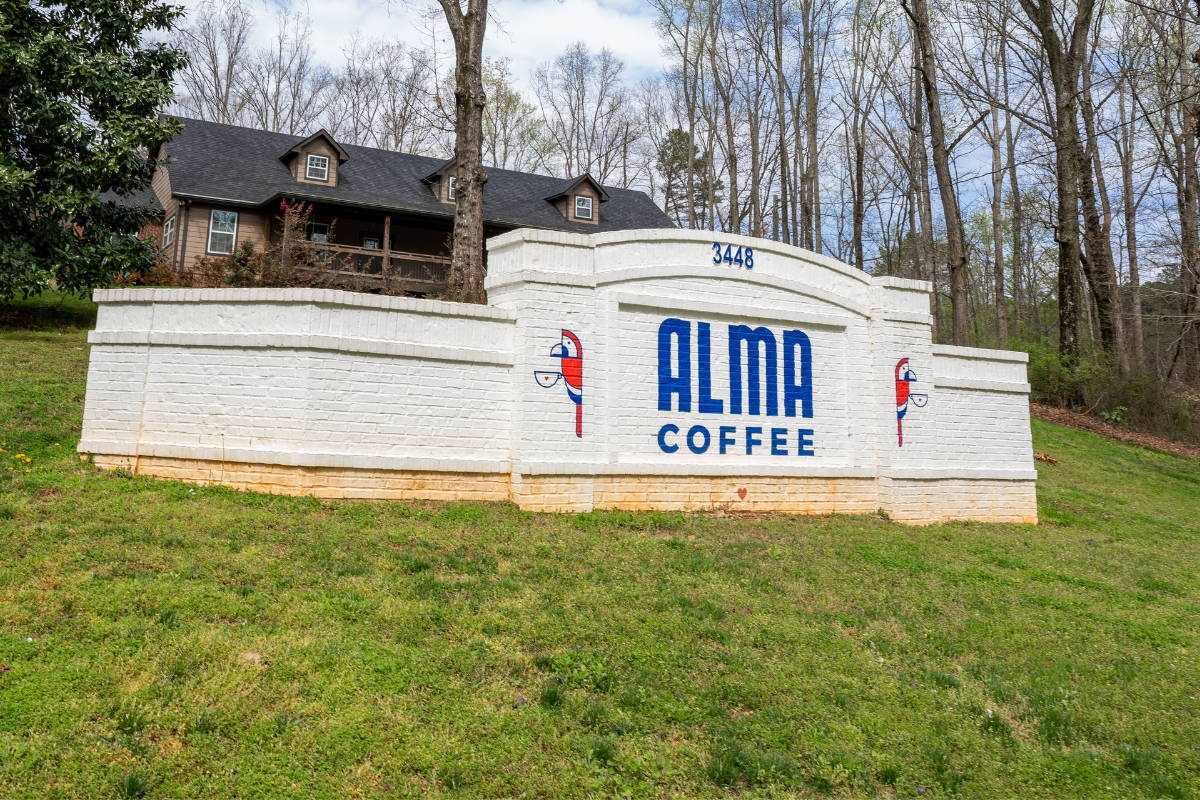 WHAT ARE YOUR CAFÉ HOURS?
Sun. | 9am - 3pm

Mon. | 8am - 3pm
Tue. | 8am - 3pm

Wed. | 8am - 3pm

Thur. | 8am - 3pm
Fri. | 8am - 3pm

Sat. | CLOSED
IMPORTANT: For holidays and/or special events, the café hours above may be subject to change. Be sure to follow us on Facebook or Instagram (@myalmacoffee) to stay up-to-date with these potential changes or closures before planning your next visit.
DO YOU OFFER TASTINGS OR CUPPINGS AT YOUR CAFÉ?
At the current time, we do not host cuppings or tastings for the public; That being said, as our café continues to grow, we also plan on implementing exciting coffee events such as cuppings and tasting into our Holly Springs location. Follow us on social media (@myalmacoffee) to be in-the-know when these exciting future events at our café & roastery start happening!
CAN I BUY ROASTED COFFEE AT YOUR CAFÉ?
Yes! In fact, we offer an amazing & sustainably-focused deal for those who frequent our café for freshly roasted coffee—re-fillable canisters! Check out how you can help us transition to more sustainable practices and save BIG here.
On top of this, all coffee sold at our café is freshly roasted that morning, and you might even get a chance to see your favorite beans go through the full roasting process in our Loring Smart Roasters during your visit!
ARE THERE FOOD OPTIONS AVAILABLE AT YOUR CAFÉ?
Yes! We serve fresh pastries from Canton GA's best local bakery, Bananas and Beehives! From mouthwatering cinnamon rolls to seasonal pastry offerings, our daily pastry offerings are the perfect quick breakfast option or late-afternoon treat.
IS THERE SEATING AND WIFI AVAILABLE?
We offer a variety of indoor and outdoor seating options as well as a private reservable conference room for looking for spaces to relax, work, or socialize with friends/family! Additionally, high speed guest wifi is available for use during regular business hours—ask your barista for the password during your next visit!
The vault became so popular we decided to make it more easily accessible :) You can now find absolutely all our coffee offerings on our regular shop coffee page.
We roast all of our coffees to order. We roast fresh Sunday - Friday. Average turnaround time for coffee orders is 24 hours within order being placed (Sunday - Friday).
Our Alma Family Farms are certified USDA Organic, Fair Trade TSA, Con Manos De Mujer, and Shade Grown Bird Friendly. Our green bean is organically grown in Honduras. Not only do we not use pesticides, but we care for our employees, providing organic food, state of the art facilities, and amenities.
HOW SHOULD I STORE MY COFFEE?
We recommend drinking your bag of Alma Coffee within 2 months of its roast date. We are coffee geeks though so in reality your coffee will be good for much longer (check out your local grocery store coffee's roast date and you'll see what we mean).
Our bags have resealable zippers on so we recommend leaving your coffee in its original packaging or using one of our amazing canisters with patented vaccum sealed technology.
WHERE CAN I FIND ALMA IN PERSON?
We have so many amazing wholesale partners in North Georgia and beyond. Check out this list to find a retailer closest to you! If you do not have a local retailer close to you, we recommend ordering from our website directly.
Absolutely! We grind every bag of coffee to order. Simply use the drop down on your preferred product's page and we will grind specifically for your preferred brewing method!
Staying true to our 3 key pillars; improving lives, sustainable practices, and extraordinary coffee, we do not offer disposable k-cups. Single use k-cups are generally made of cheap plastics and metals. When these products come in contact with hot water, micro-plastics and micro-metals make their way into your cup of coffee and then into your body. Our alternative? Re-usable k-cups! Check them out to enjoy delicious coffee in a single serve way!
DO YOU SELL FLAVORED COFFEE?
All of our coffees have tasting notes which are natural flavors derived during its maturity at the farming level. Flavored coffee is very different. The process of flavoring coffee involves taking roasted coffee beans and covering them in a sugary and very concentrated artificially flavored syrup. If you are looking to add additional flavor to your coffee, we recommend using natural extract or simple syrups.
DO YOU SELL GREEN BEAN FOR HOME ROASTING?
Currently we are only able to sell green bean by the sack (152 pounds). For pricing and shipping quotes, please message us!
DO YOU OFFER COFFEE CATERING?
We sure do! We can work with you to provide an amazing coffee experience at your next event. To get the conversation started and to get a quote please email us your event details to wecare@myalmacoffee.com
WHEN WILL MY SUBSCRIPTION SHIP?
We process subscriptions on Tuesday & Wednesday mornings each week. Your subscription will ship out that same afternoon once it has been processed. You can modify this anytime by logging into your account on our website and managing your subscription.
HOW DO I MAKE CHANGES TO MY SUBSCRIPTION?
To make changes to your subscription, please follow the steps below:
1) Log in to your customer account
2) Click 'Manage Subscriptions'
3) Use the subscription header to make the desired changes to your subscription
For issues logging into your account or if you'd like to cancel your subscription entirely, please message us and we will be happy to further assist you!
The best way to get in contact with us is to email us at wecare@myalmacoffee.com. Phone calls are amazing, and we love to talk to you too but as a small business, we are not always able to answer the phone. To ensure we can get back to you, we ask you email us with any questions or inquiries and we promise we will get back to you as promptly as we can!
CAN I BECOME A WHOLESALE CLIENT?
Our wholesale program is a great option for re-sellers! Please check our our wholesale page for more information about our different wholesale and customization options and email us at wholesale@myalmacoffee.com to get the fun started!
DO YOU HAVE A CAFE INSIDE YOUR ROASTERY?
We sure do! We are slinging drinks with in house made syrups from Monday - Friday 8am-3pm and Sundays from 9am-3pm. To learn more about what to expect, check our find us page!
We have currently put a pause on all donations and/or sponsorships of any kind due to being a small business in our start up phase while working on navigating our way through this global pandemic. When the time comes where we are in a place to be able to lift this pause, we will update this page and attach our donation request form for submission.
HOW CAN I APPLY FOR A JOB?
Thank you for considering us for your career! To learn about job positions and apply please visit our careers page
Follow us on Social Media!