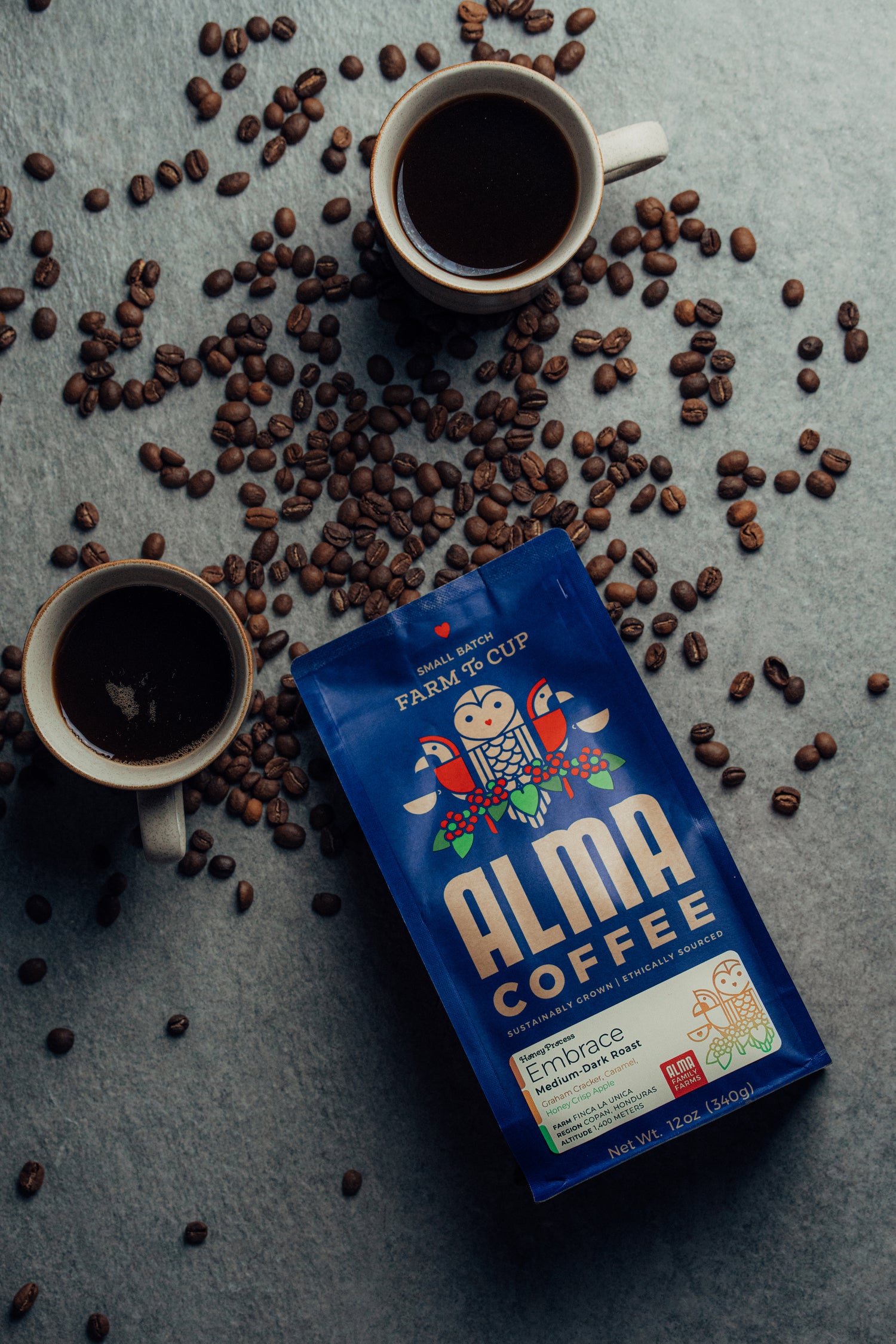 FAQ
Your questions are very important to us! We've compiled a list of our most frequently asked questions for your convenience. If you do not see an answer to your question below, please contact us using the form at the bottom of the page and we'll get back to you promptly.
Online Orders & Shipping
Return Policy

Consumable Goods

We freshly roast, grind, and package each bag of coffee to order. For this reason, we do not accept returns on consumable goods such as coffee and/or cascara. If you are not sipping Alma with a smile on your face, please contact us using the form below so we can make your Alma experience 100% perfect!

Non-Consumable Goods

For return inquiries on all other items, please email us! All returns must be inquired within 14 days of delivery and in brand new condition.
Shipping Policy
International Shipping

As a small business, we offer international shipping by inquiry only at the auto generated rate from available carriers. Please note that depending on the destination, duties and fees may apply. We recommend you make yourself familiar with the additional fees before you order as we will not be able to refund an order or cover any additional fees once the order has been shipped out.

Due to so many issues with import and customs fees we had to turn off international shipping on the front end of our website. We can absolutely provide you a quote on the products you'd like and on the corresponding shipping. We ask you become familiar with your specific countries import policies as we will not be able to cover any additional fees that they may charge or any refunds should the items not make it to their destination for an error in shipping address or rejection of payment for import fees.

If this sounds feasible, please email us using the contact form below with the following information.

Desired products for order (include quantity, size, and grind type when applicable)
Destination address
Preferred email to send invoice to
Damaged Items or Incorrect Items Received

Should you come across any issues with a damaged order or receiving incorrect items, please contact us via email right away. Provide us with a comprehensive explanation of the problem and include any relevant photos. We are committed to making your Alma experience extraordinary and will rectify the situation promptly.
Visiting Our Cafe & Roastery
Our Location & Hours

Want to visit us and see where your coffee comes from? We can't wait to see you!

Our café & coffee roastery share a combined location in our 3500 sq. ft. warehouse at 3448 Holly Springs Pkwy, Canton, GA 30115. When driving from either direction on Holly Springs Pkwy, look for our iconic white brick "Alma Coffee" sign to find the entrance to our parking lot (or roll your windows down and follow that freshly roasted coffee smell)!

Navigate and see our most up to date hours on our google review page
Tastings, Cupping, & Tours

For all upcoming events, please make sure you are following us on social media (@myalmacoffee) and check our upcoming events on our Facebook page.

Unfortunately we are not able to accommodate private tastings, cuppings, or tours at this time.
Other Features

Assortment of locally baked pastries
Free wifi
Rentable conference room available to groups of 3 or more with Alma Coffee purchase
Cafe seating available inside roastery, outside, and inside quiet office space
Coffee Questions
Roasting Schedule

We roast all of our coffees fresh to order 6+ days a week. Shipping is available Monday - Friday with our average turnaround being around 24-48 hours from order placement.
Certifications Including Organic

Between our roastery and family farms we are proud to carry the following certifications:

Georgia Grown - Alma Roastery
USDA Certified Organic - Alma Family Farms & Roastery
Bird Friendly - Alma Family Farms
Rainforest Alliance - Alma Family Farms
Fair Trade TSA - Alma Family Farms
Con Manos De Mujer - Alma Family Farms
How to Store Coffee

For optimal enjoyment of your Alma Coffee, we recommend ordering fresh and in whole bean. Once your coffee is in hand, we recommend consumption within 2 months of its roast date. Please note that this is a recommendation and not an expiration date, you can enjoy the coffee much longer than the recommended 2 month time frame.

For optimal storage we recommend storing your coffee in its original packing and using the resealable zippers. Alternatively, you can keep your coffee fresher longer by storing in one of our canisters with patented vaccum sealed technology.
Acid Sensitivity

Coffee naturally has acidity in it and we can not guarantee you won't experience acid sensitivity when drinking any coffee.

By controlling the entire coffee supply chain from farm to cup and consistently roasting fresh daily, we have gotten feedback that our coffee does not trigger acid sensitivity the way it is experienced with other coffee brands. If you are looking for a low acid coffee, we recommend checking out our medium and dark roast offerings for safe options with minimal acidity.
K-Cups and Single Serve Options

Staying true to our 3 key pillars; improving lives, sustainable practices, and extraordinary coffee, we do not offer disposable k-cups. Single use k-cups are generally made of cheap plastics and metals. When these products come in contact with hot water, micro-plastics and micro-metals make their way into your cup of coffee and then into your body. Our alternative? Re-usable k-cups! Check them out to enjoy delicious coffee in a single serve way!
Flavored Coffee

All of our coffees have tasting notes which are natural flavors derived during its maturity at the farming level. Flavored coffee is very different. The process of flavoring coffee involves taking roasted coffee beans and covering them in a sugary and very concentrated artificially flavored syrup. If you are looking to add additional flavor to your coffee, we recommend using natural extract or simple syrups.
Coffee Catering

We sure do! We can work with you to provide an amazing coffee experience at your next event. To get the conversation started and to get a quote please contact us using the form below.
Green Coffee for Home Roasting

Please reach out to us using the form below for inquiries on green bean for home roasting. Please make sure to include the following information:

Desired quantity in pounds
Desired process (washed, honey process, natural process)
If you plan to pick up the order or have it shipped
If shipping the order, the address for the shipment
Subscriptions
Making Changes to Your Subscription

Our subscriptions are designed to make any changes as easy as possible. To access and modify your subscription, please follow the steps below:

Login to your customer account
Click 'Manage Subscription'
Navigate your subscription profile to make your desired changes

For issues logging into your account please message us using the contact form below and we will be more than happy to further assist you!