After recently being named the "Best New Roaster" of 2020 by MistoBox, we did some serious reminiscing on how far we've come as a company here at Alma Coffee. It's hard to believe that only a few years ago we were hand-packaging roasted coffee in our parents' basement for a fanbase of primarily friends and family (and often completely for free).
Now, with 2021 still rife with possibilities to continue expanding our farm-to-cup mission, we wanted to dedicate an entire blog to reflect on our company's history through an important aspect of the coffee business we rarely get to talk: our branding and packaging!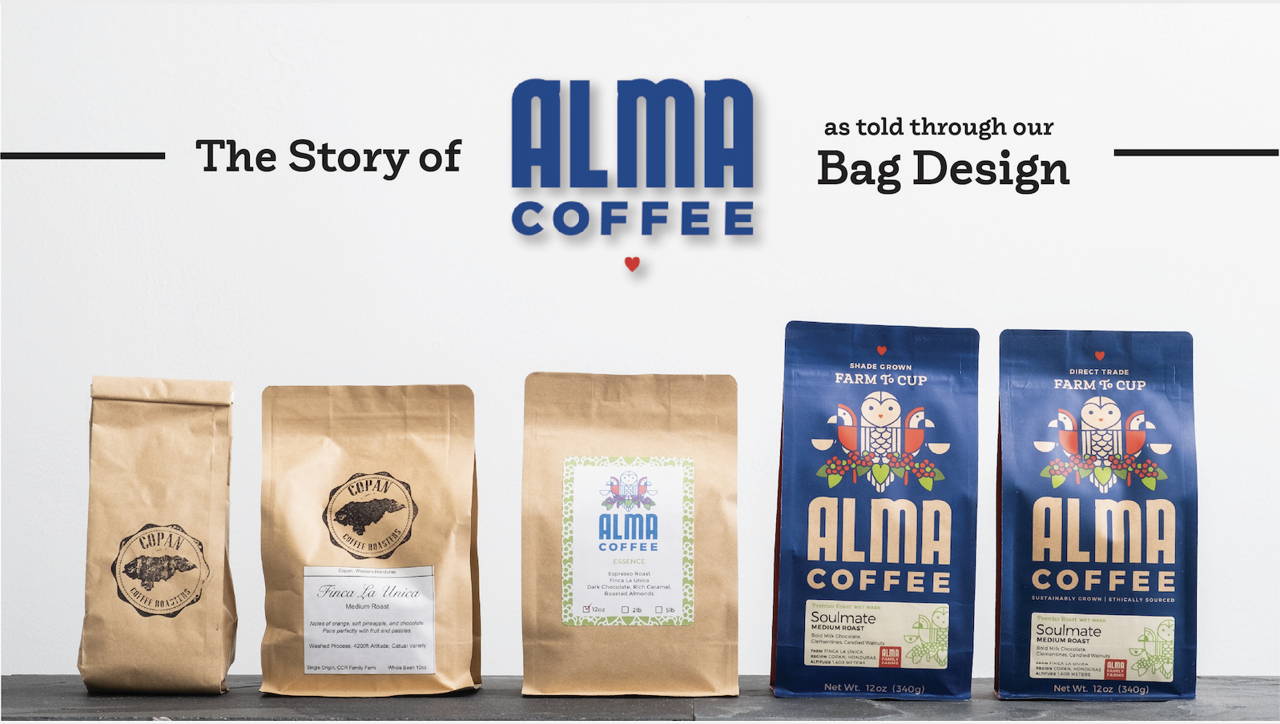 If you've ever heard the saying "you eat food with your eyes before your mouth" from someone like Guy Fieri on Food Network, then you may already understand why presentation is so important for selling any consumable good.
We've found this saying to be especially true when it comes to packaging coffee, particularly when you want to express the full breadth of experience one has when brewing up their favorite light, medium, or dark roast.
OUR FIRST COFFEE BAG DESIGN
If you've read our "About Us" page on the website, then you already know our journey as a coffee company began when our corporate careers ended: our desire to make a more positive impact on the world around us culminated in a spontaneous departure from our accounting careers and into vertically integrating coffee roasting with our legacy of generational family coffee farms.
But, before any of this happened, we had to know if people would actually buy what we would be roasting.
In 2018, After taking a trip to our family farms in Honduras, we came back to our corporate lives in Chicago with a few pounds of roasted coffee and a mission: let's package this coffee, come up with some branding that represented our family ties to coffee, and then find our market with free samples. This wasn't exactly what you would call "home-roasting"—it was solely a test to see if single-origin Honduran coffee could work under our new, hypothetical coffee company "Copan Coffee Roasters." (CCR)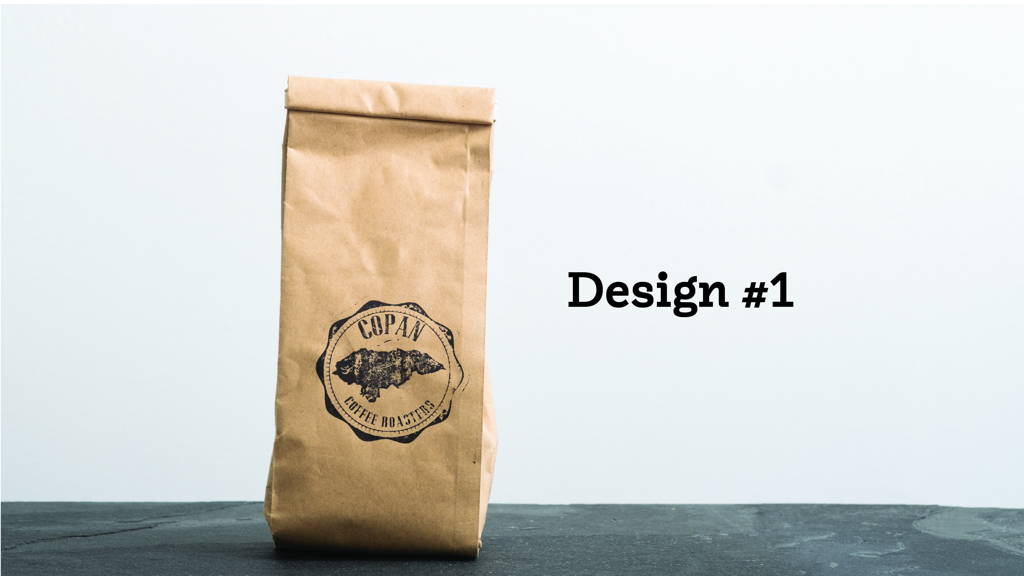 Our first bag (above) encapsulates this moment in our journey fairly well: the bags were ordered directly from Amazon, the logo was designed on VistaPrint, and the labels were created by Leticia on Word. It was, in every sense of the word, an exciting startup operation.
After giving out our first round of sample batches to friends, family, and co-workers for free, the market for single-origin Honduran coffee became apparent. People LOVED our single-origin Honduran coffee roast, and they were even wondering if they could pay us (with actual money!) to make them more coffee.
We can all agree that our master roaster, Harry Hutchins, is the metaphorical heart that pumps the metaphorical blood to our not-so-metaphorical coffee consumers at Alma Coffee. Even in the Copan Coffee Roasting days of our company we knew this pairing of Honduran coffee with Harry's roasting skills were special, but how could we represent this in our packaging to our new customers?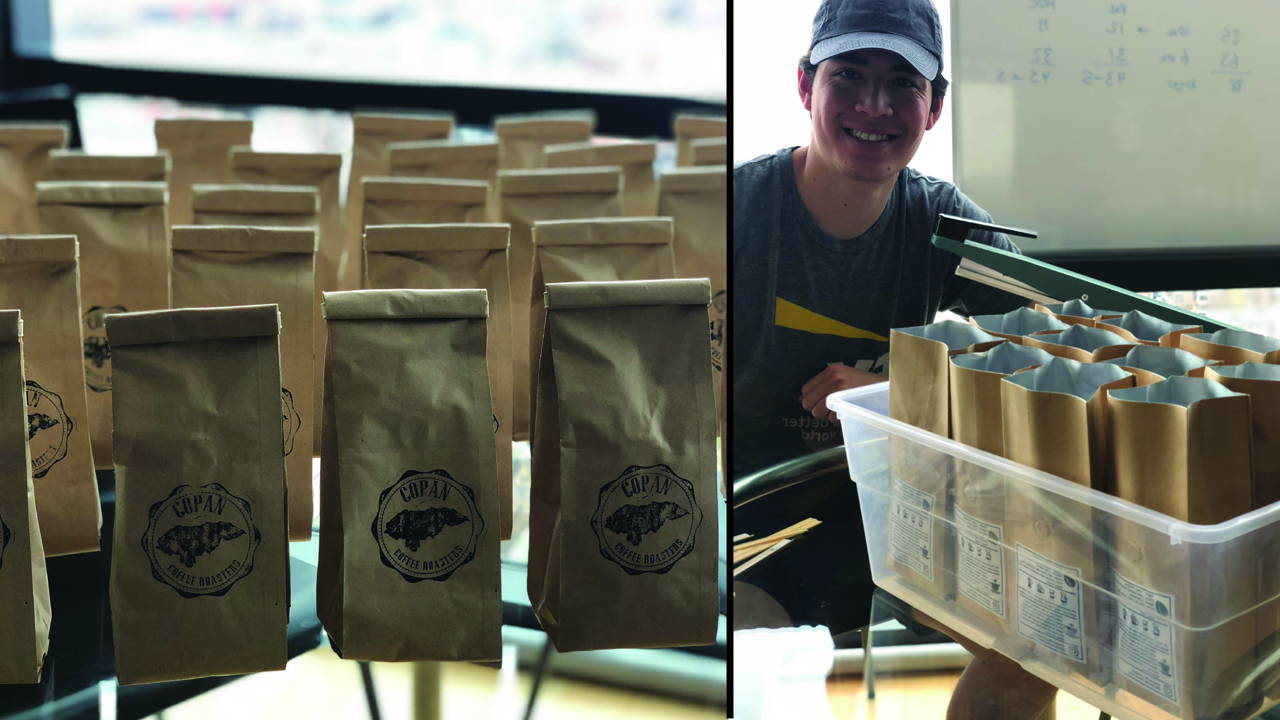 That's when we knew we had to get serious. So, in a very spontaneous series of events, we quit our jobs in Chicago, packed up our roasting equipment, and headed down south to Georgia to start up what would soon become Alma Coffee.
Starting out of Leticia's parents' basement, Copan Coffee Roasters scaled up operations to meet the growing demand for Honduran coffee. As Harry began dialing in our first roast (which would later become Soulmate), we knew we needed to design better bags to sell our coffee!
Our second bag design (below), much like the first, perfectly captured the moment in time we found ourselves in as a startup coffee roaster. With slightly beefed-up packaging from a different bag manufacturer, we created an official website and social presence for CCR. We then designed a label that captured the basics of what we were trying to sell: the CCR logo, coffee roasting profile, tasting notes, washing process, and country of origin.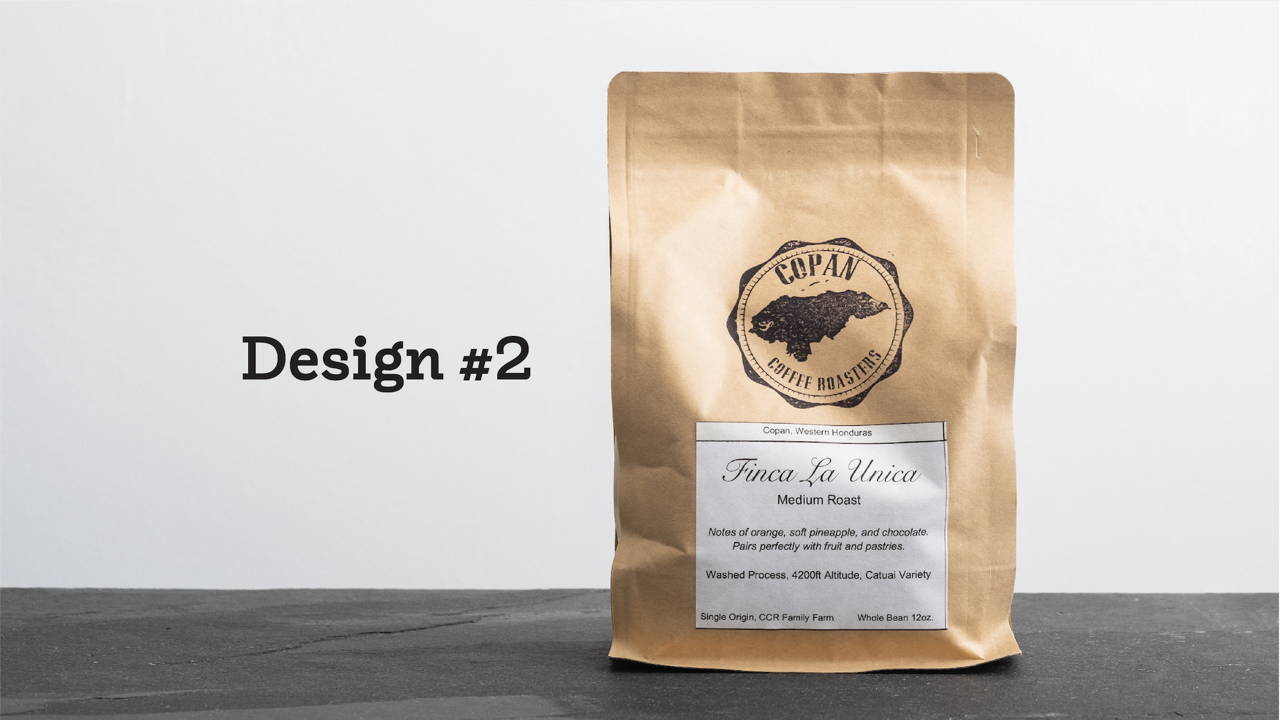 Although we were excited about this new journey we were officially embarking on, we still had quite a way to go before we could officially call ourselves a "successful" business, and part of our adolescent awkwardness as a company was becoming clear as actual customers started responding to our branding on the second bag design. But hey, adolescent awkwardness is part of any startup's success story, right?

From mispronunciations of "Copan" [coh-pan/coo-pan/ca-pAN] to the occasional "your logo kind of looks like a coffee mug stained the bag," we realized the inevitable—a serious rebranding was vital to our future growth as a company.
Like we mentioned at the beginning of this blog, people eat food with their eyes before they eat it with their mouths. Likewise, we knew that even if we had the greatest tasting coffee on the planet, we also had to sell the idea of our coffee effectively to get people to drink it. The name "Copan Coffee Roasters," as endearing as it was, wasn't exactly the most marketable title for our startup, and so the idea of a full re-brand started gaining traction.
As we looked for retail locations to expand our coffee roasting company into café spaces through the Cherokee Office of Economic Development, we were introduced to Tom Cox, a local graphic design legend who has created or influenced virtually every delightfully designed logo in and around Woodstock, GA since he left Coca-Cola a few decades ago.
Tom was an absolute pleasure to work with from Day 1: after talking with him about our story as coffee roasters and our mission to improve lives, sustainably source and roast, and produce extraordinary coffee through direct-trade relationships, Tom blew us away with many, many possibilities.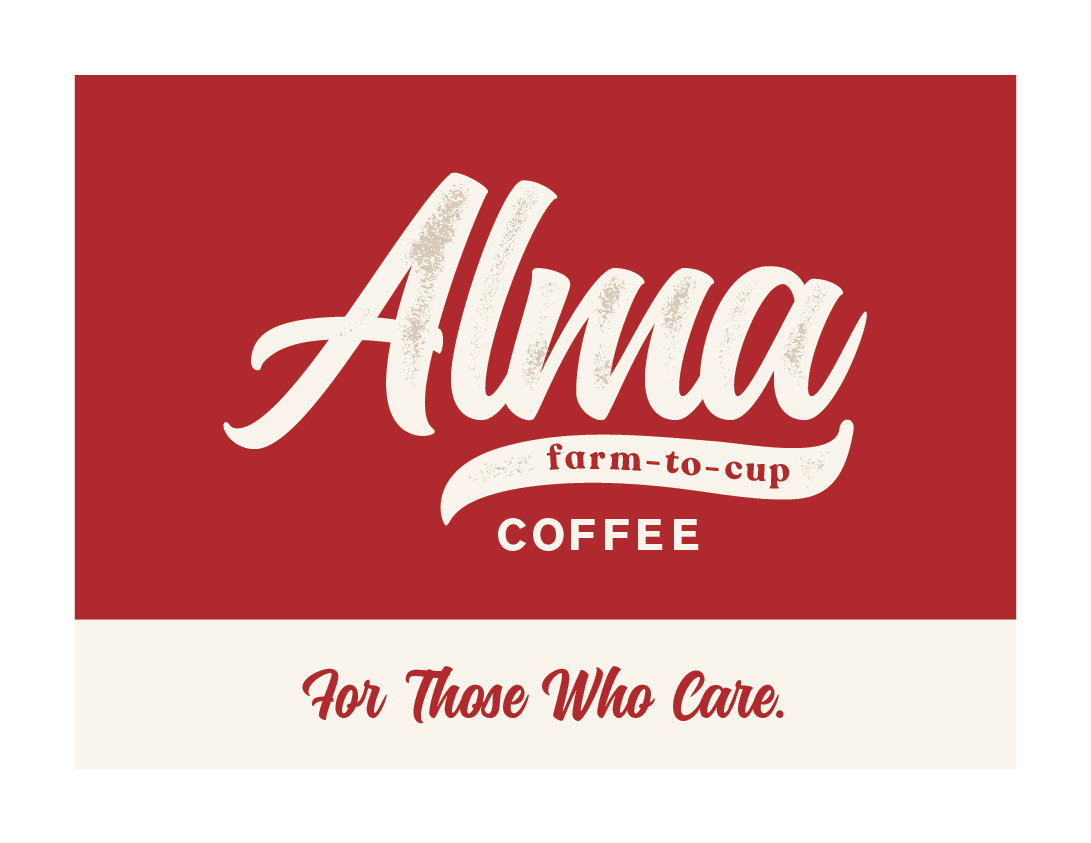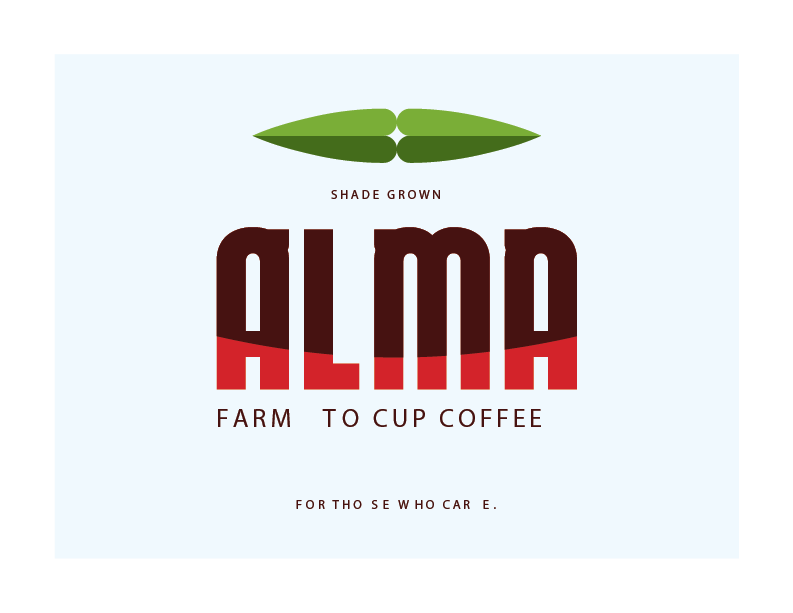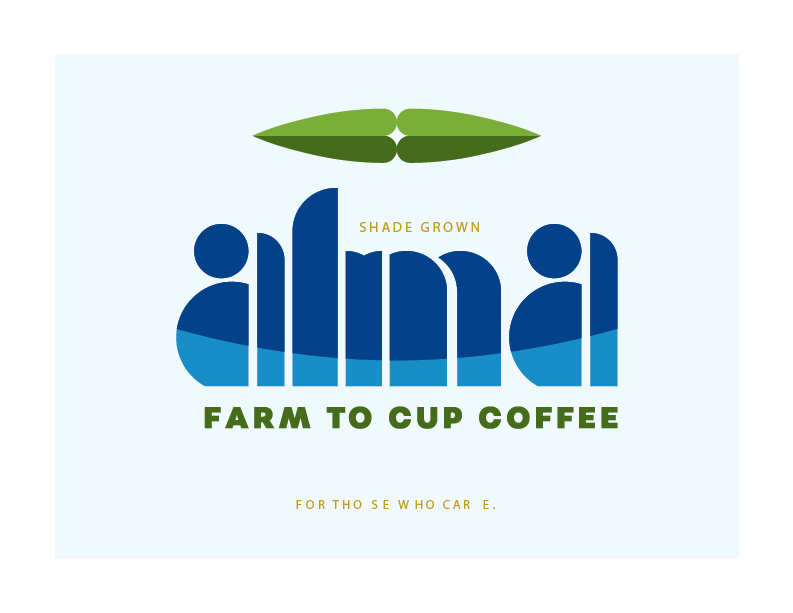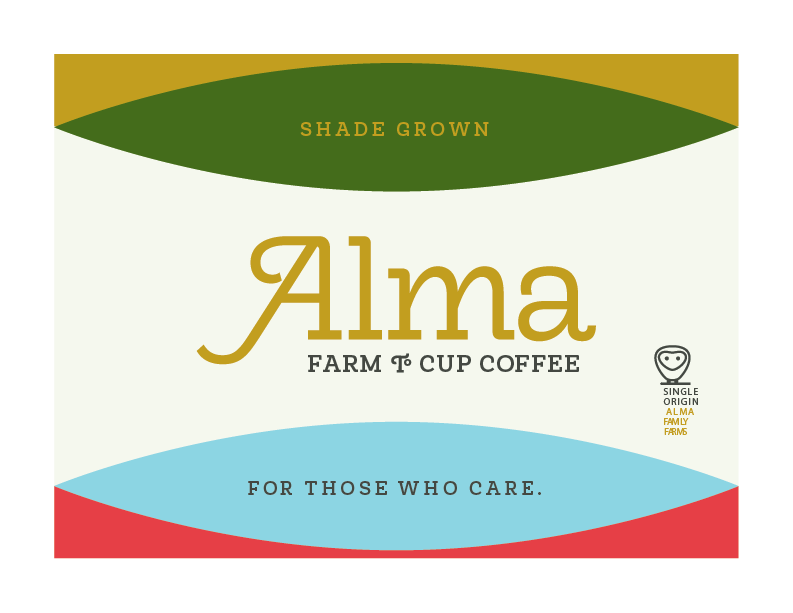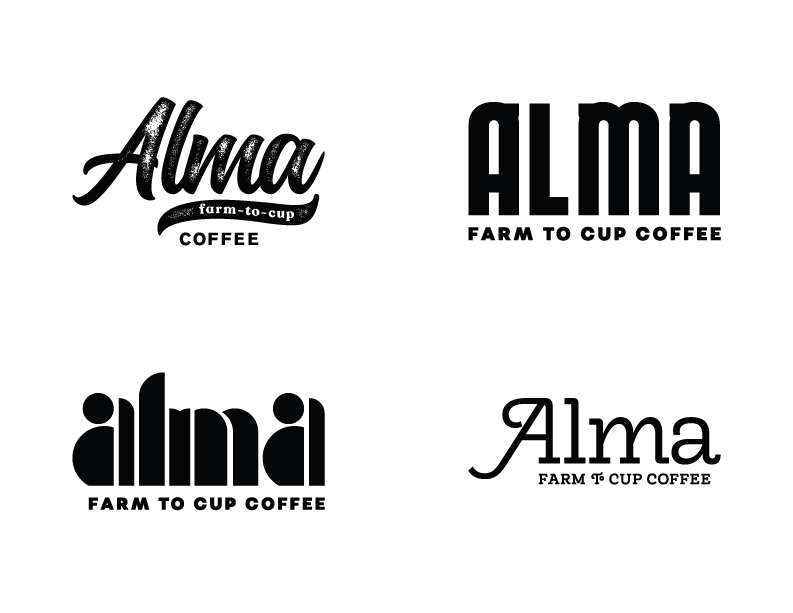 THE (FIRST) FINAL BAG DESIGN
We began the process of brainstorming new logos and bag designs with Tom as we left the US to take a yearly origin trip to our family coffee farms in Honduras. As we settled in for a few weeks of farming in Copan, Tom sent us the first prototypes of what would soon become our new company logo.
We decided, especially after being exposed to the picturesque geography and wildlife of Copan, Honduras, that a focus on the Macaw bird—the national bird of Honduras that can be found in the same region our family farms are located—would visually capture the tone & tenor we were trying to craft as direct-trade roasters.
At the same time, the name "Alma" began growing on Harry and Leticia for several reasons: 1.) Alma means "soul" in Spanish, and that's exactly what we put into our coffee in the entire farm-to-cup process, 2.) Alma is a feminine noun in Spanish, and 3.) The name "Alma" is easier to pronounce and remember than "Copan."
And so, after only two additional mock-ups based on our feedback, Tom produced THE logo and first semblance of a bag design that you probably recognize today: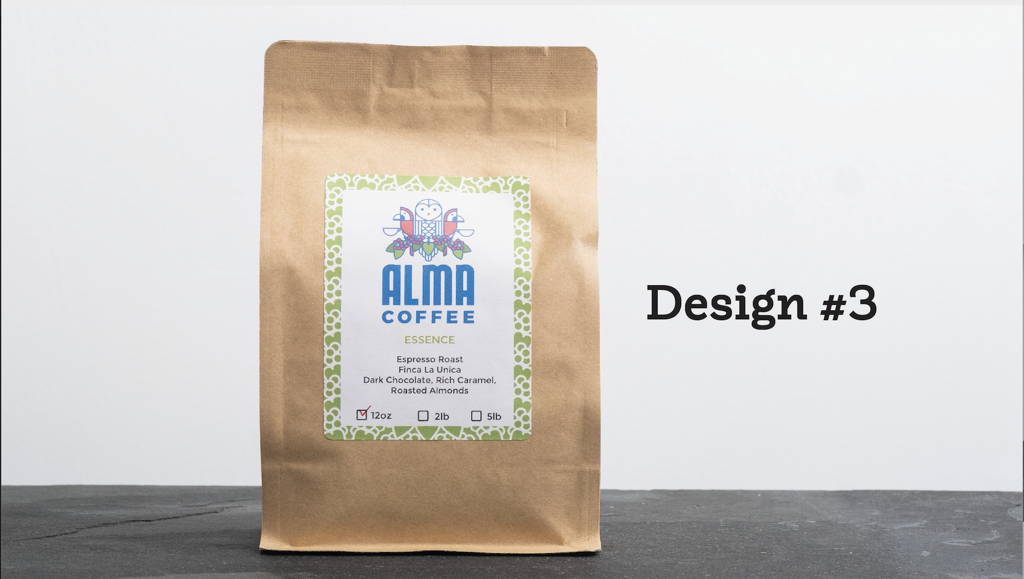 THE (ACTUAL) FINAL BAG DESIGN
After we ran out of the brown paper bags that became a staple of our first three bag designs, we knew the bag itself—and not just the logo or sticker—would need some serious upgrading to match our new, crisp Alma branding.
After working more with Tom, we landed on the classic blue Alma bag as our first official bag design (below).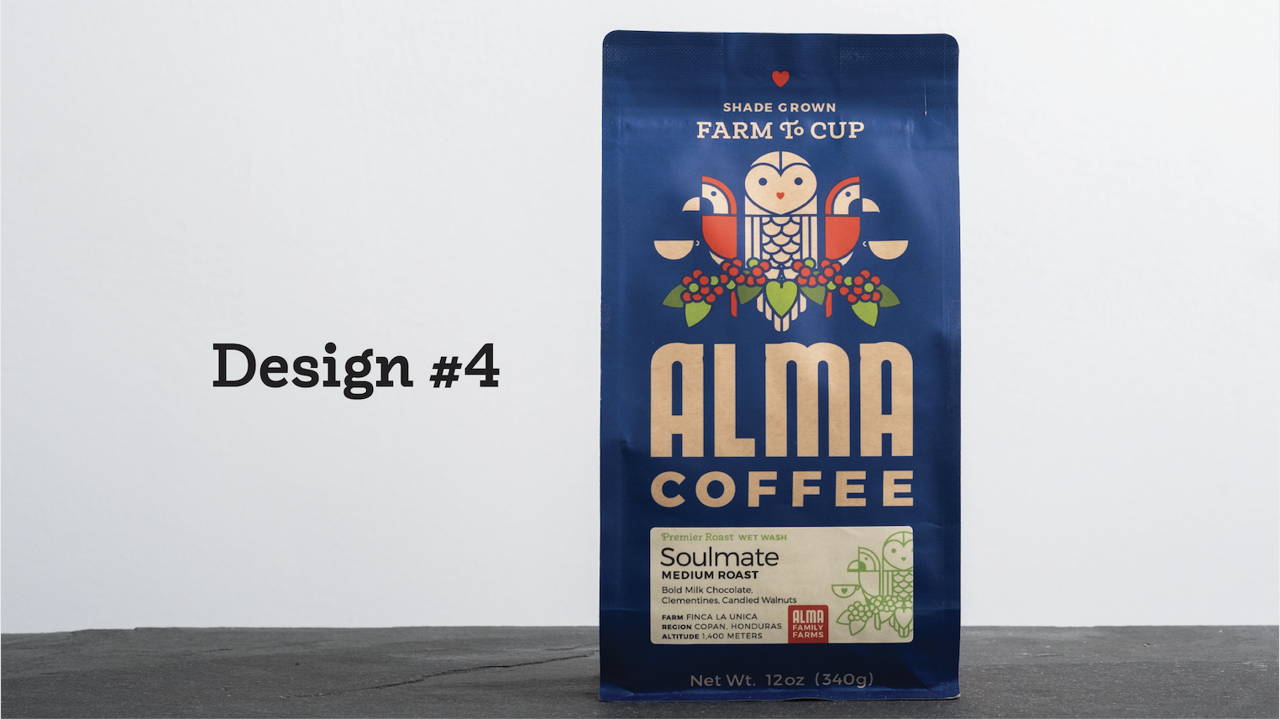 Since our official switch to Alma Coffee from Copan Coffee Roasters, we feel as though our bag design wholly captures what we set out to accomplish from day 1: vertically integrating coffee roasting with our family legacy of coffee farming.
However, that doesn't mean that things haven't changed since Tom Cox created the first version of the Alma bag and logo. About half a year after we started bagging coffee under the Alma branding, we decided to make alterations to the sides of the bag.
As you can see (below), we decided to add a simple but accurate visual map of the route our direct-trade takes from our farms in Honduras to the port of Savannah here in GA, once again designed by the talented Tom Cox. This addition was intended to bring greater awareness for the farm-to-cup process to our end consumer.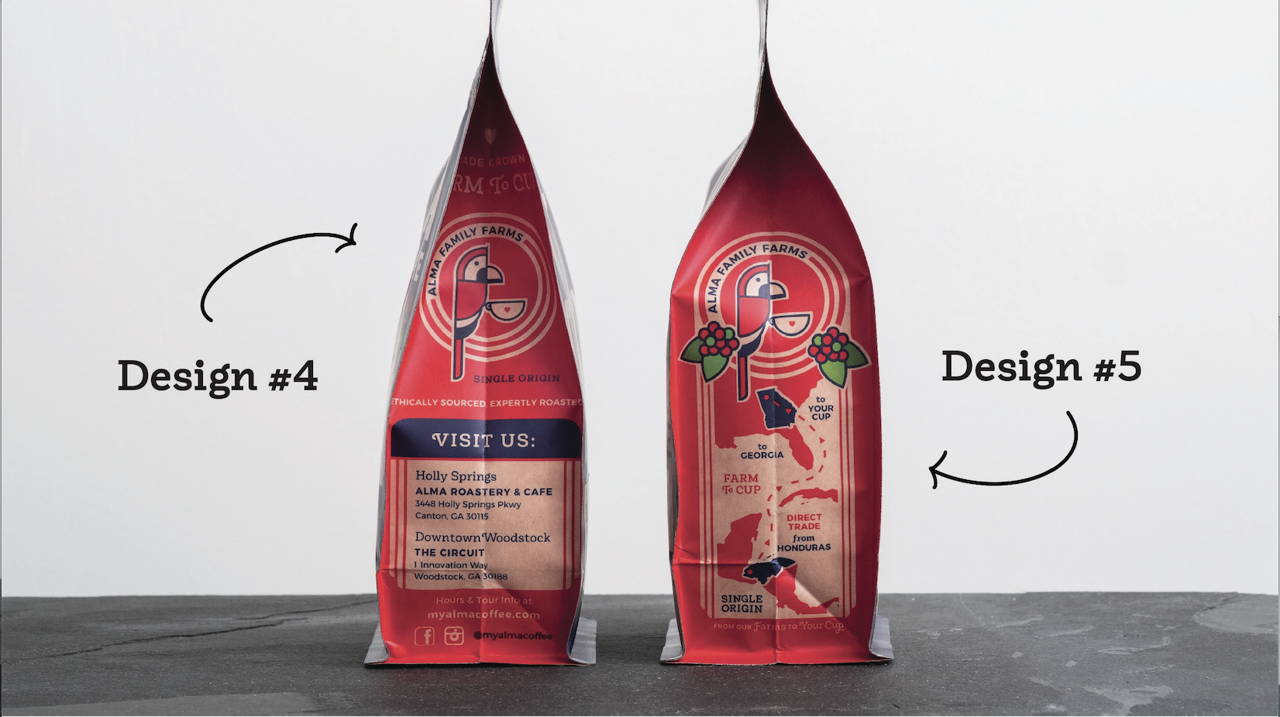 Still, even as we are nearing almost two years of existence as Alma Coffee, our transformation as a company (especially told through our bag evolution) has been both drastic and exciting.
Even to this day we continue to brainstorm ways in which we could improve our branding as direct-trade coffee roasters. Our 5 lb. bag labels, for instance, are getting a serious overhaul with the help of Tom in a few short months, and we are always open to feedback, criticism, or suggestions to improve our branding appeal across all of our packaging and merchandise!

We hope that you found this blog to insightful in a lot of ways, especially if you are considering a rebranding for your own small business! Pick up a bag of Alma Coffee today and witness the power of our visual branding for yourself, and don't forget to leave a comment below and subscribe to our newsletter to get notified when our latest blog posts drop. 💙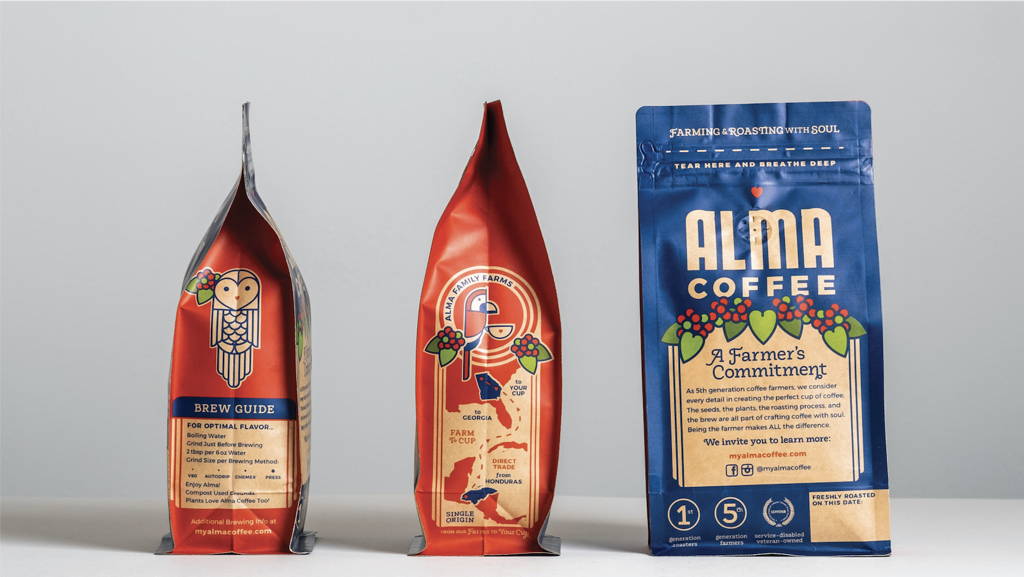 Written by: Kelley Bostian