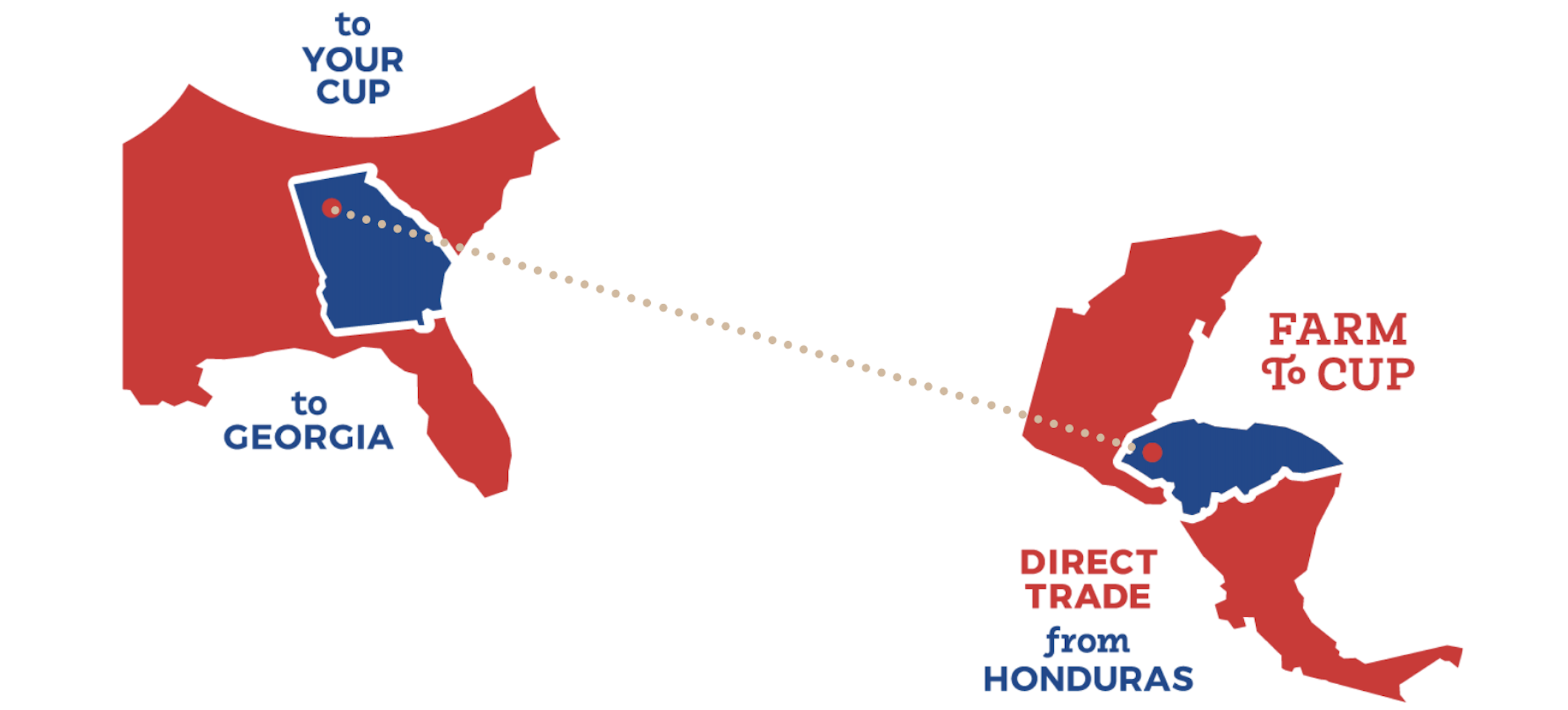 Harry and Leticia Hutchins founded Alma Coffee on the idea of making Direct Trade coffee accessible to everyone. Alma may have been founded in 2019, but its story begins over 500 years ago in the remote mountains of Honduras. Leticia was literally born into the coffee industry, she is a 5th generation coffee farmer! Her dad, Al Lopez (also an Alma founder) was born and raised in coffee farms in Honduras and every year would take Leticia to visit the family coffee farms in Copan, Honduras! Today, Al & Leticia own over 200 acres in production of coffee farms in Honduras and have built a true model farm focused on improving lives, sustainable practices, and growing extraordinary coffee!
So what exactly does farm-to-cup mean? As coffee farmers, we source directly from our own farms in Honduras and from other farmers we know directly (almadoptions). As coffee roasters, we expertly roast based on the natural properties inside the coffee. We roast on the most fuel efficient coffee roaster on the market, emitting 80% less emissions than other conventional roasters. As baristas, we honor the fact that we are the last to touch the coffee beans before you enjoy them in your cup! Every espresso, every drip coffee, is made with the utmost care, grinding and extracting to perfection.
Alma means soul in spanish and that's exactly what we bring to you with every cup of alma coffee! Take a look at our packaging and you'll see our story for yourself. The three birds stand for our three pillars; improving lives, sustainable practices, and extraordinary coffee! We chose to include macaw's as they are the national bird of Honduras and can be found in the Copan region of Honduras where our farms are located. Our signature vibrant blue was also influenced from the flag of Honduras!
Having been born into the coffee farming industry, it's hard to believe that my lifelong career goal was to be an accountant. After high school, Harry (my boyfriend at the time) and I moved to Chicago to study accounting and begin our corporate careers in public accounting. A couple years into our careers we got the coffee itch! After various trips to our coffee farms in Copan, we had fallen in love with the difference coffee can make when done ethically. Alma was born! With so many options in the specialty coffee industry, we distinguish ourselves by being able to control the quality of our coffee from the time it is planted at our farms until the moment you get to drink your perfect cup! When you make the choice to drink Alma Coffee, you make the choice to support coffee farmers directly and make a positive impact on the industry that we all love!
-Leticia Hutchins, Owner & Founder
As farm owners, sustainability is everything to us! Our family farms are USDA certified organic, certified shade grown bird friendly, certified con manos de mujeres, and certified fair trade TSA. These certifications are our official promise of growing coffee sustainably, treating our employees ethically, and caring for our environment responsibly.
Alma Coffee is also proudly certified service-disabled veteran-owned. We thank Al Lopez for his service in the USA military and buy American made whenever possible. From our Loring Smart Roaster to our Slayer Espresso Machine, we love finding companies that are innovating our industry right in the USA!
Harry & Leticia Hutchins, Founders
Jonathan Peyton, Business Development
Rachel Kraus, Head Roaster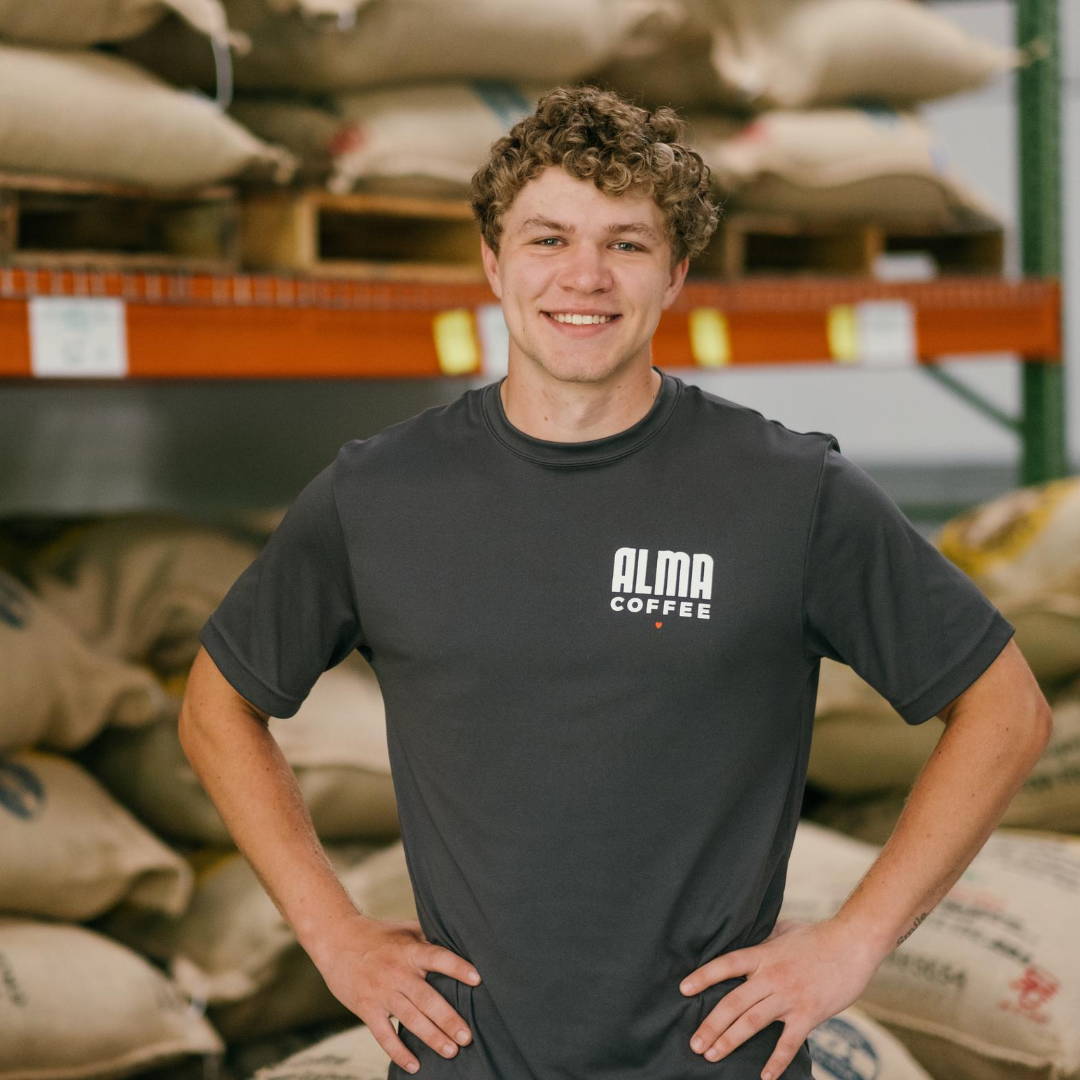 Matt Somsen, Roastery Fulfillment