To kick off this special list of holiday cocktails, we wanted to find a way to implement our own chocolate and peppermint winter syrups made from scratch by our cafe baristas.
With a cool, minty aftertaste and deliciously creamy mocha mouthfeel, this coffee cocktail was unanimously enjoyed by our entire staff here at the roastery.
We found that it paired well with our limited holiday roast "Cozy" but encourage you to experiment with your favorite medium to dark roasts until you land on the perfect combination of coffee, chocolate, and peppermint.
1 cup of freshly brewed coffee
We once read or heard someone say something to the effect of "people who like their coffee black are bound to like their whiskey straight."
Although there is no empirical evidence to support such a claim, it did lead us down a cocktail research path that ended with a caffeinated spin on a classic cocktail offering…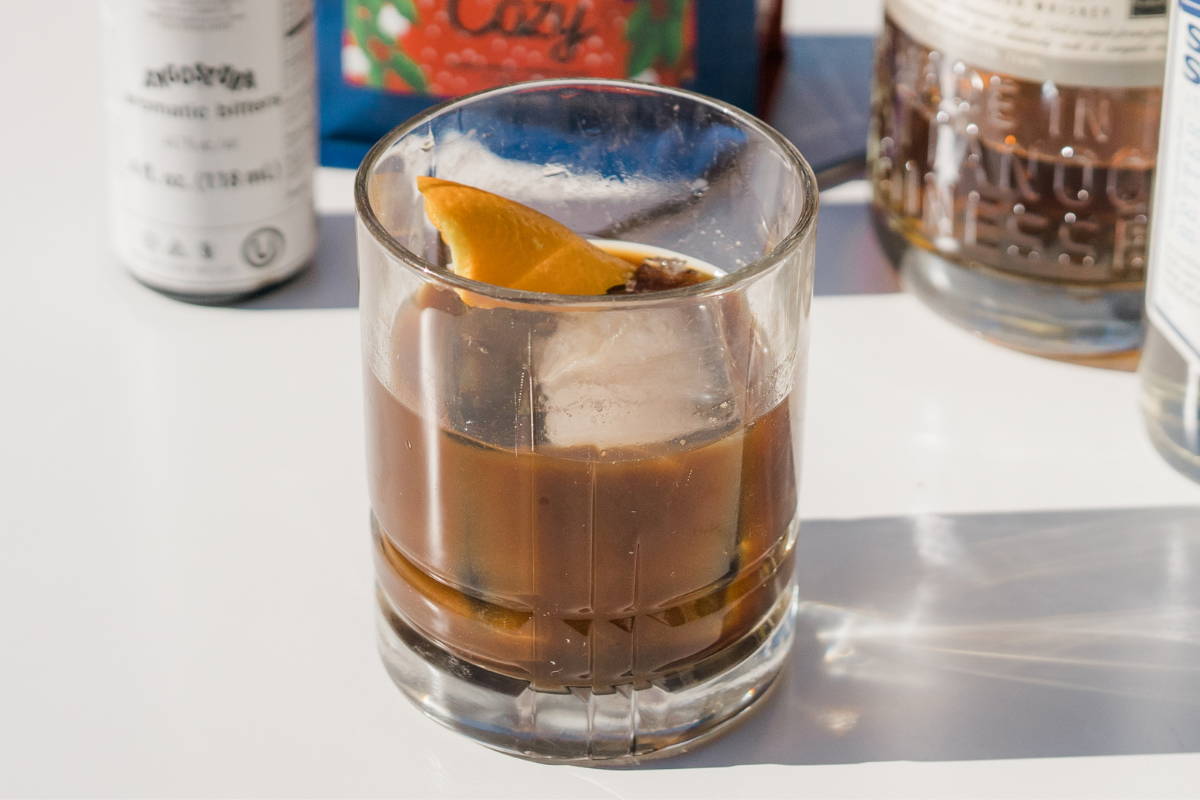 To be completely honest, this entry on the list isn't for the faint of heart: combining whiskey, bitters, and simple syrup with a full shot of rested espresso, the Espresso Old Fashioned is meant to be sipped and savored.
Forewarning: We imagine this cocktail would have been a lot better had we used a top shelf whiskey, but our entire team (except Kelley) found it hard to swallow after the very first sip. Experiment at your own risk.
2 oz. room temperature espresso
If you're looking for a Christmas Eve dessert drink, you're not going to find an easier or tastier combination of ingredients out there (trust us, we tried).
Combining Tequila, Coffee Liqueur, and the oft-forgotten creaminess of melted ice cream, the Boozy Affogato is a coffee and cocktail lover's dream.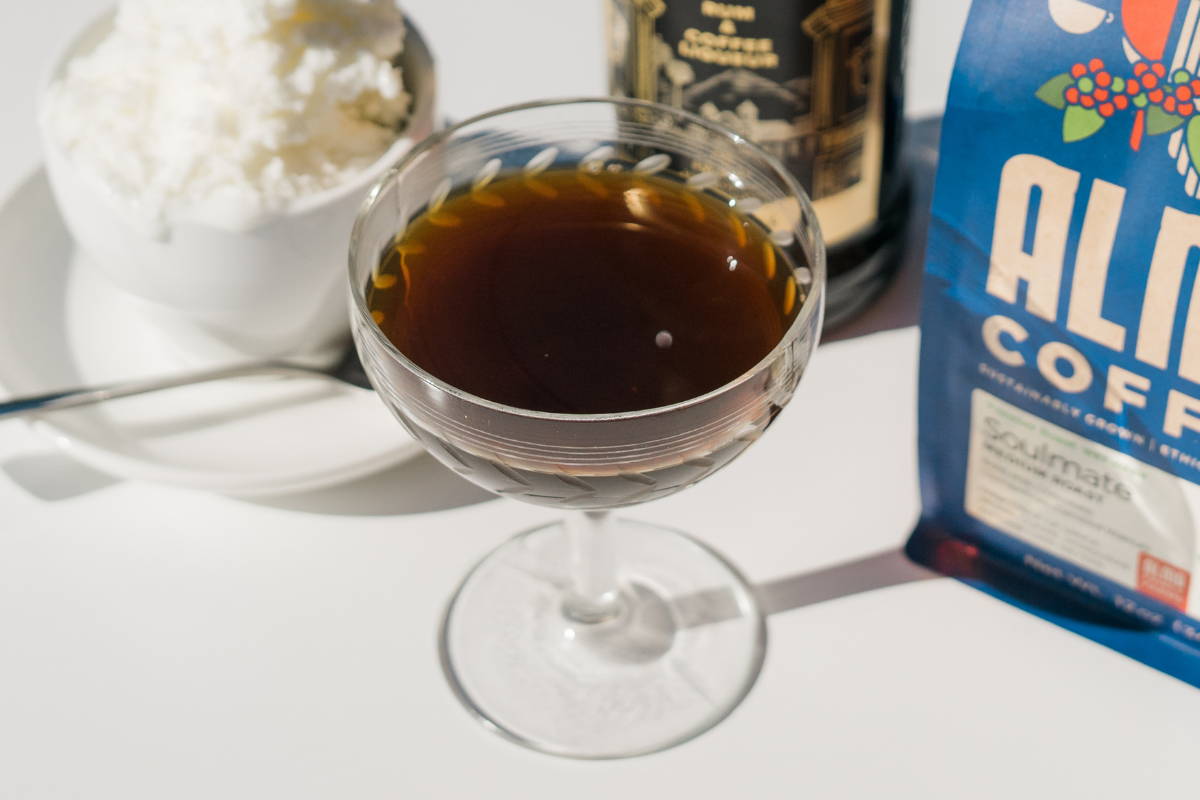 The first mouthfeel is reminiscent of a standard iced latte and goes down with a creamy pleasantness. This boozy coffee beverage can be enjoyed year-round with light to medium roasts.
Although it's not on the ingredient list, adding a sprinkle of cinnamon or peppermint would not only dress up the drink but add a aesthetic and visual touch. Let us know in the comments if you have any other ideas on how to flavor this creamy cocktail delight!
¼ cup of vanilla ice cream

6 oz. freshly brewed, hot coffee

1 tablespoon sugar, if desired
Finally, we knew we wanted to end a holiday coffee cocktail list with something that really brought out a coffee's natural tasting notes, and that's exactly what this deceptively simple cocktail accomplishes.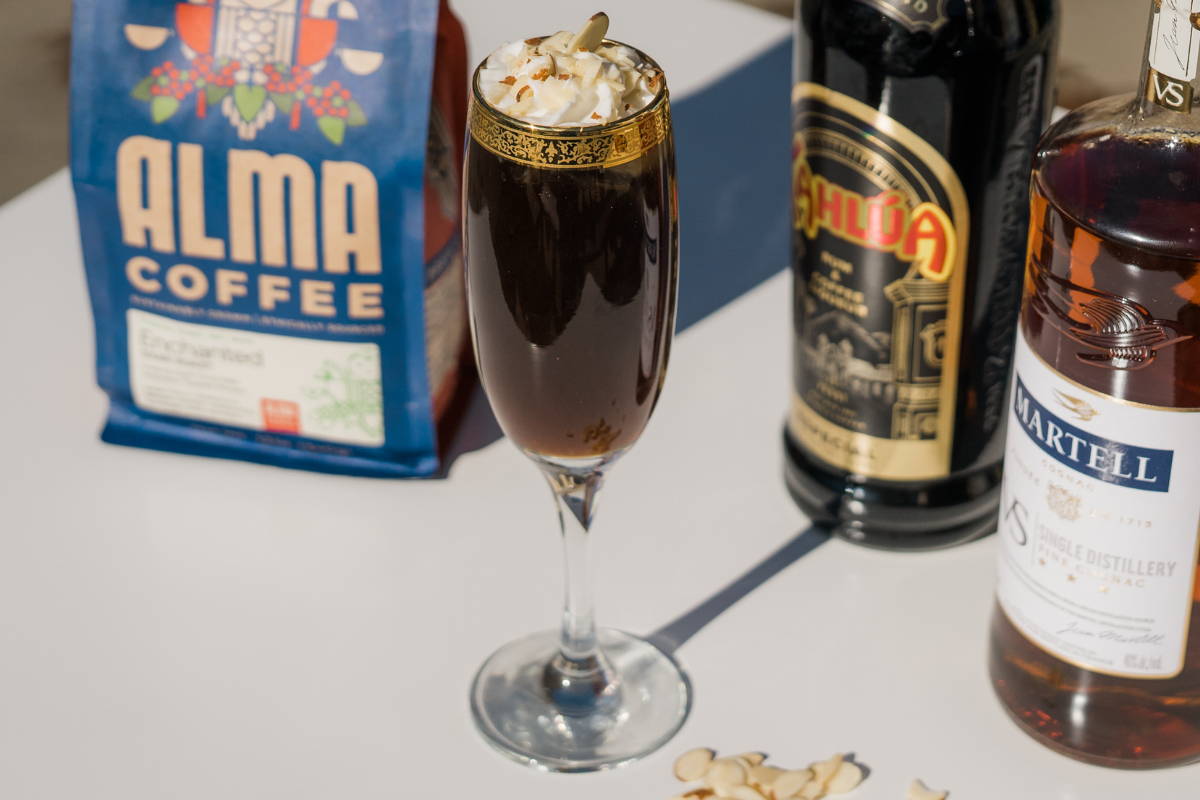 The Café Amore really did bring the warm fuzzy cozy feeling to our tastebuds (and out of the "Cozy" roast we used as the hot coffee base). With a smooth beginning mouthfeel and a subtle hint of Cognac and Amaretto at the end, this is a cocktail meant to be enjoyed while wrapped up beside a cozy fire.
WARNING: we ran out of whipped cream halfway through the initial tasting session and realized it was an actual requirement, so be sure to grab an extra can when you run to grab the ingredients!
6 to 8 oz. of freshly brewed, hot coffee
We hope you enjoy these boozy holiday coffee recipes as much as we enjoyed taste testing them. Coffee is a traditionally morning drink, but who likes following conventional coffee rules anyways!
Again, if you want to see what our team thought of these cocktails or a visual how-to of each step, be sure to check out our coffee cocktail reaction video on the Alma YouTube channel.
As always, sure to drop a comment with any recommendations or to let us know which recipe is your favorite, and quickly subscribe to our email newsletter at the very bottom of this blog post to get notified when the latest Alma-nac Blog post drops. Happy Holidays, Alma Familia!
Written by: Kelley Bostian