It wasn't long before the smell of freshly boiled hops in the air became oddly pleasurable. 
The beer vats at Reformation Brewery, I thought, glistened and gleamed with a majestic hue as we walked through the industrial spaces that filled the Woodstock, GA brewery; Their polished exteriors harbored an unimaginable sea of summer shandies that would soon be bottled up and sold to the Georgian masses. 
"What did you want to ask him, again?" Jonathan asked, his teeth gritting with eagerness. 
This broke my gaze, and I began darting back and forth between my colleague on the scene, Jonathan, and the resident beer-brewer himself, Josh. I had almost forgotten we were there to cover this new and exciting Alma Coffee beer. 
"Yes, I uhh... look, before I get to that, should we take a selfie?" They both looked confused, but I smiled and marched onward: "For the blog of course!"  
This seemed to resonate with the pair. As Jonathan and Josh both stood still, the hum of industrial-grade cleaning equipment and some unrecognizable Fleet Foxes song filled the ambient silence.  
"Okay..." I said while positioning the phone for maximum Instagram effectiveness, "now tell me Josh, what made you want to combine Alma Coffee with a Reformation Beer?"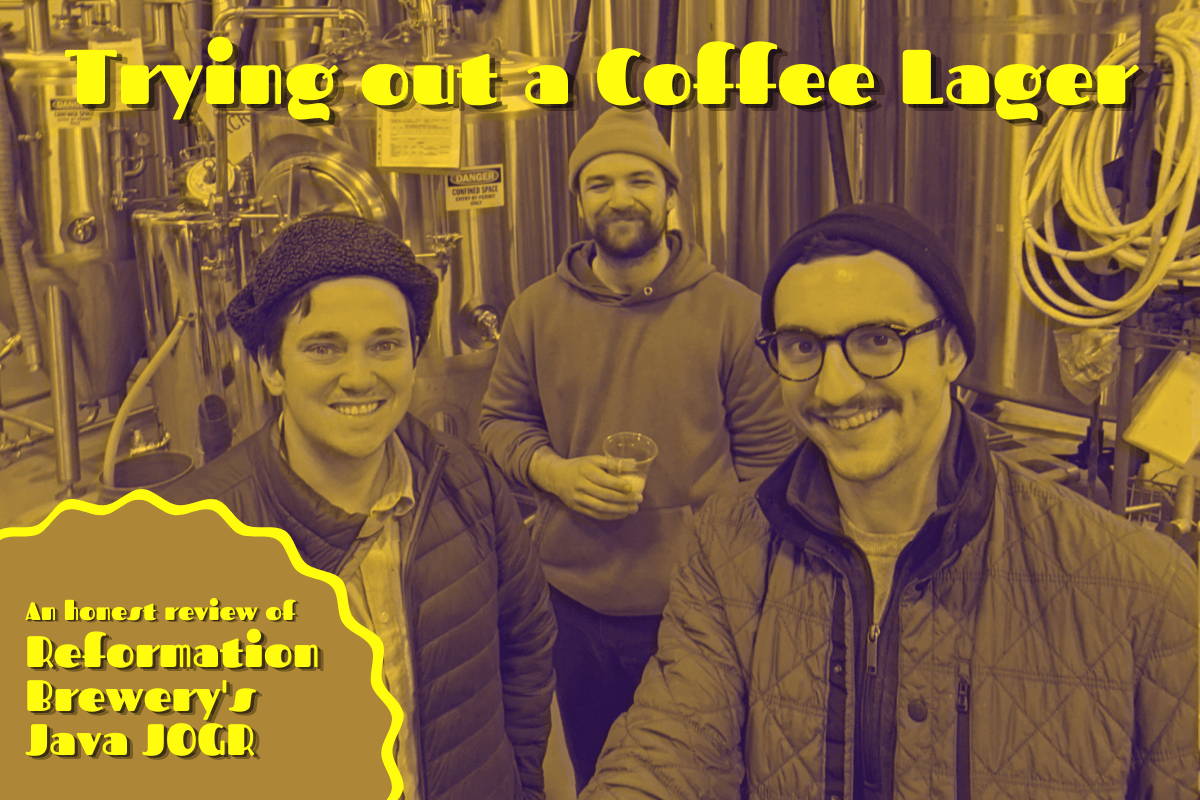 Visiting Reformation Brewery
This wasn't the first time I've covered alcohol in some gonzo writing form. In the salad days of my youth, I interned for an alt-weekly magazine that, at least once a week, asked me to write a 500-word article about some niche subset of alcohol's history.  
Needless to say, I've covered everything from early American hard ciders to Gospel Hymn beer in my twenty-something trips around the sun.  
When Harry and Leticia told me that Reformation Brewery was going to be experimenting with Alma Coffee in a new batch, I didn't really expect to be surprised by what might come out of that process and, admittedly, didn't research anything about what I would eventually be walking into.  
I mean, think about it: If you heard you would be reviewing a coffee + beer combo, you would think that usually means a heavy stout, right?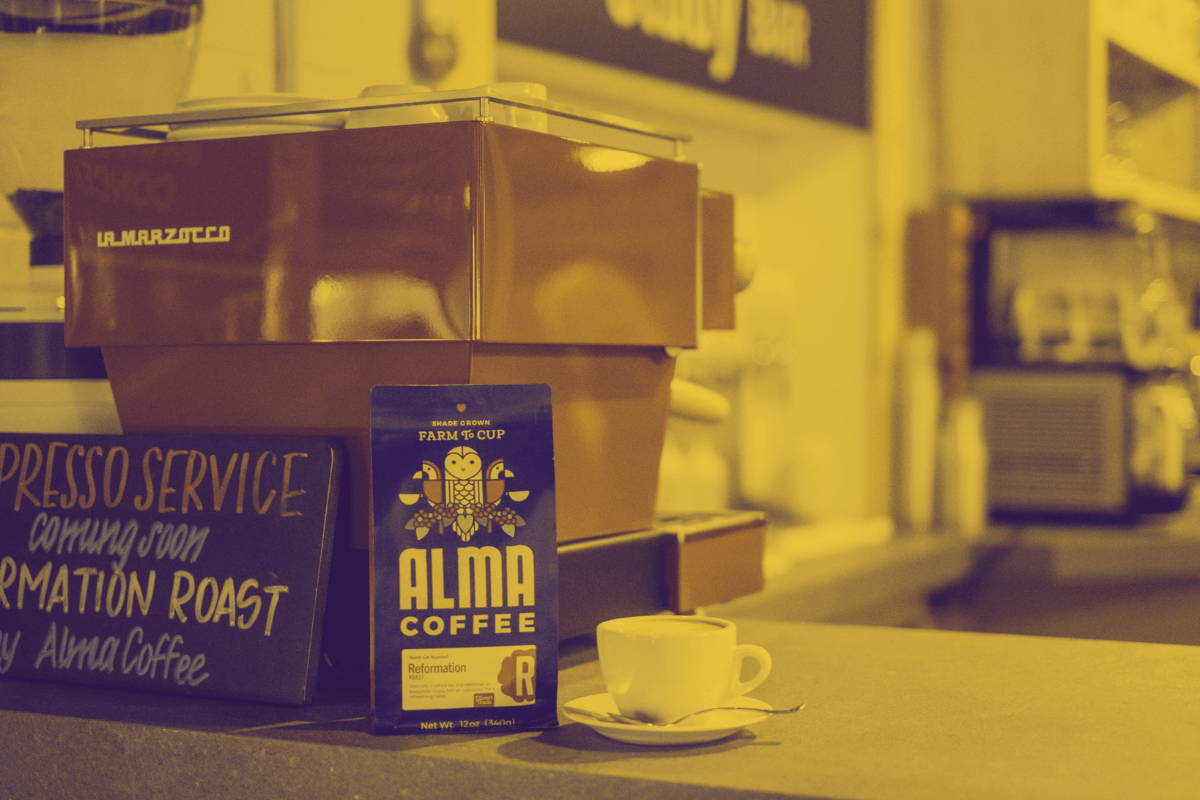 When we finally found the 80-gallon vault that was housing this experimental coffee beer, Josh started the meeting by pouring a round of samples straight from the vat for Jonathan, himself, and I.  
Immediately, the gold/amber liquid that rested in the bottom of the tasting glass raised my left eyebrow higher than recent memory could recall. 
No stout, how could this be? 
"Wait, what is this?" I asked Josh, partially confused and mostly curious.  
"The Java JOGR!" he explained, probably noticing the brow of confusion above my sleepy eyes, "we wanted to do something a bit different than a traditional coffee stout since we were working with Alma Coffee—especially with Spring right around the corner. So, we are trying out a coffee lager!"  
Josh held up his glass, signaling a ceremonious "cheers," and we all eagerly took our first sips.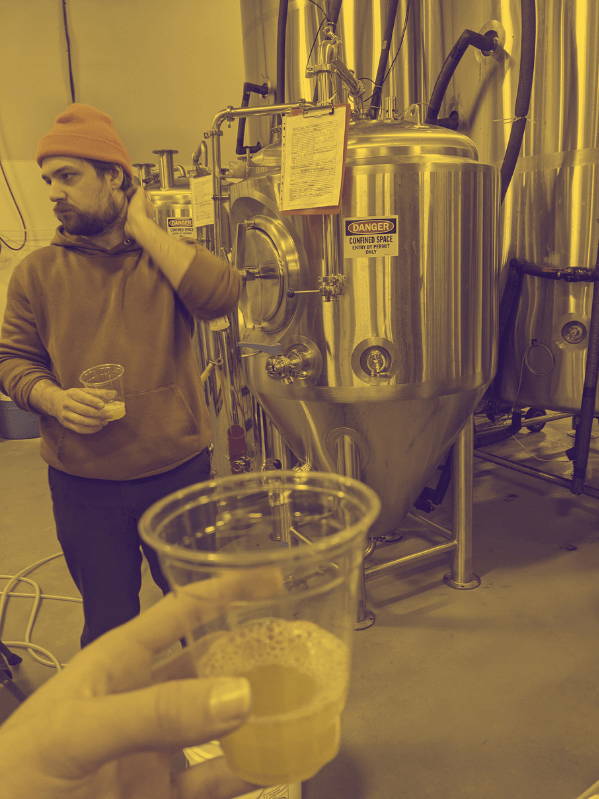 Blissful shock. The first batch of the coffee lager washed down my throat, into my belly, and then manifested itself in an exuberant and vocal "NICE" as I finished the first official taste of this experimental "Java JOGR." 
Even in its pre-carbonated infancy, this was a tasty beer. There was a subtle but serious coffee taste at the front and back ends of the experience that sandwiched a smooth, crisp lager. But I was still curious. 
"What's the brewing process for this one?" I asked, partially unaware that the beer itself had already been brewed. 
"Well, usually with coffee-anything in the beer world, you just add cold brew concentrate to the beer after the brewing process..." Josh began explaining.  
I patted my jacket pocket, then panicked. Where was my notepad? I checked my jean pockets frantically, then found it already resting in my hand. Sighing in frustration, I began taking notes: 
"... however, for this batch, we thought it would be cool to run the brew through ground coffee for a few days to see if those flavors could be fully extracted and transferred to the beer."  
"Wait," Jonathan interjected, "sounds kind of like you are brewing this coffee in beer?" 
"Pretty much." Josh responded, "But I'm not exactly sure if I like the subtleness of the coffee in this batch."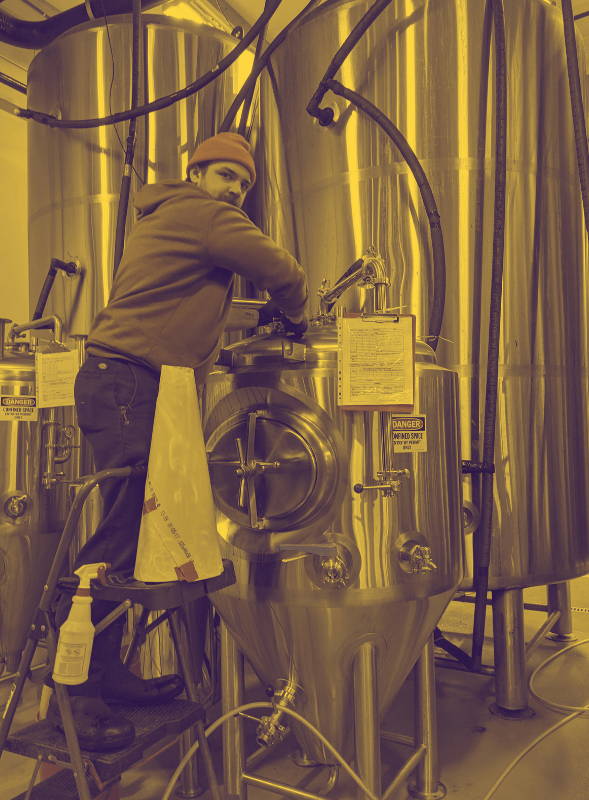 The subtleness was exactly what I liked, though. I will admit, however, that I was interested to hear more about what Josh's ideal coffee lager should taste like. Or, more or less, how he could go about altering the flavor profile of what we had already tasted.  
"I think it's delicious as is," I interjected, "but you are the dojo of this metaphorical karate studio. What are you thinking about changing?" 
"I want the coffee to resonate throughout the entire body of the beer, not just the aftertaste" he explained. 
Another beer master approached our improvised tasting circle before I could respond. He had the look of a man who had tried all the beer one could ever desire yet still appeared eager to try more, and I fully respected that. 
"Ah, there you are!" Josh continued excitedly, looking down at a five-gallon bucket of cold brew his fellow beer master had plopped next to the Java JOGR batch.  
"So, we brewed up some Alma Frio to add to this vat in the case the coffee didn't come through as strongly as I'd like. I think it will help move those coffee notes across the whole tasting palate."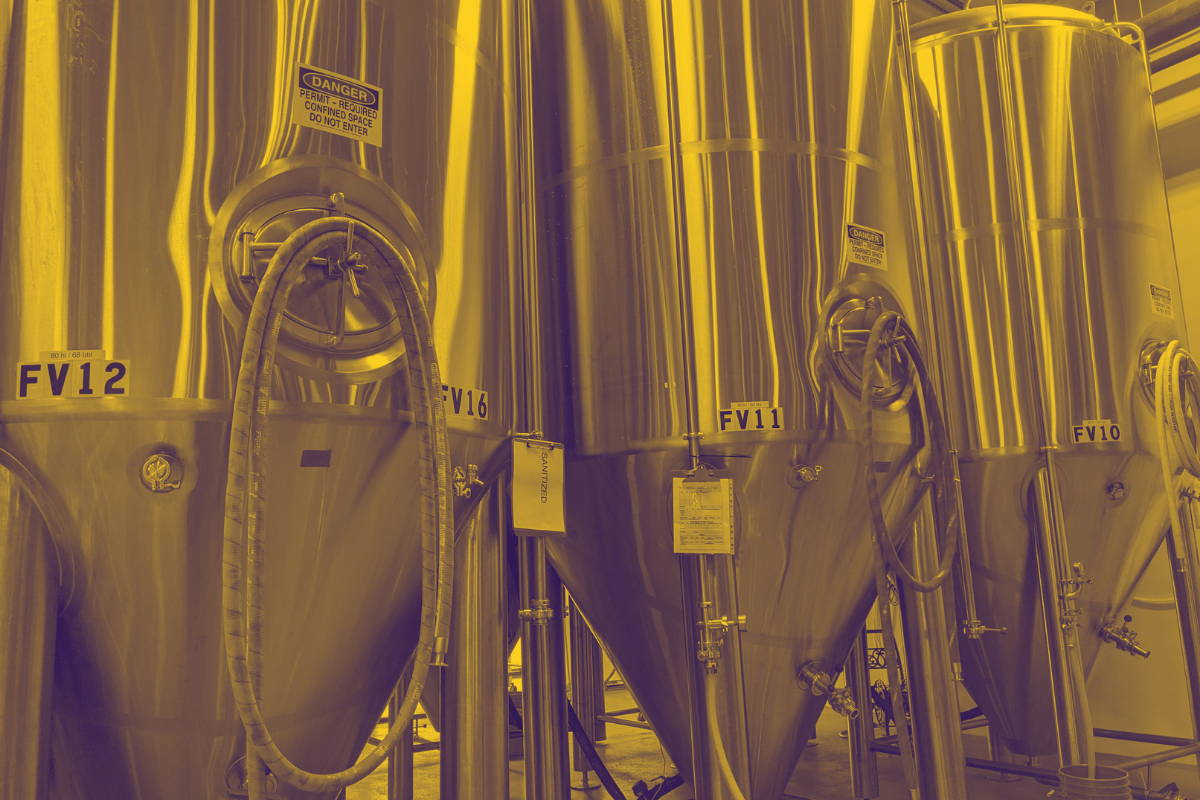 I jotted down a few notes and proceeded to watch the master brewers do what they do best.  
In a matter of minutes, the pair debated the efficiency of the metric system as a means of measuring brew adjustments, opened the top lid of the Java JOGR batch, and poured in five gallons of cold brew concentrate as confidently as I would top my order of Nachos Grande with sweet, sweet Fire Sauce. 
Jonathan and I gathered beside Josh at the base as he stepped down from a ladder attached to the top of the vault. We both felt the magic in the air, I'm sure, but had to remain professional and objective.  
"Alright," Josh said as he poured us a sample of the adjusted batch, "Cheers!" 
Two weeks later: from tasting to tapping
Finally, the day had arrived.  
It had been a few weeks since my on-site coverage of the Java JOGR's brewing process, and I was beginning to crave the smooth body from my behind-the-scenes tasting. But, just like my many attempts at brewing up coffee in a Chemex, experimental batches of beer are worth the often-unpredictable wait times.  
Of course, despite Jonathan arriving to the Alma Warehouse with a few early-access cans of the Java JOGR after learning of its completion a week beforehand, I knew I had to experience the first sip of this Alma Coffee concoction in its natural habitat—tapped from a keg.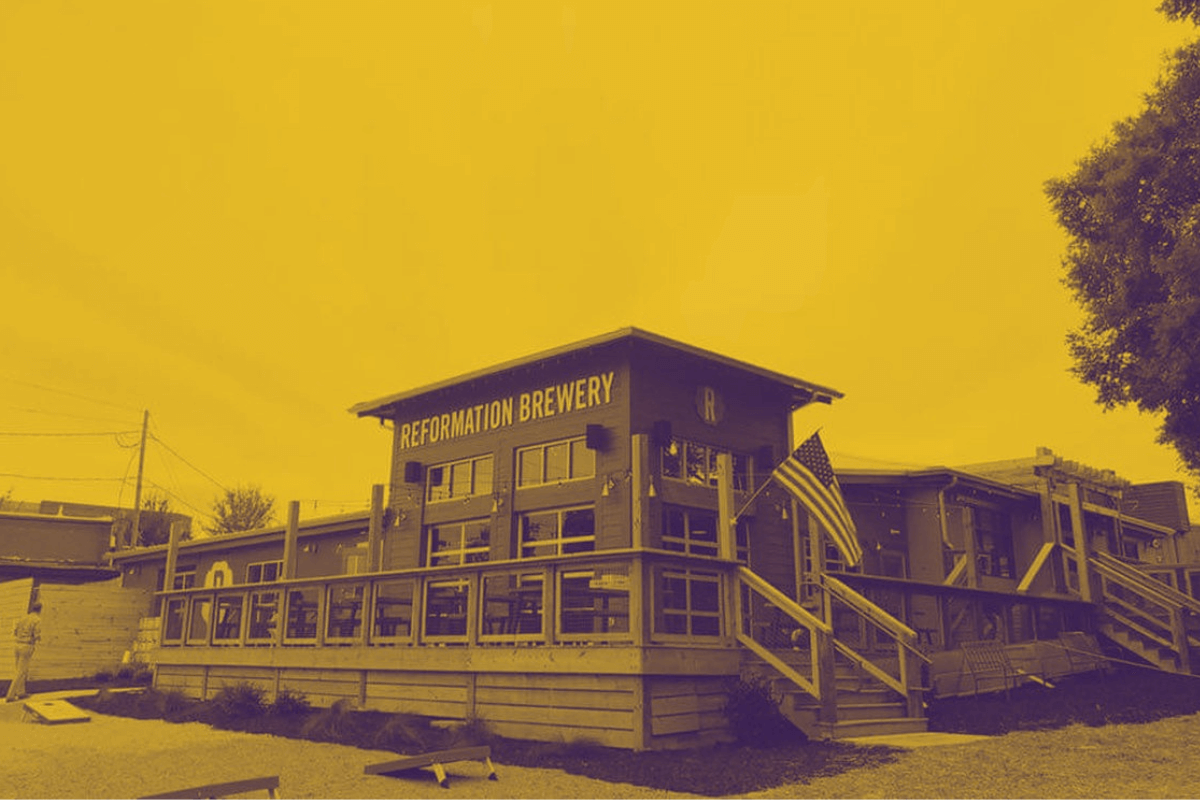 Around 5pm on a Friday, too tired to go home and change into my "nice" pair of khakis, I gathered members of the Alma team to bravely go to our one of our favorite local hangout spots: the bottom floor of Reformation Brewery in Woodstock, GA.  
The combination of poor sleep, five straight days of work, and the ever-pressing desire to write my debut first-person blog post for Alma all culminated in this historic moment. It was exhilarating.  
As Harry, Leticia, Matt and I walked through the boisterous crowd within and around Reformation Brewery, we approached the bar as normally as possible. Obviously, we didn't want to tip anyone behind the counter off: we were on a covert taste testing mission in the name of Alma Coffee. 
Luckily when we approached the counter, an inebriated couple began singing a low-effort rendition of "Shallow" on the outdoor karaoke stage and, thankfully, kept our Alma-identity safe... at least for the time being. 
As the bartender poured four tall glasses from the tap, the golden/amber hue excited me more than it did the first time I saw it.  
"You ready for this?" I said, looking at the team with eager giddiness.  
After a few minutes of searching for a place to sit, we all collected ourselves and held up our glasses of Java JOGR in triumph.  
I remember saying something along the lines of "To Alma and Reformation, a match made in heaven!" before we all sipped our first sips, savored the flavors, and then looked at each other wondering who would be the first to comment. Then, we took turns giving our thoughts: 
"OMG I love this" 
"Wow, so smooth!" 
"I wish it didn't have alcohol so I could drink this all day, every day" 
"Refreshing and I'm so glad it's not a stout, it's hot outside."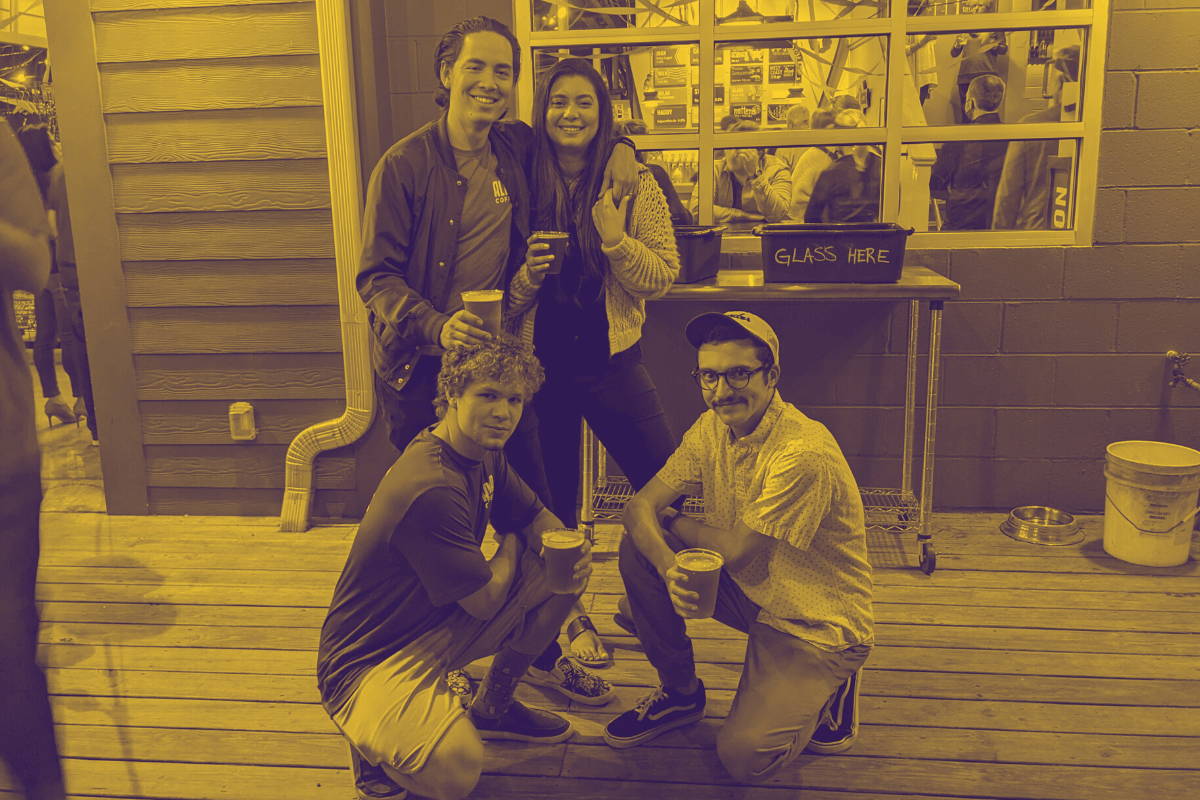 Truly, this is a delicious beer for delicious weather.  
Hats off to the brew-master, Josh, and his team over at Reformation Brewery. Throughout the process of experiencing and writing about this coffee lager, I've been surprised at almost every turn—and I once wrote an article about combustible cocktails. 
The final version, somehow, ended up maximizing what I loved so much about my first sample and so much more: there are subtle coffee notes at the top and back of each sip, and a smooth coffee body that dances with the mellow lager in between those first and final moments.  
If you are in the Woodstock area or plan or plan to be, this is definitely a beer worth trying. Not only because it contains Alma Coffee and you're reading this on the Alma-nac Blog, but also because, if I remember correctly, the vat used to brew this coffee lager was less than 80 gallons. That doesn't seem like a lot, especially for how popular this stuff will probably end up being. 
However, even if it's a limited-release, I encourage you to go and enjoy the Java Jagr while it lasts.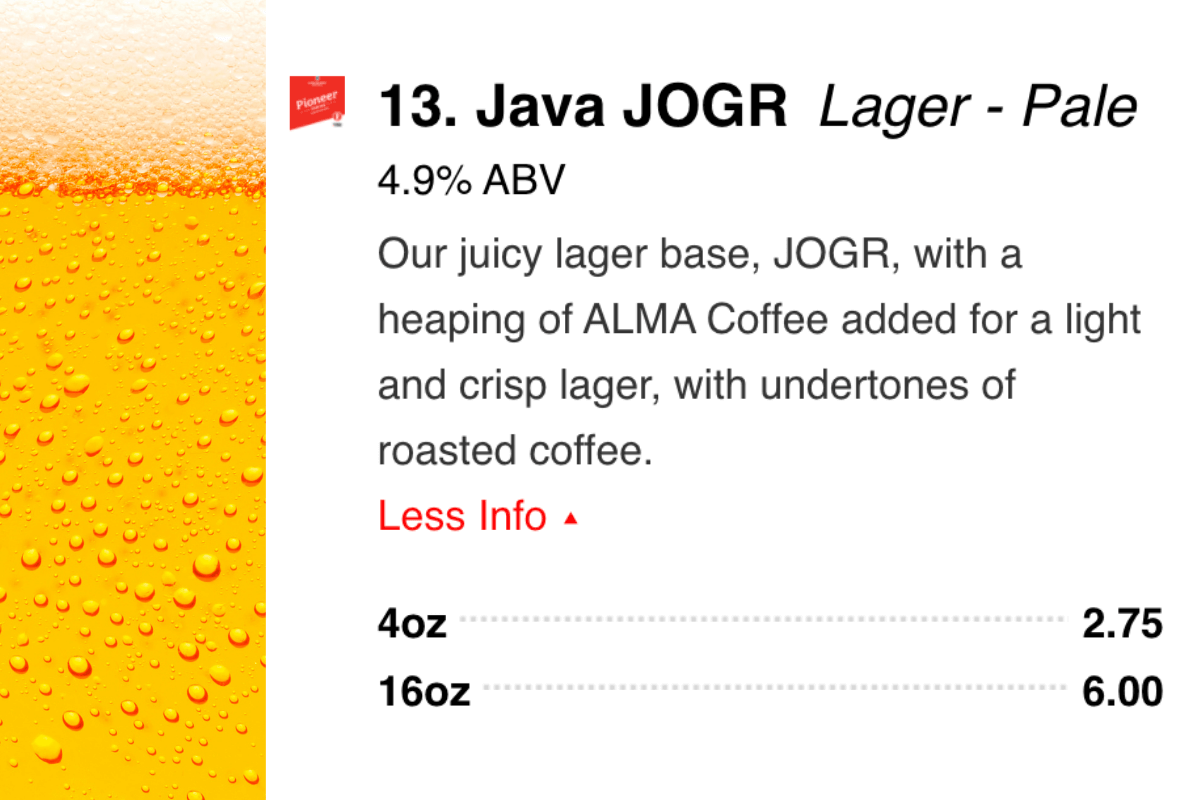 Until our next blog post, please drop a comment below and let us know what surprised you the most about the brewing process of coffee lager!