It's hard to believe 2021 is already halfway over, and it's even harder to believe that our coffee roasting company has doubled its team size in just this year alone.
As we reflect on this year's progress and continue working towards our core mission of improving lives from farm to cup, we wanted to give you a snapshot of each of our employee's lives, their position at Alma, and how much they contribute to your Alma Coffee!
Be sure to bookmark this blog, we'll continue to update it as our team grows and furthers our commitment to improving lives!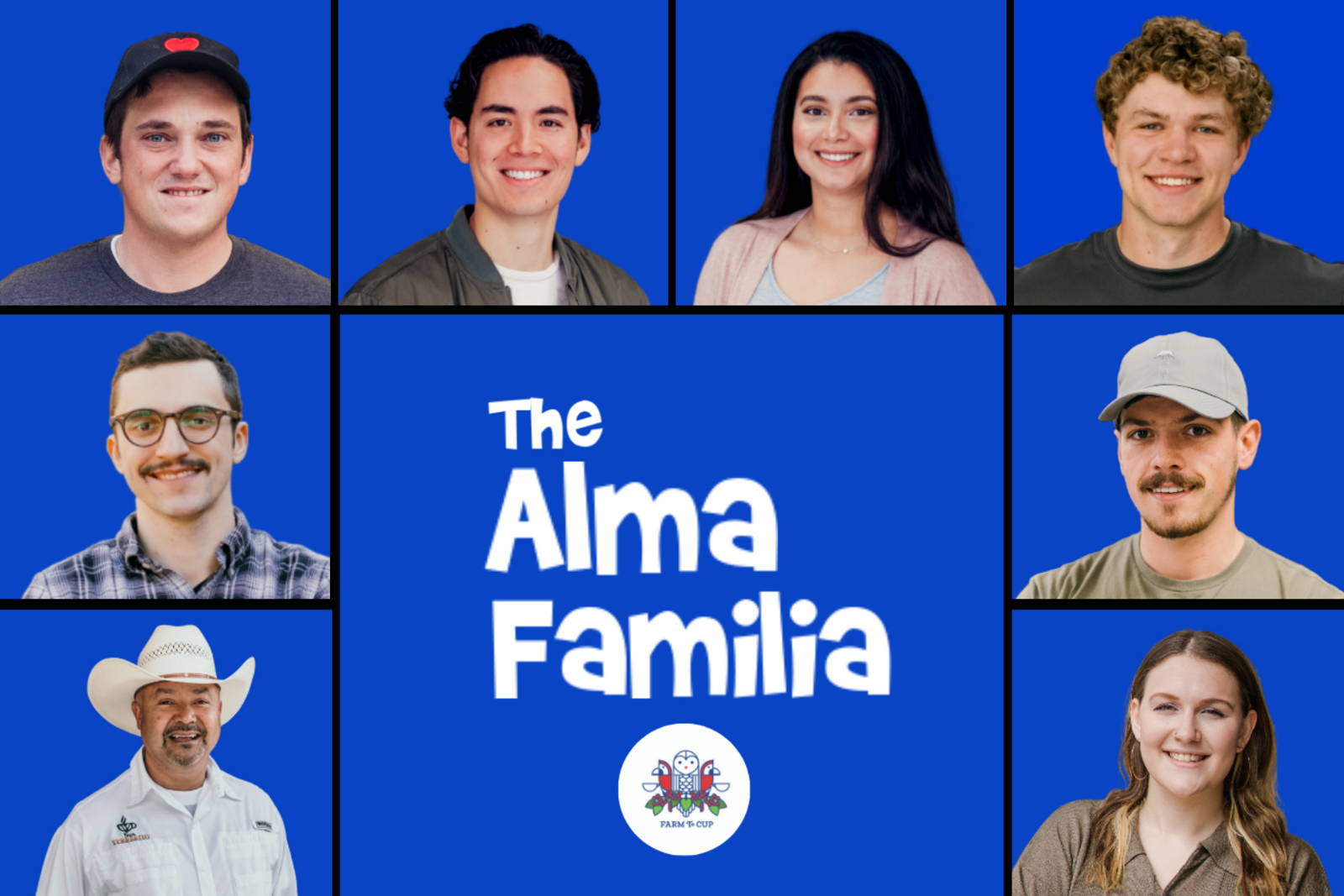 Leticia Hutchins | co-Owner and Operator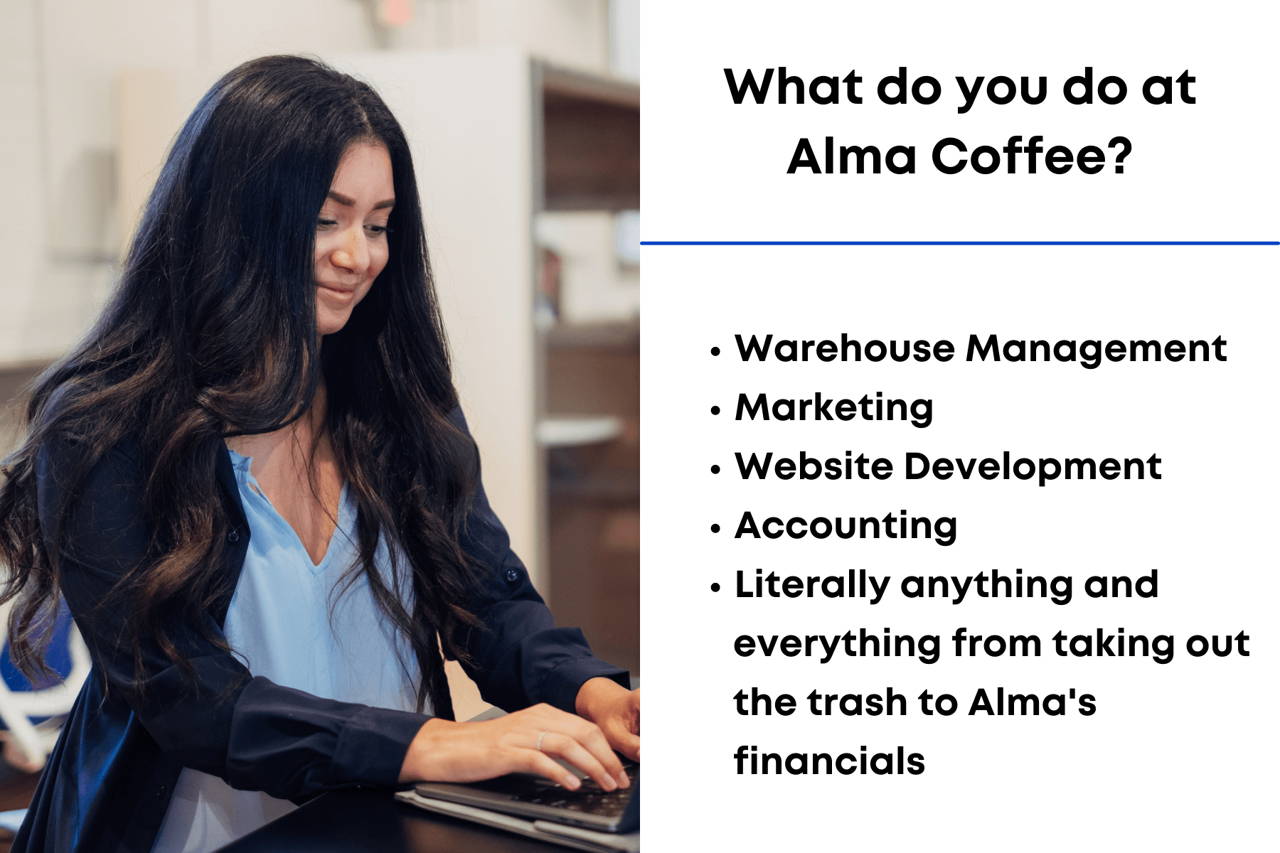 Quick Bio: If you've ever ordered Alma Coffee before, then you may already be familiar with one of our two owners, Leticia Hutchins. We encourage you to check out our About Us page if you want to read about what inspired Leticia and her soulmate, Harry, to leave their conventionally successful careers and join the coffee roasting industry.
However, this blog is dedicated to reflecting on the lives of our 2021 team, and Leticia has certainly exceeded all expectations of a small business owner in helping improve the lives of her employees. On top of being the hardest working individual on this side of the Mississippi, Leticia strives to maintain a positive and fulfilling work environment for everyone in and around our warehouse, and that certainly is reflected in the extraordinary coffee you enjoy sipping on every morning. (oh, and she has two really cute cats!)
What do you want to accomplish in 2021 at Alma Coffee?: To continue hiring amazing members of our community as employees of Alma Coffee.
Harry Hutchins | co-Owner, Operator, and roaster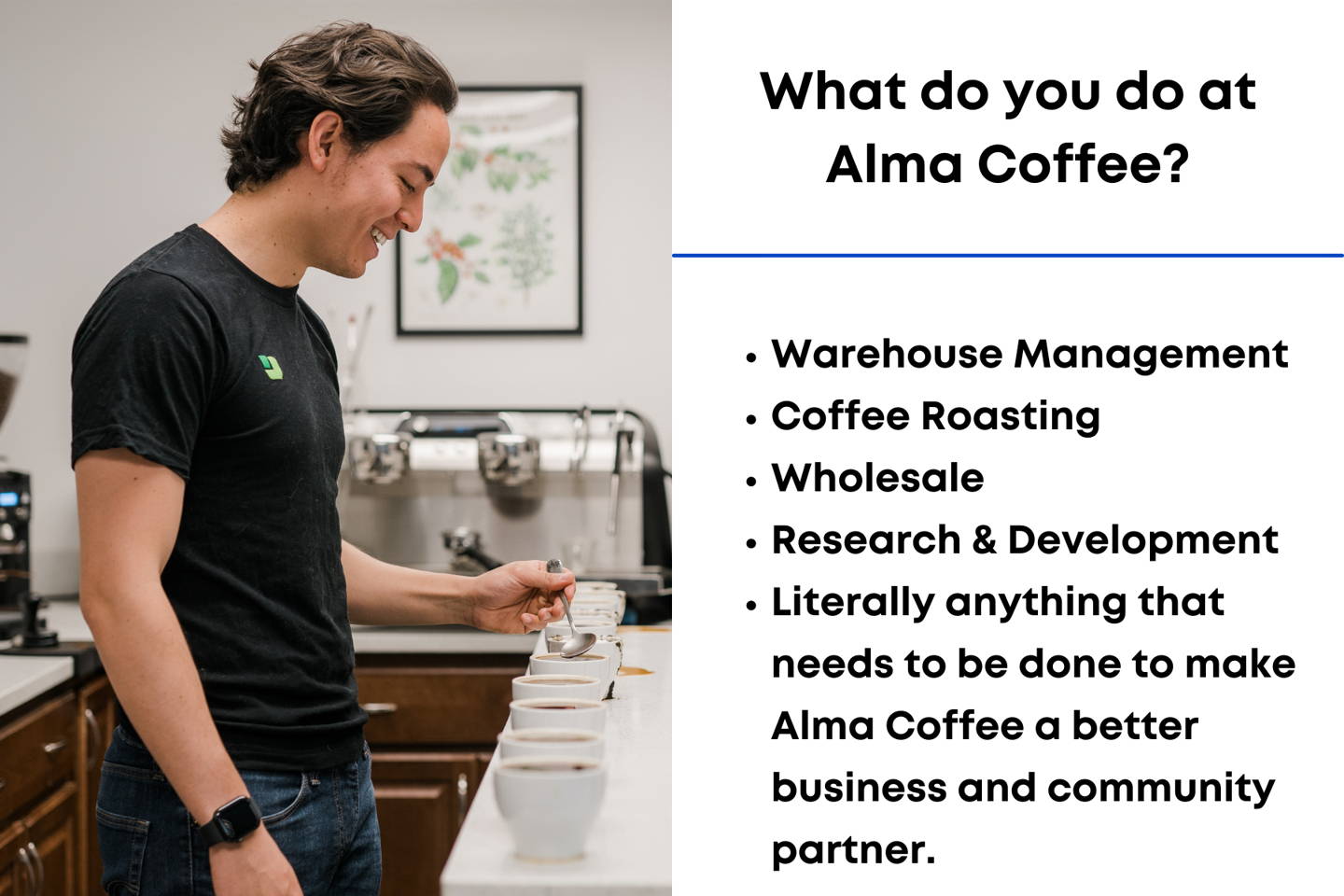 Quick Bio: Working side-by-side to continue the mission of Alma Coffee with his wife, Leticia, Harry might be the second hardest working person on this side of the Mississippi (and possibly the hardest working person on the other side of the river!). However, the extraordinary coffee roasting that has put Alma Coffee on the map can be completely credited to Harry's obsession with quality and the constant desire for improvement in his coffee roasting abilities.
We were recently told that Harry takes out his pent-up rage on the court when playing competitive rec basketball, and that actually makes a lot of sense: he is not only a joy to be around and work for, but also is constantly making everyone around him strive to be a better professional through his stoic disposition. Check out our official Alma Warehouse Cribz tour if you want to see just how cool of a person Harry can be when he isn't dropping three's on the local YMCA court.
What do you want to accomplish in 2021 at Alma Coffee?: To continue expanding our roasting operations, wholesale partnerships, and furthering our mission of improving lives with direct trade coffee.
Al lopez | co-owner, BUSINESS DEVELOPMENT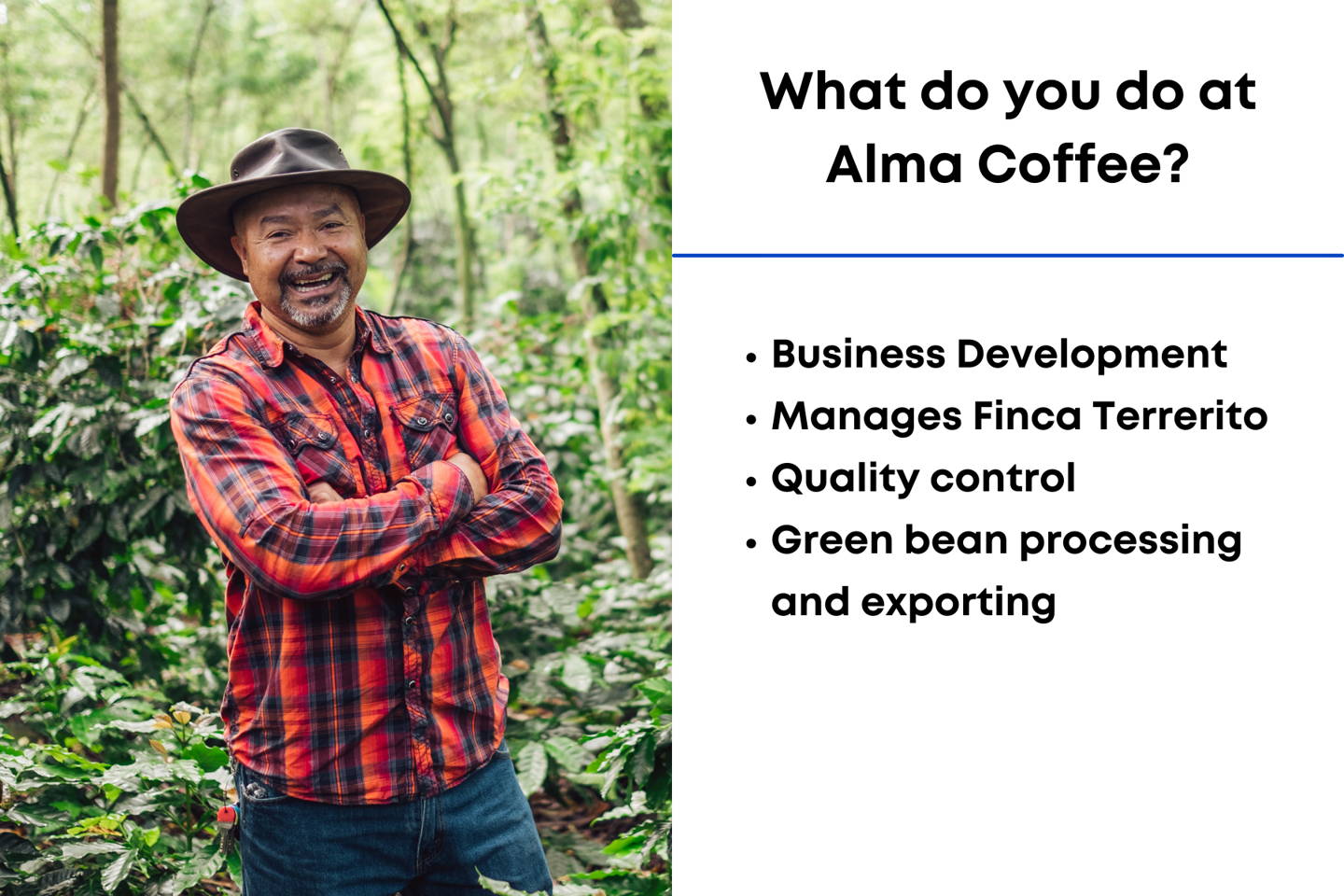 Quick Bio: As a fourth generation coffee farmer and operator of our family farms, Finca Terrerito, Al is one of the co-founders and key visionaries of Alma Coffee. After retiring from his corporate career, Al decided to dedicate his time and energy to improving the lives and sustainable practices at Finca Terrerito. In 2018, this commitment perfectly merged with Leticia and Harry's direct trade coffee vision.
When Al isn't in Honduras overseeing the family farms, he brings the "Alma-tude" to our Holly Springs warehouse and helps the team strive to build the best brand possible for our roasting operation. Fun facts: Al enjoys mountain biking and traveling with Leticia Lopez, his wife of 30 years.
What do you want to accomplish in 2021 at Alma Coffee?: To continue the company mission towards improving lives, sustainable practices, and extraordinary coffee at the farm and roastery.
JONATHAN PEYTON | BUSINESS DEVELOPMENT
Quick Bio: Jonathan (JP) is the type of guy that has never met a stranger in his life, but he also seems to know every single coffee drinker, roaster, and barista in and around Georgia (no, seriously, JP is the human equivalent of LinkedIn for coffee people). On top of being an extremely talented musician, JP loves everything there is to love about coffee and recently shared his V60 brewing secrets on our YouTube Channel.
We couldn't imagine the Alma Warehouse without JP's amicable presence: from showing us the finest of folk tunes to the latest James Hoffman brewing videos, Jonathan brings a positive disposition to the roastery that makes all of us feel a little warm n' fuzzy on the inside. It also doesn't hurt that he has some of the cutest kiddos on the planet, which, in turn, results in the occasionally funny dad joke.
What do you want to accomplish in 2021 at Alma Coffee?: To introduce Alma and Finca T to the international community of coffee roasters and clientele.
Kelley Bostian | Digital media manager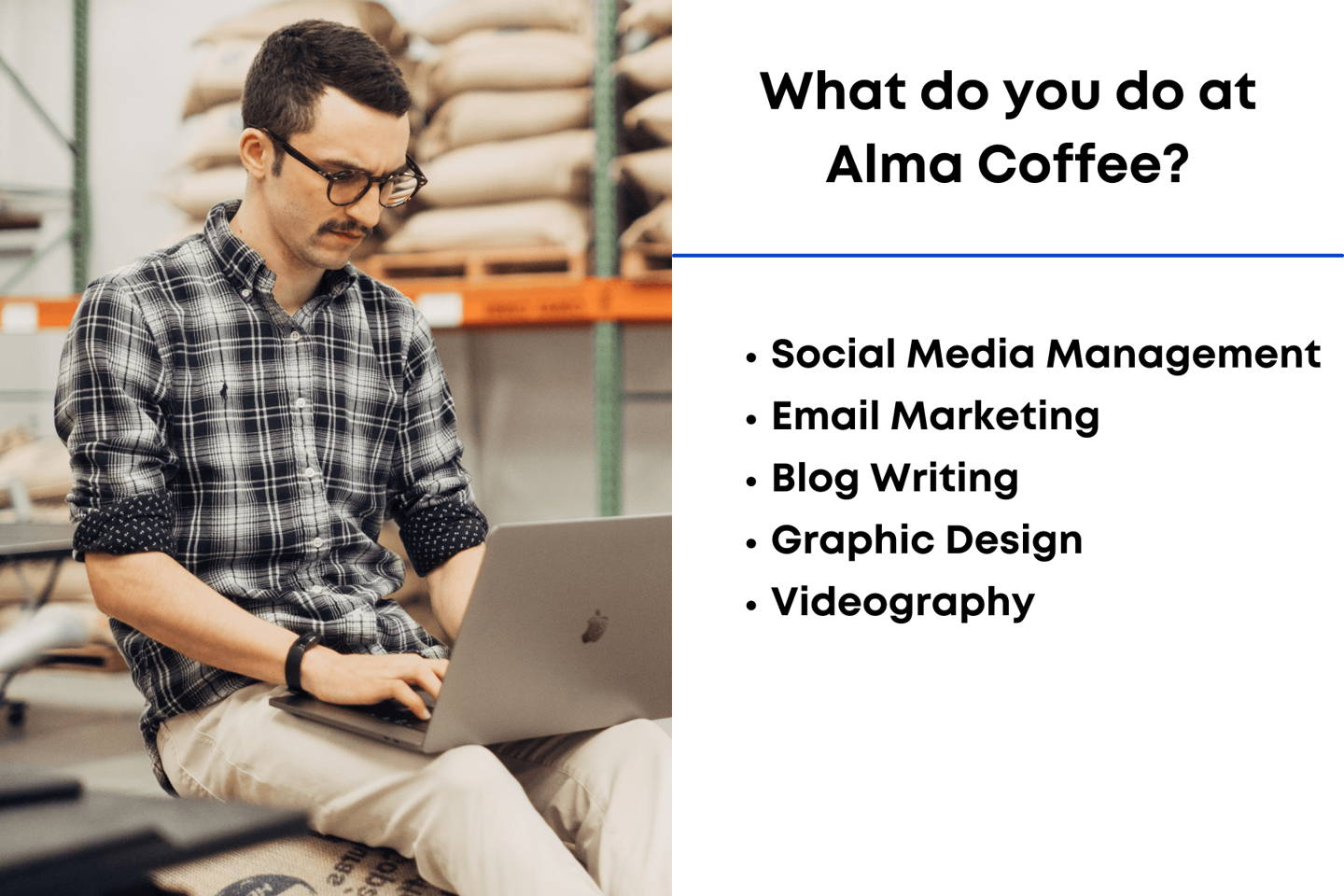 Quick Bio: Kelley joined the team in December of 2020 at the very cusp of finishing his master's degree in English at Kennesaw State University, and has since translated those valuable English-y skills to our online and digital presence. He may or may not be the person writing this quick bio about himself, so we'll keep the congratulatory language as tampered down as possible.
Kelley wears approximately 42 different hats for Alma Coffee, ranging from responding to Instagram direct messages to editing epic warehouse lightsaber battles. According to him, ADHD is a secret super power for creative types, and he definitely uses his wide range of interests and somewhat short attention span to elevate Alma's online presence. Be on the lookout for an upcoming video music project he's working on with JP & Seth on the Alma YouTube Channel!
What do you want to accomplish in 2021 at Alma Coffee?: Continue scaling up Alma's online presence and, hopefully, invest in the next big "thing" on the internet so we can use the beta alogrithm to better sell direct trade coffee!
Matthew Somsen | Lead barista and fulfillment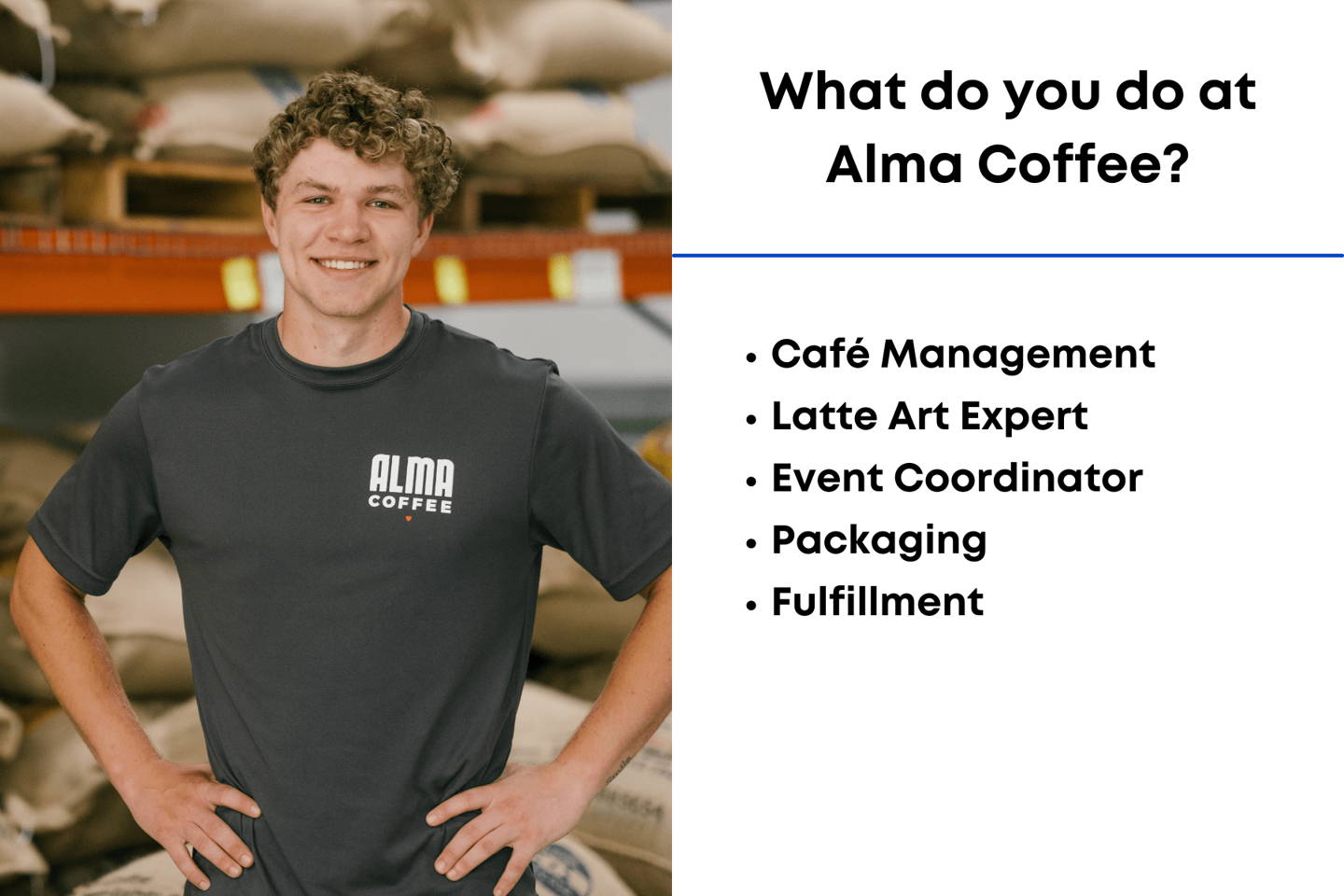 Quick Bio: If you follow us on Instagram or Facebook, you may recognize Matt's charming disposition from our café pop-up promo videos. Our Digital Media Manager loves working with Matt to make creative and quirky content for the Alma Familia, and we are 99.9% sure Matt loves it too.
Matt brings the workplace synergy, which we call "Alma-tude," to our Holly Springs warehouse every single workday. Normal human beings might have the occasional off-day where they feel a little bit down, but not Matt! He is a hard worker and all-around "glass half full" kind of human that could make any Monday feel like a Friday with his relentless TV references and eclectic music love of all things Conway Twitty.
What do you want to accomplish in 2021 at Alma Coffee?: To expand the scale and capabilities of our pop-up café into a fully functioning coffee shop.
Max AlmaCoffee | Roasting and fulfillment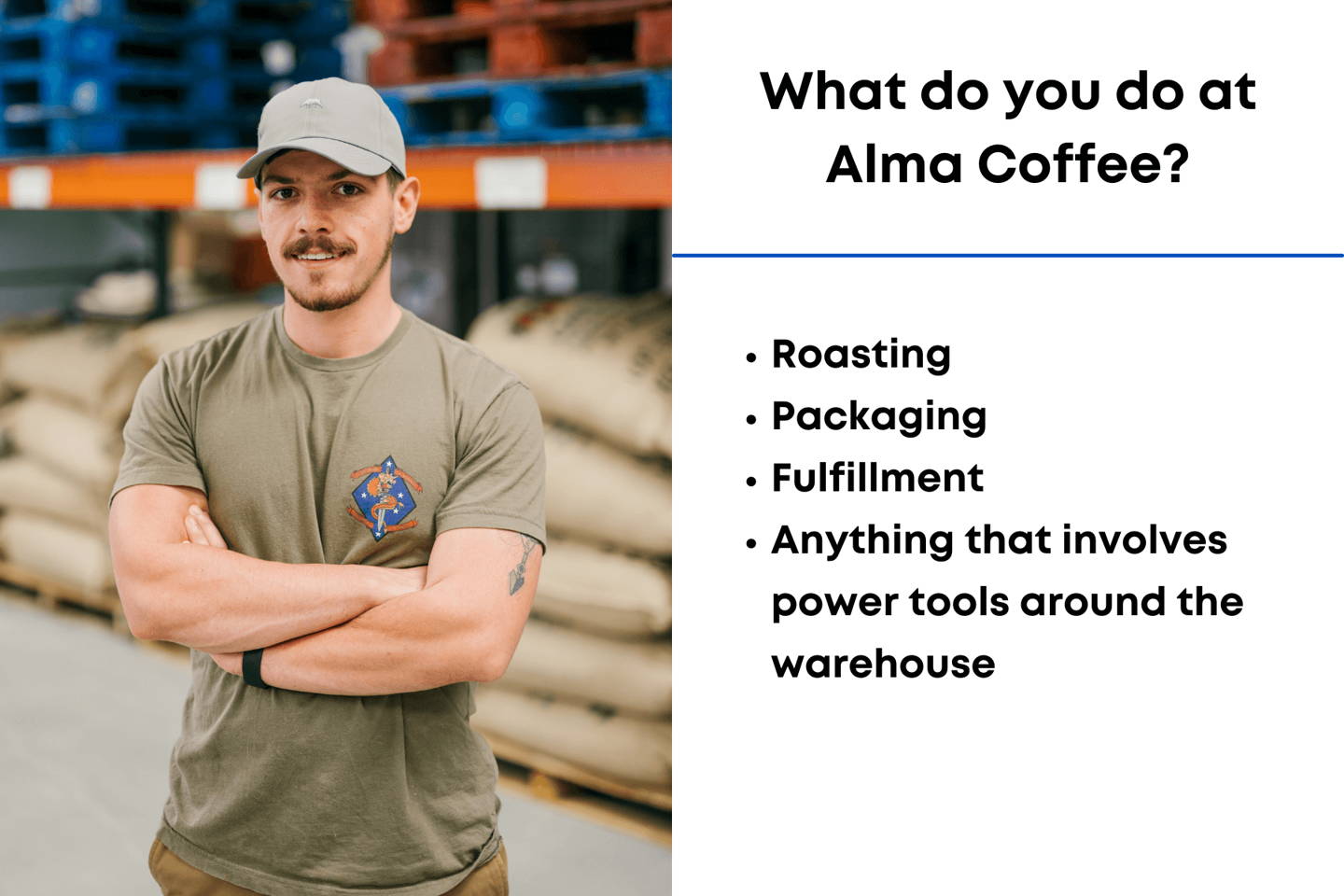 Quick Bio: Although Max's first few weeks at Alma Coffee were overshadowed by a court settlement in which he agreed, verbally, to change his last name from "Folger" to "AlmaCoffee," Max has embraced his new identity and worked tirelessly to make our packaging line more efficient. He also owns a Miata in near-mint condition, if that says anything about Max's personality.
Max is a former Marine and lover of black coffee, which transferred perfectly to our early-morning roasting shifts at Alma. We love having his wit and eager mind around the warehouse; however, things might change as we get closer to the NFL Season this Fall. Max is a card-carrying member of the Buffalo Bills mafia in a warehouse full of Atlanta Falcons fanatics. For now, we'll pretend that dichotomy doesn't exist, but check back at the beginning of football season for an update.
What do you want to accomplish in 2021 at Alma Coffee?: To take this roasting apprenticeship to the next level and continue learning everything there is to know about coffee!
Ashlyn Lewis | packaging & Fulfillment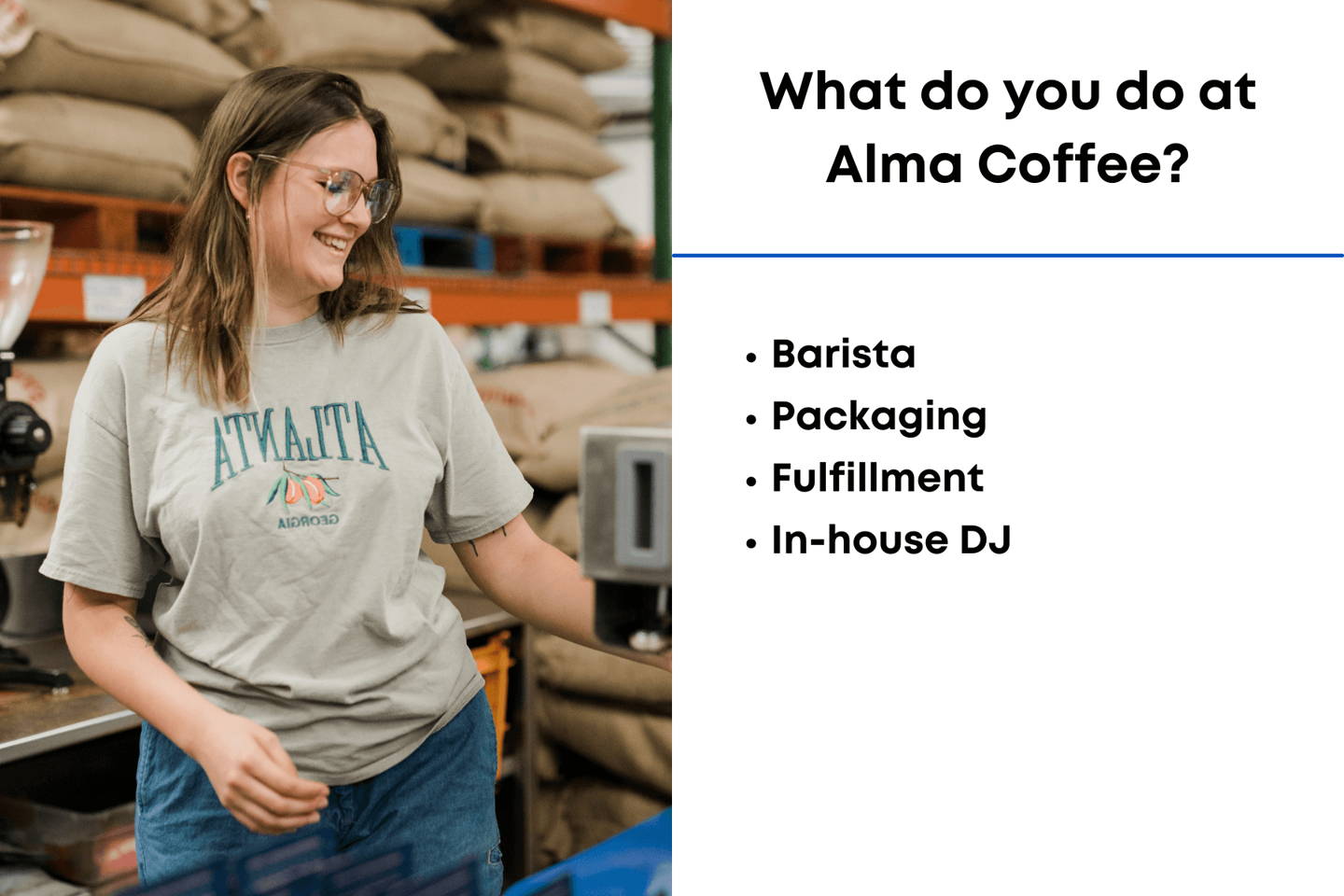 Quick Bio: Ashlyn may be one of our newest hires, but that didn't stop her from claiming all of our in-house packaging records shortly after joining the team. We have an impeccable record and reputation of speedy fulfillment at Alma Coffee, and a huge portion of that credit belongs to the queen herself, Ashlyn.
Ashlyn finally brought a fresh musical perspective to the warehouse after (seriously) months of non-stop Glass Animals and Red Hot Chili Peppers from our master roaster, Harry. Although the entire team was suffering under Harry's musical monopoly before her hire, Ashlyn broke the unwavering trance and introduced us to an artist by the name of Mac DeMarco. Since then, Harry has been barred from DJing until further notice.
What do you want to accomplish in 2021 at Alma Coffee?: To make our packaging line as efficient as humanly possible (without investing in robots).
DEVAN KNAPP | packaging & Fulfillment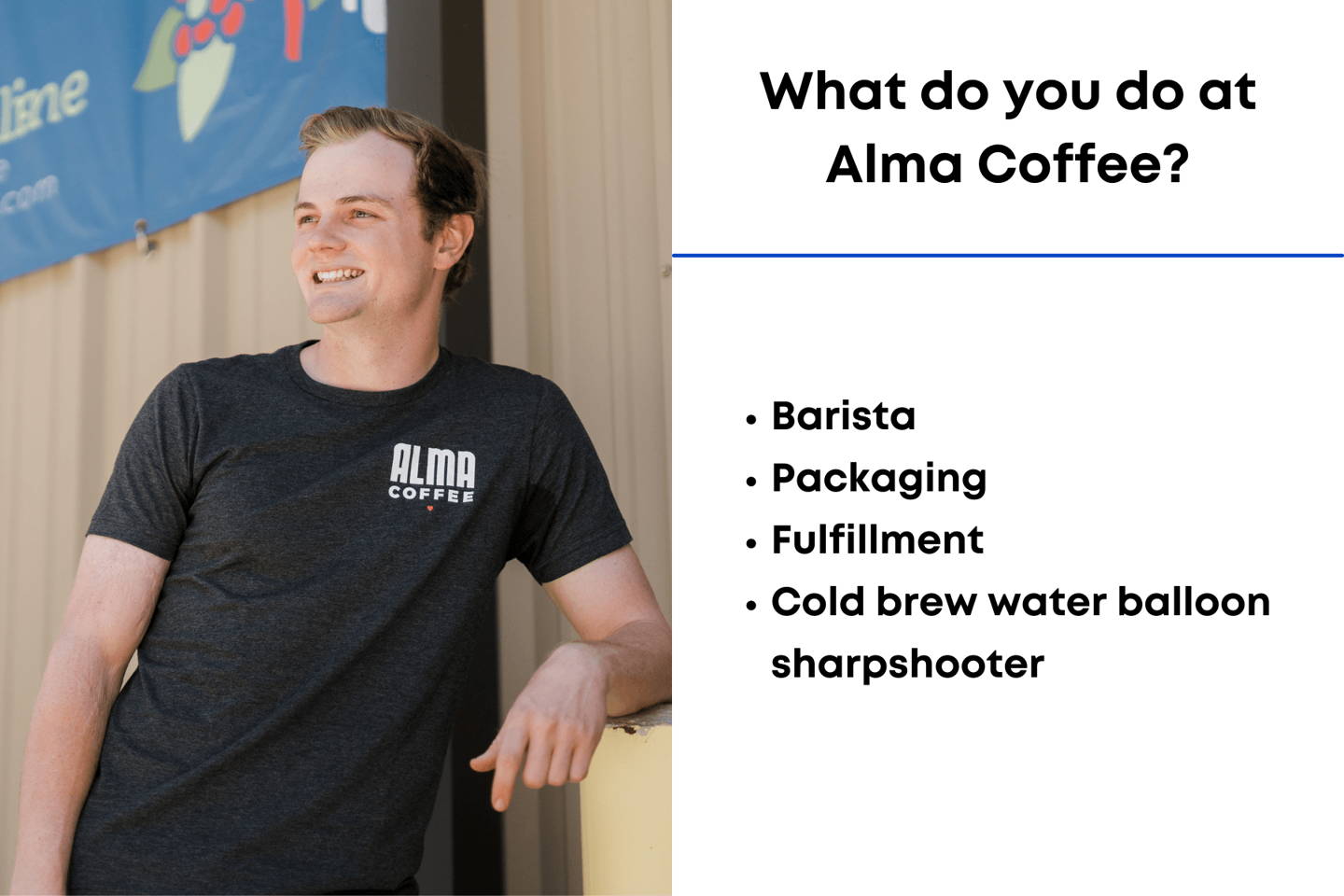 Quick Bio: The other Georgia Tech grad amongst the Alma Team, Devan is prepping hard for his first semester of law school at Georgia State this Fall while helping us fine-tune our weigh fill packaging process. We also knew Devan would be a shoe-in when he agreed to participate in our cold brew water balloon war during his working interview, but he's also proved himself as an excellent member of the fulfillment team.
Grace Roddy | packaging & Fulfillment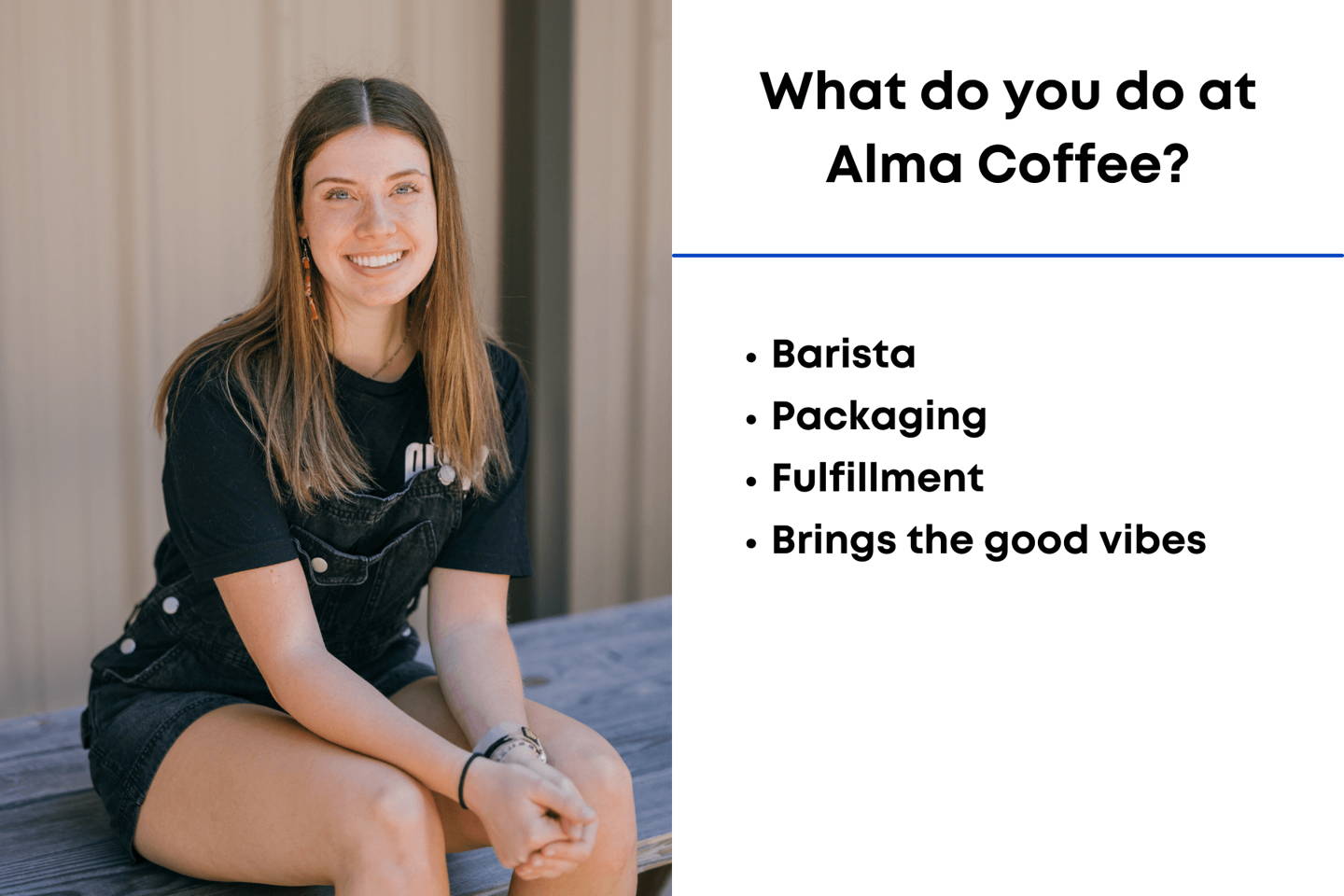 Quick Bio: Hailing from Georgia Southern, Grace reached out to us about working a Summer job to continue exploring her interest in coffee. On top of being a top-notch employee, Grace has helped redefine our approach to warehouse playlists by introducing new tunes and staying up-to-date on the latest live music news.
CHAD Bulluck | packaging & Fulfillment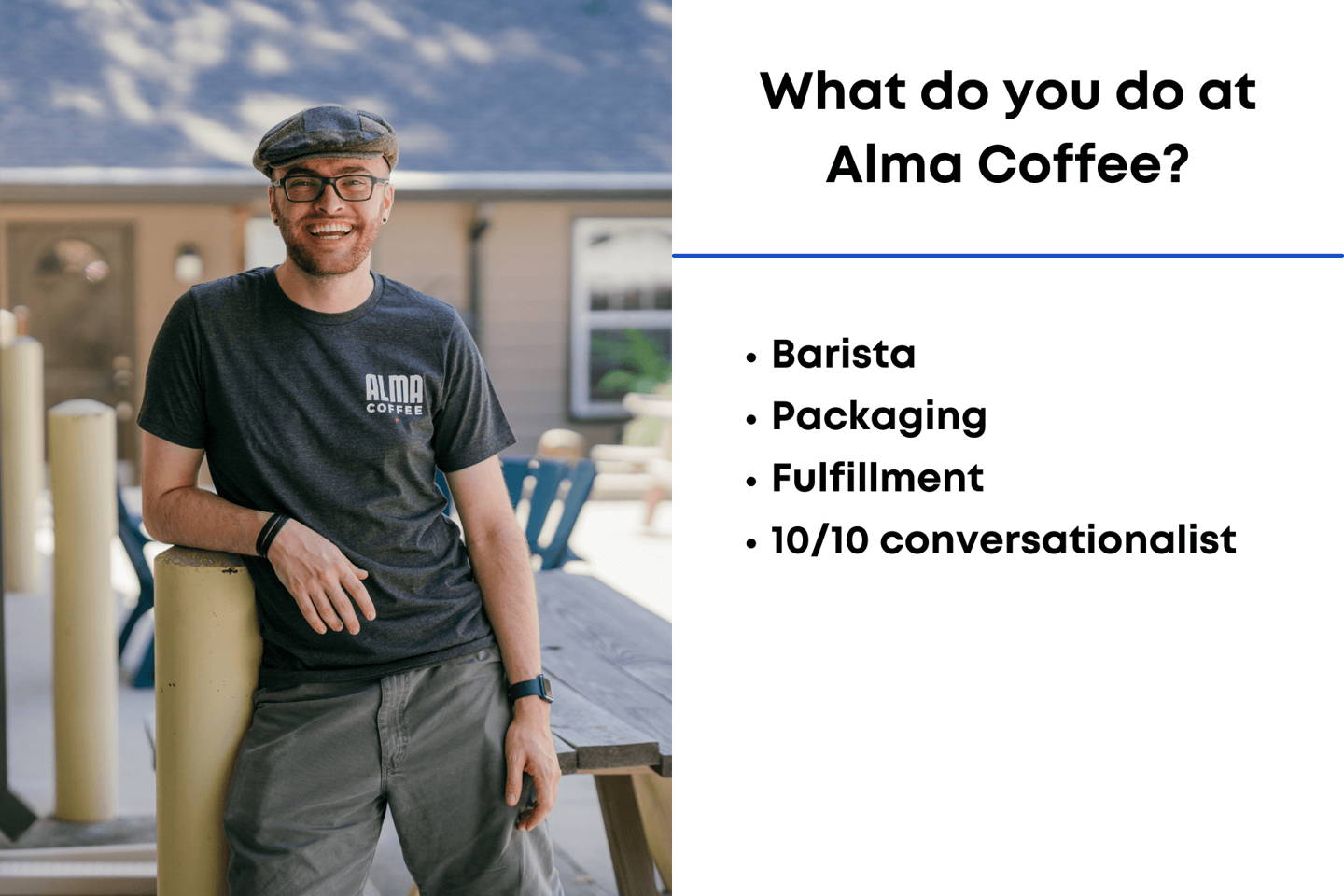 Quick Bio: A recent Georgia Tech graduate, Chad is one of the smartest people we've ever hired. He's currently prepping to pursue a PhD in audiology that will investigate how those with hearing impairments process music in their listening devices, and that niche interest base of knowledge makes him a joy to converse with around the warehouse.