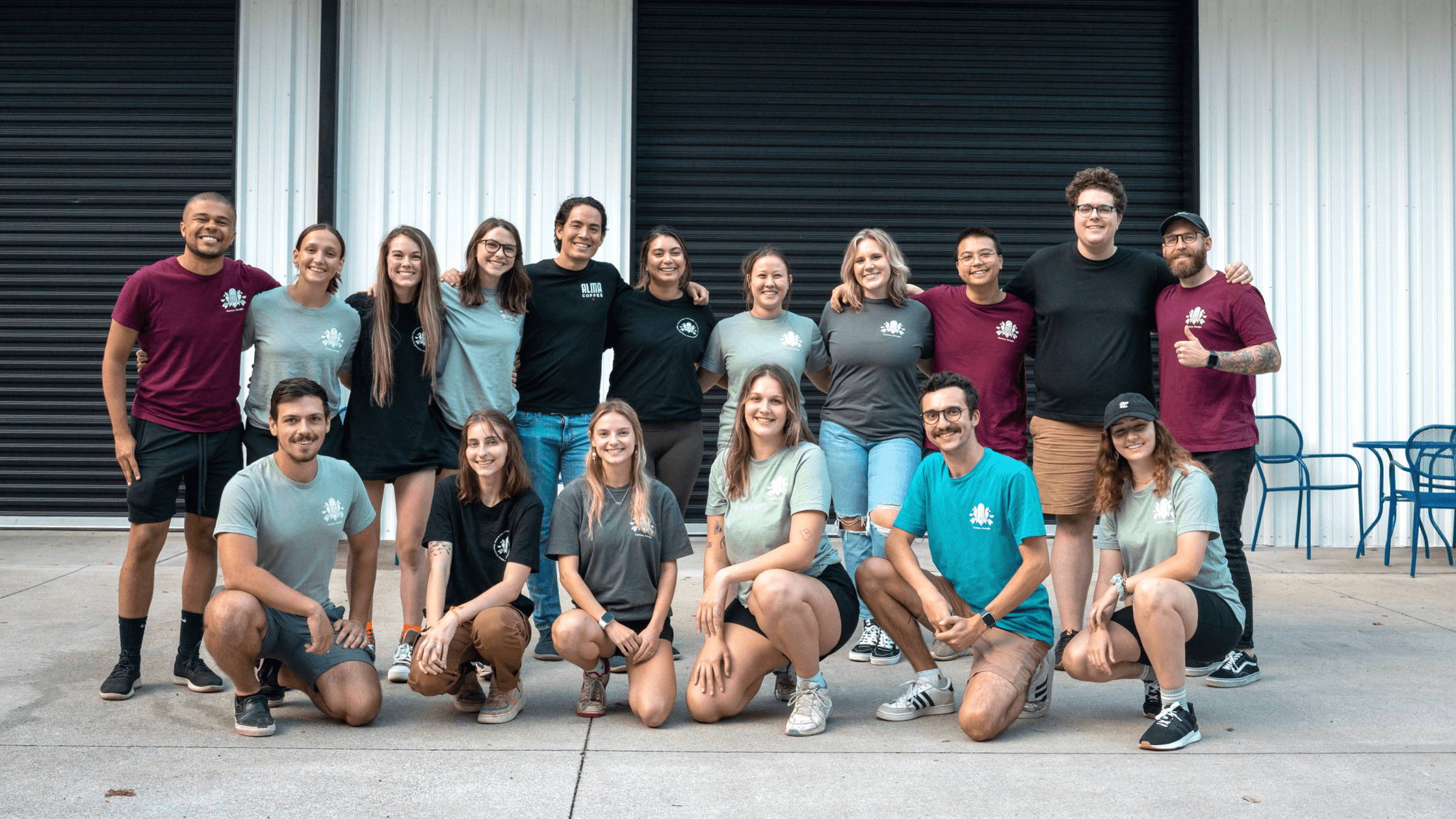 It's hard to believe 2022 is almost over, but even harder to believe that our coffee roasting company has more than doubled its team size in just this year alone. That's right: we've grown from 8 to 18 employees since we posted our last 'Meet the Familia' blog post in 2021, and each new face brings new reasons to be excited about our farm-to-cup coffee.
As we reflect on this year's accomplishments and continue working towards our core mission of improving lives from farm to cup, we wanted to give you a brief snapshot in time of our growing team by highlighting each team member, their position at Alma, and how much they contribute to your Alma Coffee!
Be sure to bookmark this blog, we'll continue to update it as our team grows and furthers our commitment to improving lives!
Leticia Hutchins | co-Owner and Operator
Leticia's Bio: On top of being the owner and operator of Alma Coffee, Leticia strives to maintain a positive and fulfilling work environment for everyone in and around our warehouse, and that certainly is reflected in the extraordinary coffee you enjoy sipping on every morning. (fun fact: when she isn't working to make Alma Coffee the best farm-to-cup coffee business in the country, she enjoys spending time with her two really cute cats!)
Harry Hutchins | co-Owner, Operator, and roaster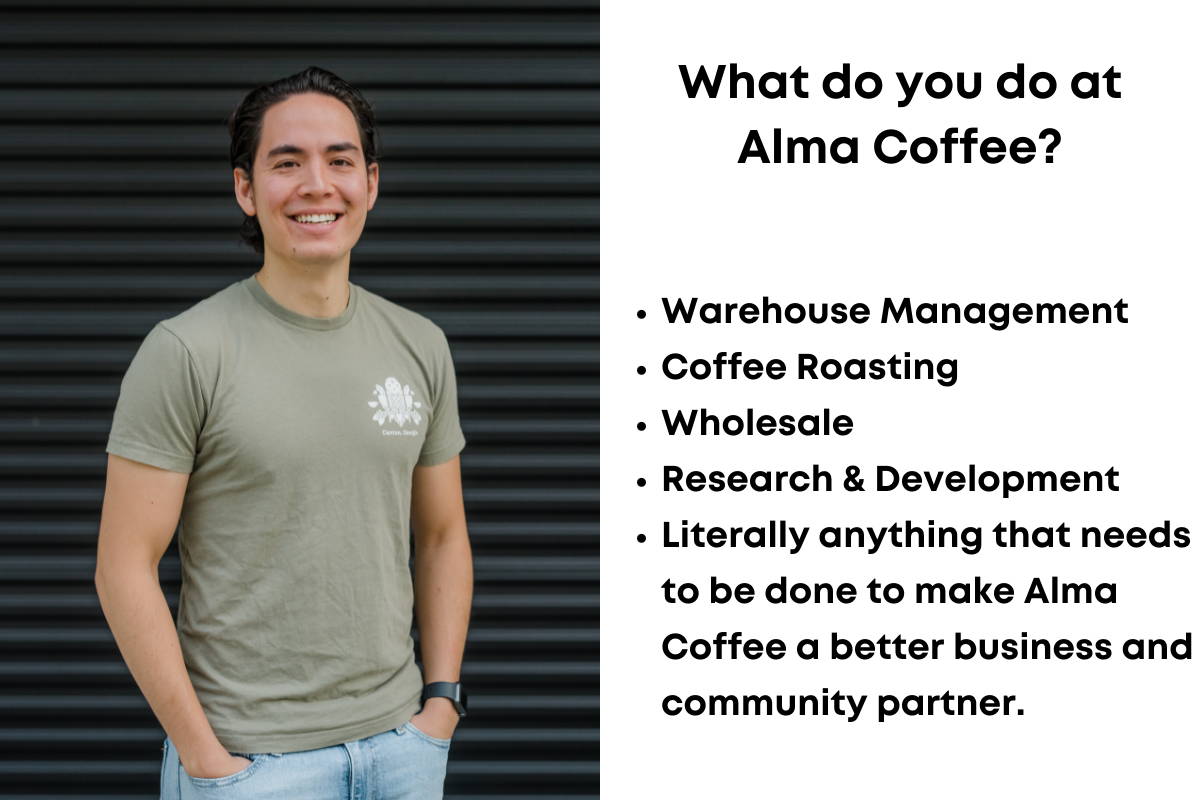 Harry's Bio: Working side-by-side to continue the mission of Alma Coffee with his wife, Leticia, Harry has worked tirelessly (and succeeded) to put Alma's extraordinary coffee on the international map. He is a joy to be around on and off the clock, and you can see exactly what we mean by checking out our official Alma Warehouse Cribz tour to see just how cool of a person Harry can be when he isn't focused on roasting or importing your favorite morning cup.
Max Folger | Operations & Business Development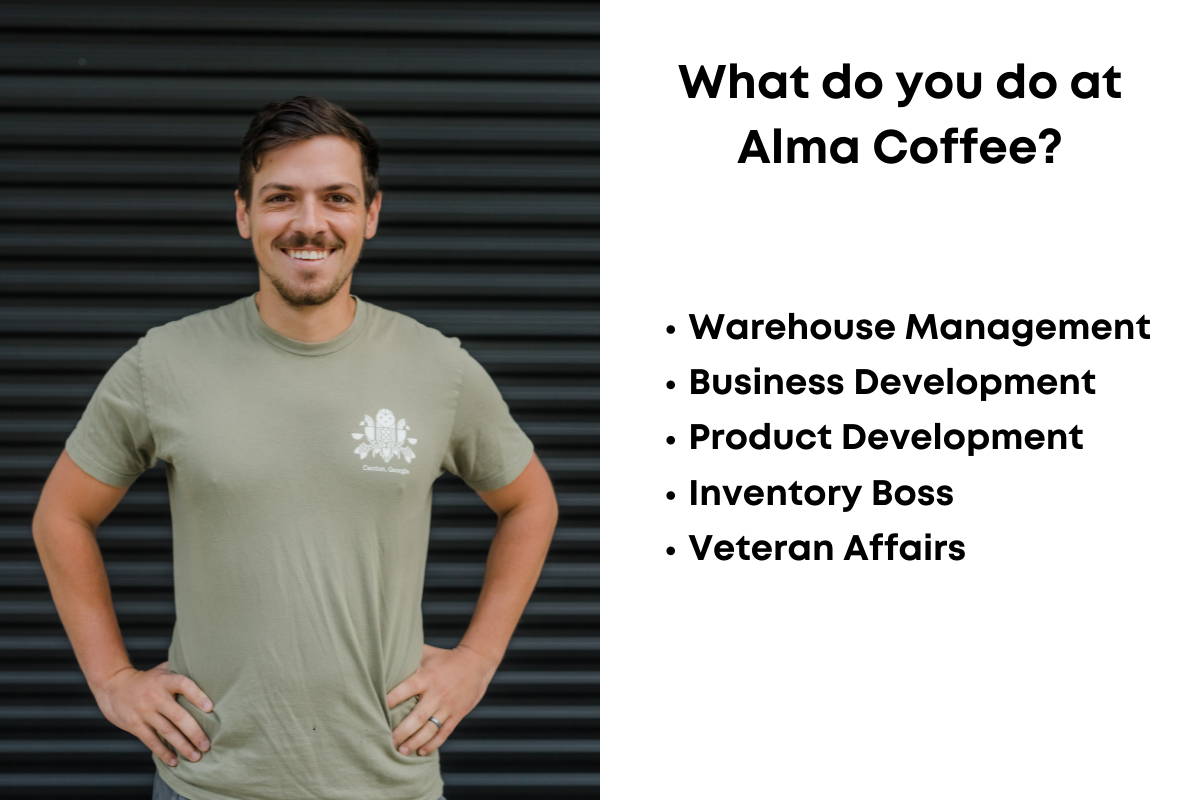 Max's Bio: Max is a former U.S. Marine and lover of black coffee, which transferred perfectly to our early-morning roasting shifts at Alma when we hired him in early 2021. Despite his controversial last name, we love having his wit & eager mind around the warehouse to help with anything and everything our growing small business might need.
Ashlyn Lewis | Manager of Packaging & Fulfillment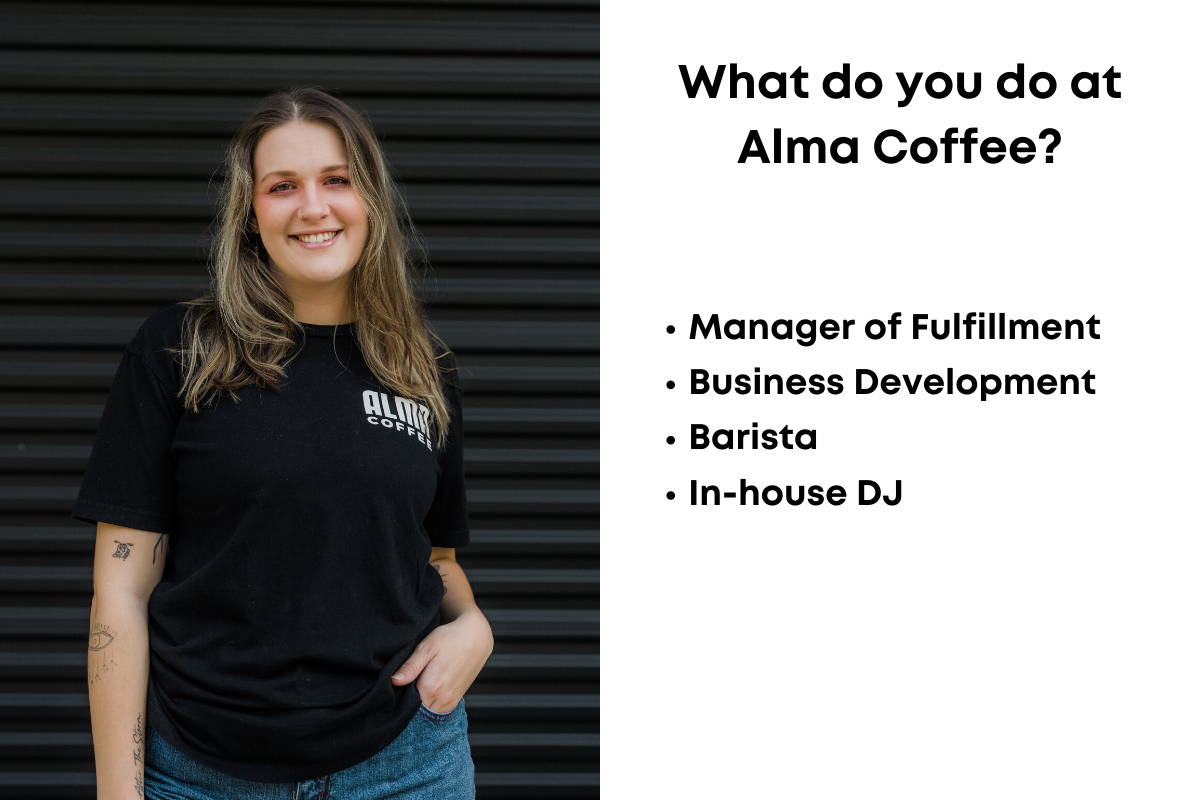 Ashlyn's Bio: We have an impeccable record of speedy fulfillment at Alma Coffee, and a huge portion of that credit belongs to the packaging queen herself, Ashlyn Lewis. Since joining in 2021, Ashlyn has been an invaluable asset to our company culture from making playlists to planning parties to being one of the most genuine people you'll ever meet.
Kelley Bostian | Digital Media Manager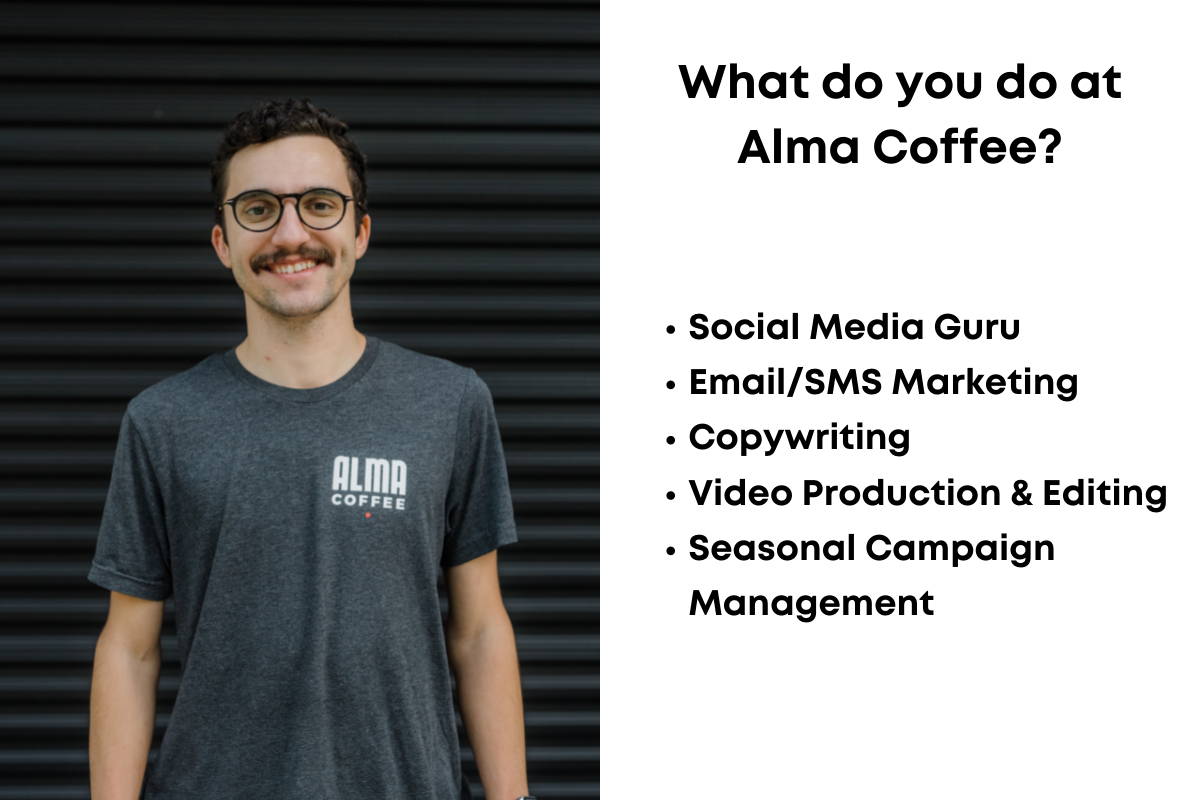 Quick Bio: Kelley joined the team in December of 2020 to grow our digital media at the very cusp of finishing his master's degree in English at Kennesaw State University. At any given time, you can expect him to be wearing approximately 100 different hats for Alma Coffee, all of which strive bring new creative ideas to life in pursuit of marketing our extraordinary coffee to the digital universe.
Kevin Nordeste | Digital Advertising & Content Creation
Quick Bio: As a talented photographer, videographer, and musician, Kevin has upgraded our social media stories, video projects, and in-house product shots to an aesthetic never before seen in the coffee industry. When he's not at work, Kevin spends his time drumming in a few different local bands, making fun videos, and modifying old game boys in an attempt to build the "ultimate game boy color experience."
Ash Webb | Café Lead & Barista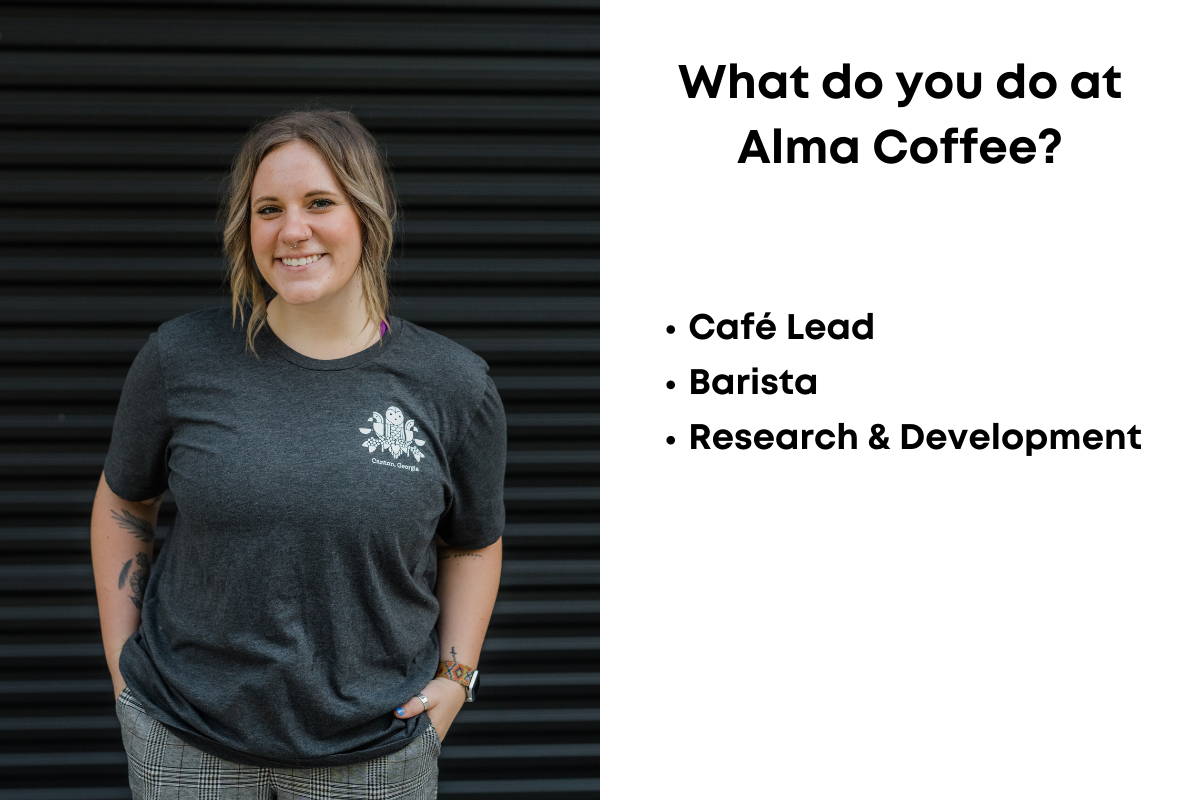 Quick Bio: Ash joined the team last October and has since helped us maintain the jovial "Alma-tude" café atmosphere here in our Holly Springs, GA headquarters. A KSU student with a passion for traveling, Ash is majoring in both Art History & Film, and she flexes those skill sets on and off the clock.
Paula Krassa | Fulfillment & Graphic Design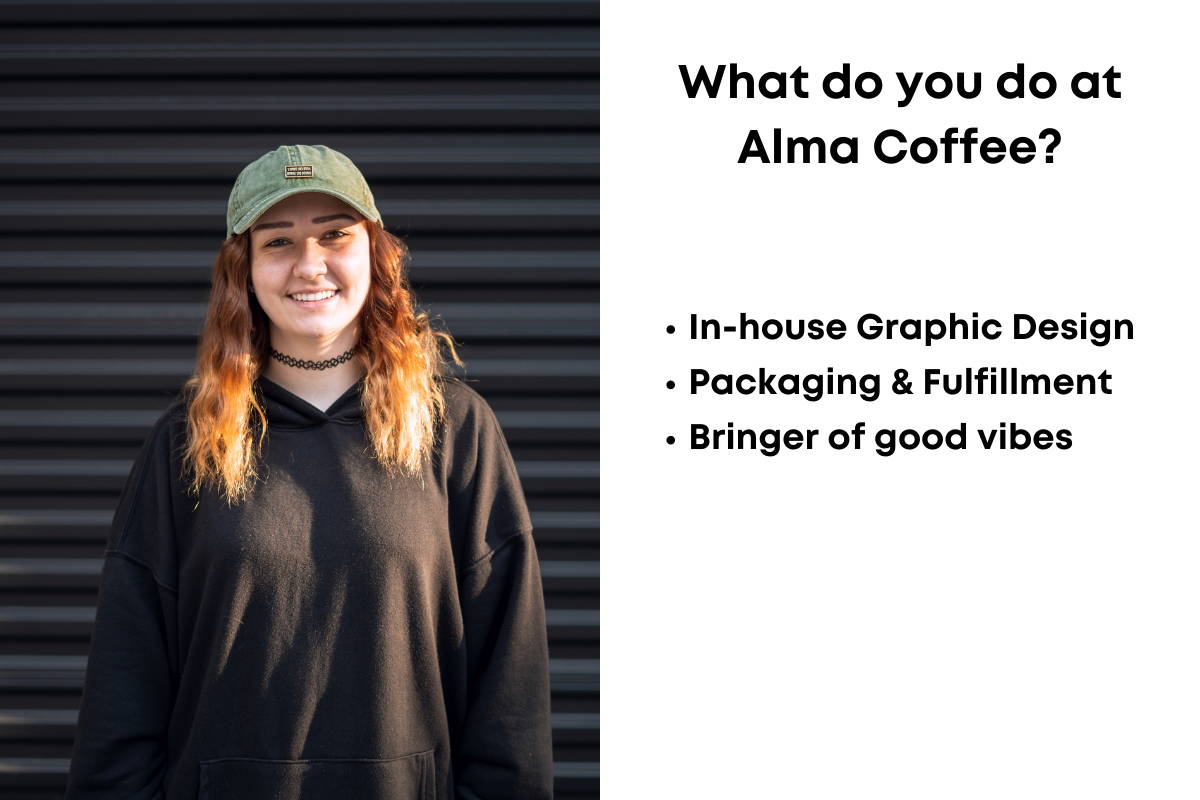 Quick Bio: Paula has been an all-star player in our packaging and fulfillment department since she first started with Alma Coffee in 2021, but has recently brought her digital artwork skills to our marketing department: For instance, our new 'Alma Buddies' collectible stickers were diligently hand designed over the course of a month. We're excited to see what else she brings to our graphic design media-scape in the near future!
Phillip Revis |
Coffee Roasting &

Fulfillment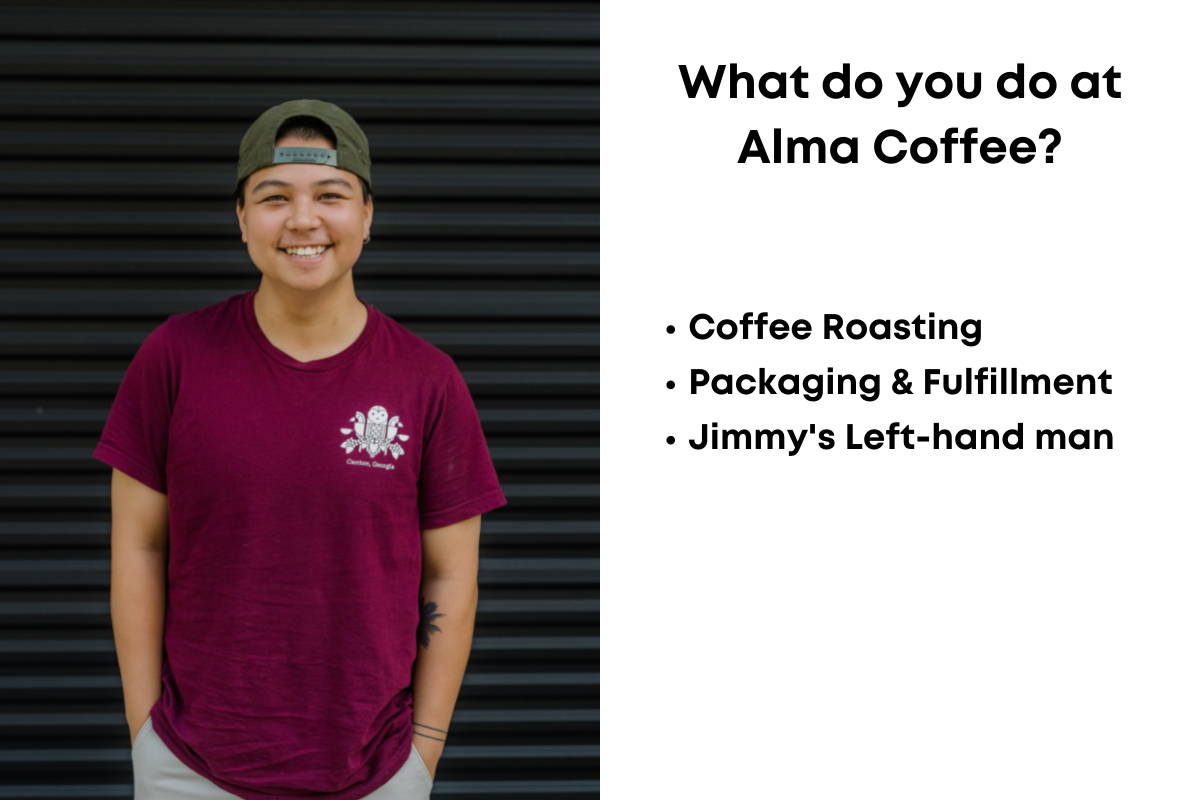 Quick Bio: Also known as "Gary" in the right circumstances, Phillip has brought his extensive car knowledge, can-do attitude, and jovial spirit to our growing team, primarily assisting our head roaster with day-to-day fresh roasting and warehouse operations.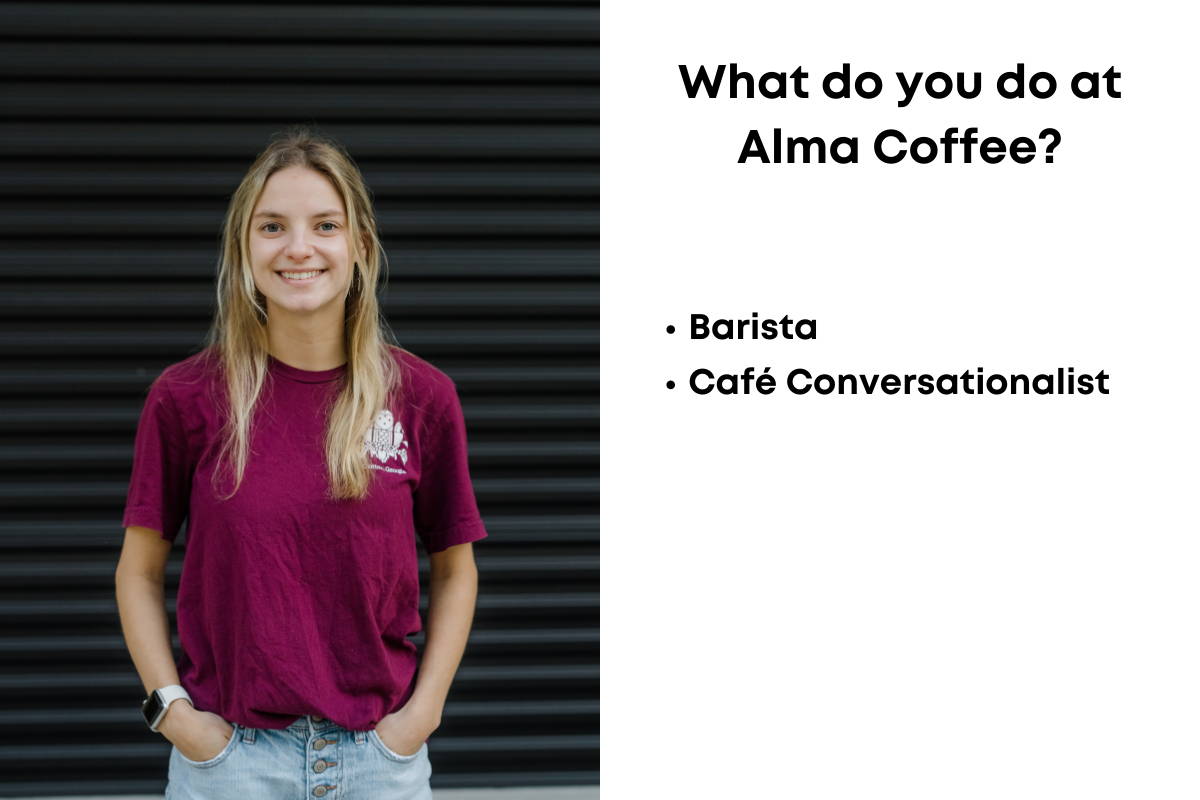 Quick Bio: Patty is the type of person who makes you instantly feel like you and her have been friends for decades on first introduction—this personality trait, both at the Alma café and around the warehouse, makes her an absolute joy to be around on or off the clock, and she is always excited to help you find your next favorite café drink when you visit our Holly Springs HQ!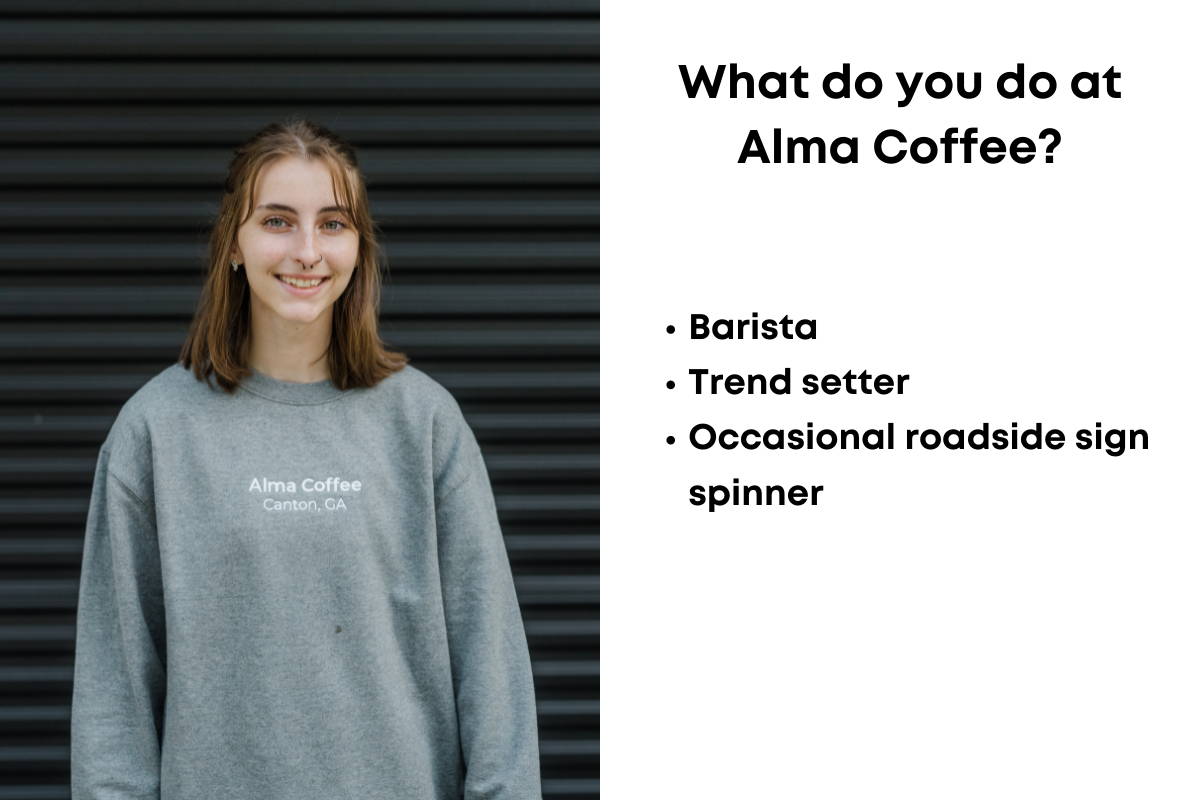 Quick Bio: As one of the youngest members of the team, Ireland certainly brings a LOT of coffee experience and personality to the table. She currently works full time between our café and fulfillment areas out of sheer curiosity to learn more about the process behind our coffee, and may or may not be our unofficial roadside sign spinner.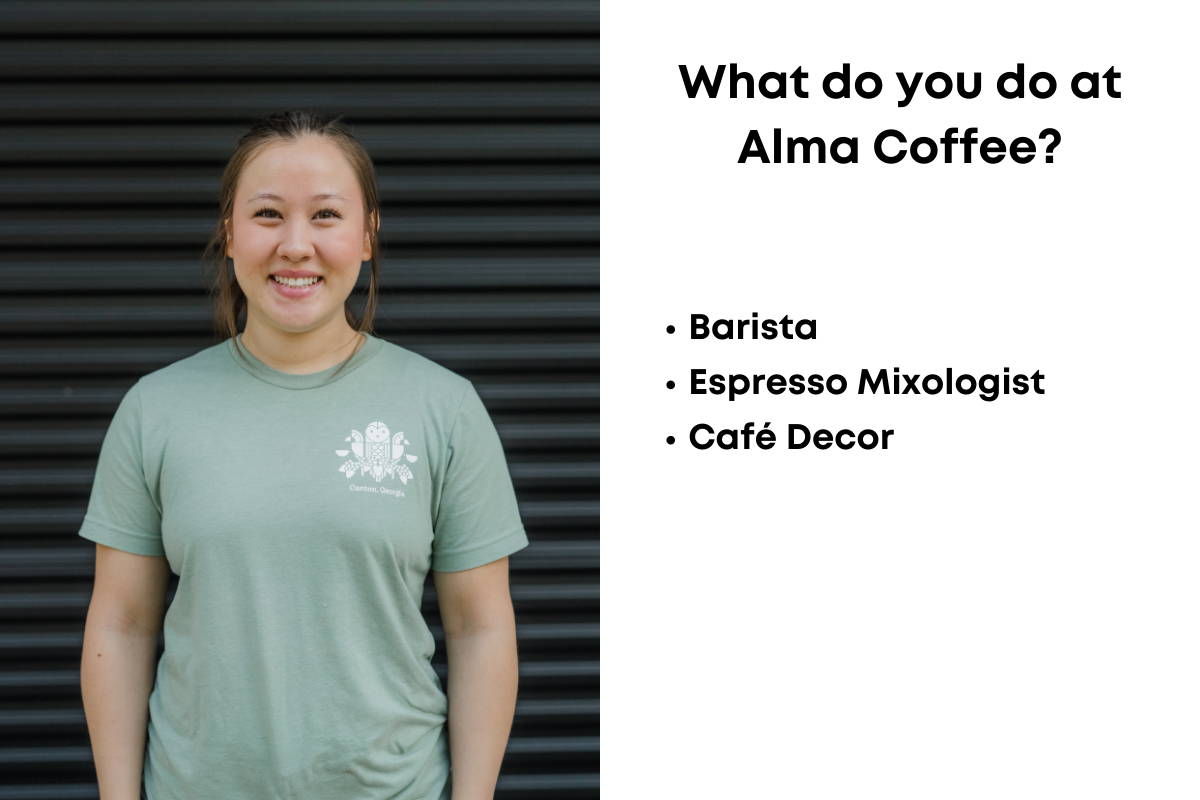 Quick Bio: A café veteran with years of experience in the coffee industry, Mayu joined our café team in the early Fall with an extremely positive and happy-go-lucky attitude. Her ability to have genuine conversations with anyone she meets has truly made us feel like she's been part of our business for years, and we're excited to see her coffee knowledge and personality take our café to the next level.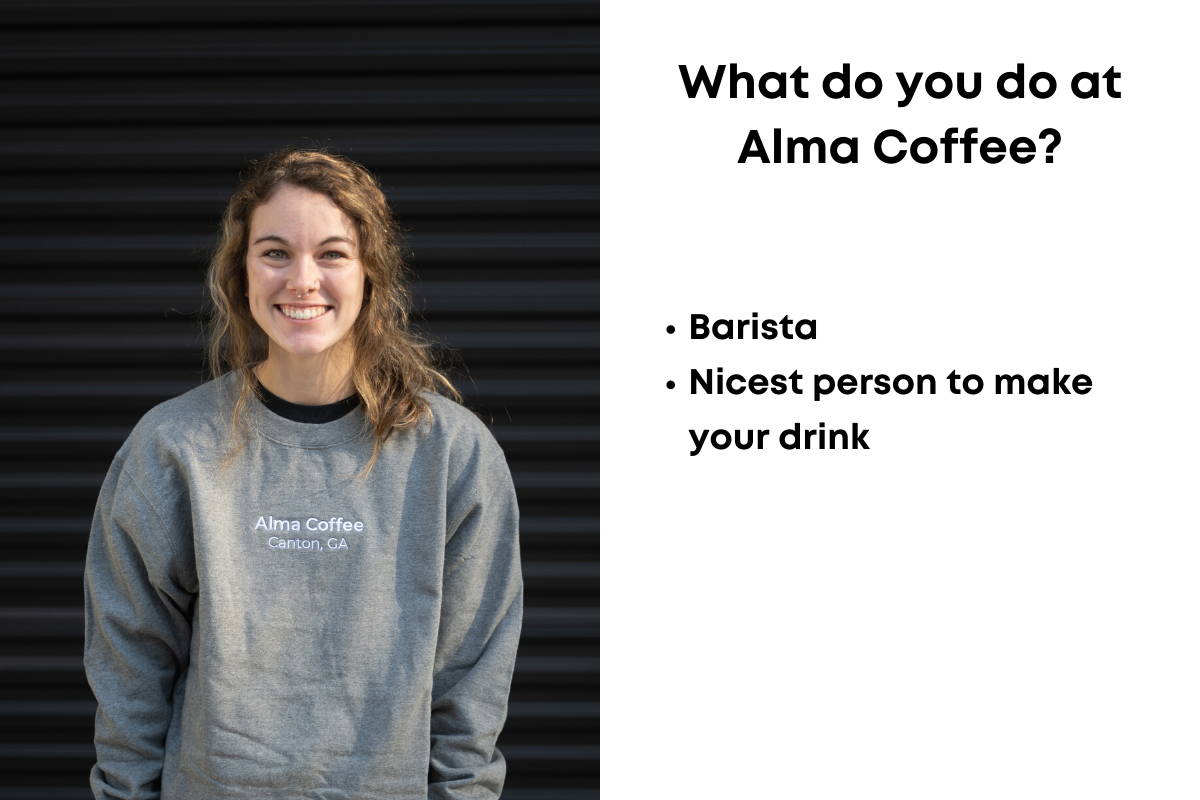 Quick Bio: With so many Ash and Ashlyn's already here at Alma Coffee, Ashlyn Bleck has solidified her place as Ash #3 in our café and roastery as the nicest barista to make your drink. When she isn't busy making delicious drinks, she enjoys watching Gilmore Girls on repeat and exploring other coffee shops in the North Georgia area.
Dani Mullan |
FUlfillment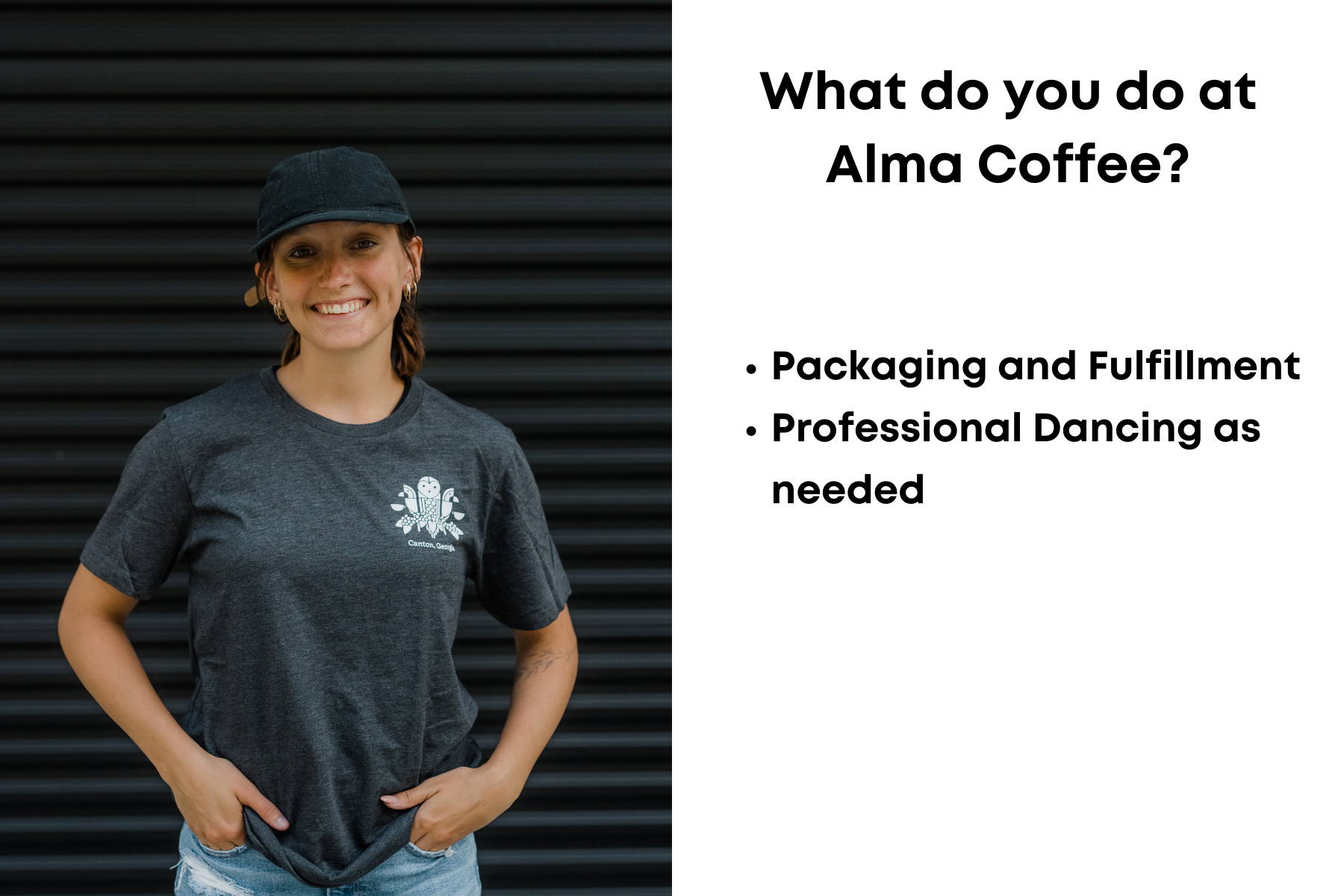 Quick Bio: Dani is one of the most creative people to ever step foot in our small business. She a professional dancer by trade (a recent Alumni of Chapman University in CA) and a coffee addict by passion. Here at Alma, Dani is currently an invaluable addition to our café and fulfillment team, and she brings her diligence, hard-working attitude, and sweet personality to an environment that can be fast-paced by nature.
Quick Bio: As one of our newest hires, Morgan brings her positive attitude and eager mind to our growing fulfillment team. She is currently a grad student at Georgia State University specializing in school counseling, and we're excited to see the positive difference she will make in our education system at the end of her residency!
Nick Mcglynn |
FUlfillment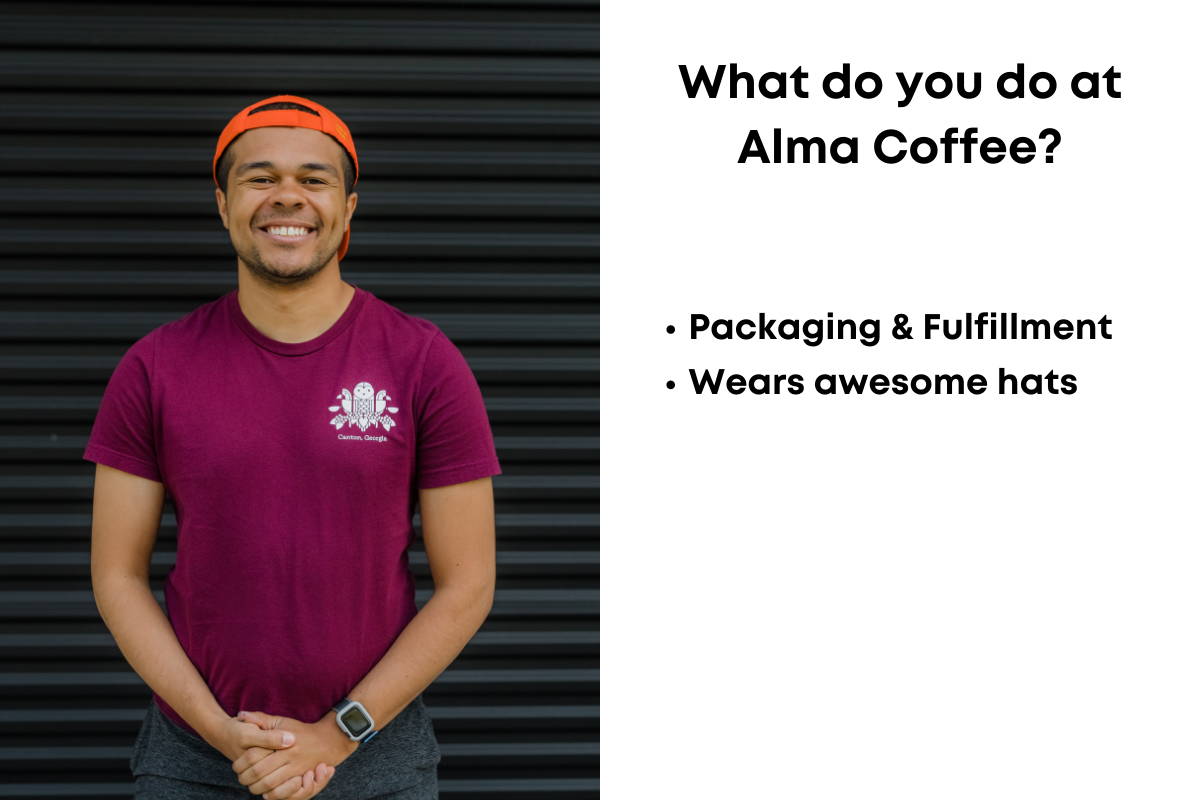 Quick Bio: Joining the team with Morgan (above), Nick is also a fantastic addition to the fulfillment team both with his personality and eager mind. He is currently a graduate student studying Computer Science at Georgia Tech, and we hope that education can *hopefully* be used at least once to optimize our website during his time at Alma.
Jimmy snyder |
Coffee Roaster & fUlfillment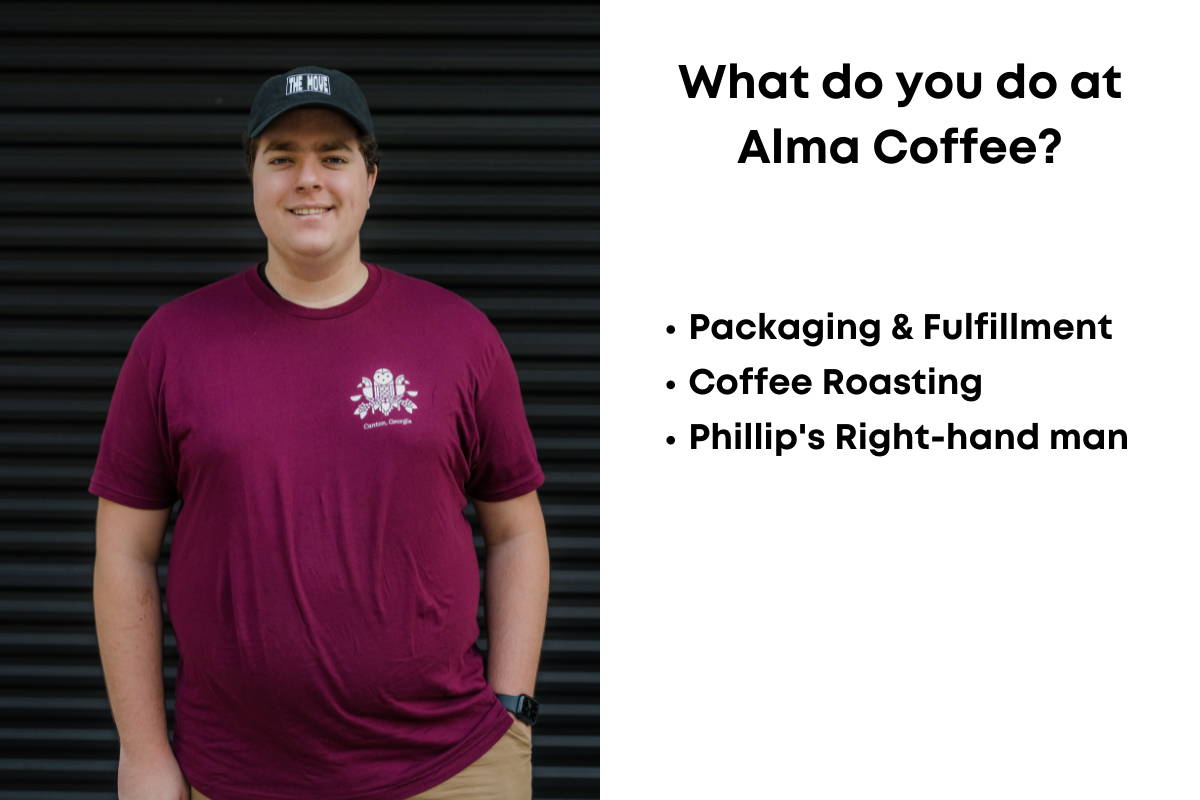 Quick Bio: Last but certainly not least, we'd like to introduce you to Jimmy—Phillip's right-hand man in the roasting and fulfillment department. Jimmy's quick wit and hard-working spirit is a pleasure to be around, and his experience as a jazz musician has been surprisingly useful in improvising new ways to streamline our departments.